---
San Diego Opera Board Prez Quits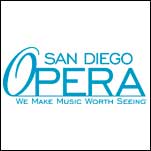 At a meeting local media outlets have described as "chaotic," the board of directors of the San Diego Opera gathered yesterday afternoon to discuss the company's future. The end of operations was moved from April 29 to May 19, as there was a decision to pursue a plan recommended by Opera America, according to the Union-Tribune.
With that came the resignation of Board President Karen Cohn and 12 other of the 66 trustees. Stepping up as acting president was Carol Lazier, the individual who donated $1 million to keep the company open and who headed up the committee investigating a way to avoid closure.
So board members in favor of closing down appear to have lost out to those who see a solution in the ether.
Among the bones of contention is whether the general director of 31 years, Ian Campbell, should go or stay. It is he, with Cohn's support, who thinks the opera cannot afford to mount a 2015, 50th-anniversary season.
"If you've given up and don't have the will to carry this company on, you need to step down," said Carlos Cota, business agent for the union representing stage hands. "And if he's not willing to step down, than I believe (Ian) needs to be fired."
At a public meeting following the board's, organized by San Diego Opera Education Director Nicholas Reveles, Opera America President Marc Scorca told the gathering, "A number of opera companies have really triumphed over these challenges."
Said Reveles, "I think having Carol at the head of the board signals that there is a positive effort on the part of the board to move forward."
"With funds coming in around new leadership, I think you put those two things together and you absolutely can move forward and not end up closing on April 29th," one longtime chorus member told the news outlet KUSI.
"Everything has to change," said Reveles.
 

WHO'S BLOGGING


RENT A PHOTO
Search Musical America's archive of photos from 1900-1992.