---
Boxing Tragedy Inspires New Opera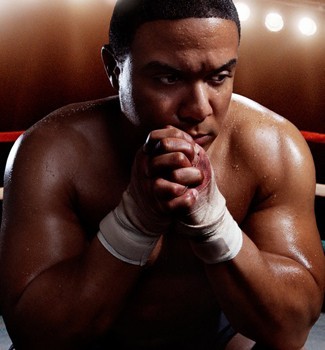 NEW YORK (AP) — Jazz composer Terence Blanchard couldn't have imagined how timely his opera about a gay boxer would become when he accepted a commission three years ago.
Blanchard's
Champion
— with a libretto by Pulitzer Prize-winning playwright
Michael Cristofer
— is based on the life of former world welterweight and middleweight champion
Emile Griffith
. Its world premiere at the Opera Theatre of St. Louis on Saturday comes just weeks after
NBA center Jason Collins
became the first active male pro athlete from one of the four major North American team sports to come out as gay.
Griffith's greatest triumph came in a nationally televised welterweight title bout in 1962 when he knocked out Benny "The Kid" Paret by battering him with 17 punches in seven seconds, sending his rival into a coma. Paret died 10 days later.
At the weigh-in, the Cuban-born Paret had angered Griffith by using an anti-gay Spanish slur. Thirty years later, Griffith was beaten and nearly killed after leaving a gay bar near Times Square.
In a 2008 biography, Griffith came out and discussed being a bisexual athlete in an era when gays were not readily accepted. Griffith originally wanted to design women's hats, but was encouraged by his employer at a Garment District factory to take up boxing to support his family in the U.S. Virgin Islands.
Blanchard boxes recreationally and first heard about Griffith from his friend and trainer, former heavyweight champion Michael Bentt. He was inspired to write the opera by a quote from Griffith in the biography: "I kill a man and most people understand and forgive me. However, I love a man, and to so many people this is an unforgivable sin; this makes me an evil person."
An abbreviated version of the quote is used in the opera's climactic closing scene where an aging Griffith meets Paret's son to seek forgiveness.
"I was just compelled by the whole notion of a person who could be that accomplished and not really share the moment of winning the championship with somebody that he loved," Blanchard said in a telephone interview from his New Orleans home. "I immediately thought of the first time I won a Grammy. My wife was with me and I turned around and kissed her without thinking about it.
"It speaks volumes of where we are as a society and how we need to really check ourselves, especially those of us who call ourselves compassionate human beings."
Benny Paret
Jr. and Griffith's adopted son, Luis Rodrigo, are expected to attend the premiere. The 75-year-old Griffith, who lives in a nursing home in Hempstead, N.Y., suffers from dementia pugilistica after more than 100 professional bouts and requires full-time care.
"So often we think of opera as being kind of irrelevant in many ways, but I do believe opera-going audiences these days ... want something more modern that reflects contemporary society," said OTSL Artistic Director James Robinson, who is directing the production.
When Robinson took over as artistic director in 2008, he was interested in commissioning new works by American composers and the idea of a jazz opera came up. Gene Dobbs Bradford, who runs Jazz St. Louis, recommended Blanchard because of his extensive orchestral experience that includes writing scores for more than 50 films, including most of Spike Lee's.
The 51-year-old Blanchard agreed to undertake the biggest musical project of his career in part to honor his father who could not realize his dream of being an opera singer in an era when companies didn't hire male black singers. His father performed with amateur opera groups, and Blanchard grew up listening to opera recordings at his New Orleans home.
Blanchard knows his father would have been "overjoyed" to see that his son had written an opera performed by a largely African-American cast, including Denyce Graves as Griffith's mother, Arthur Woodley as old Emile and Aubrey Allicock as young Emile. An 11-year-old from St. Louis, Jordan Jones, plays Emile as a boy.
Cristofer's first opera libretto tells Griffith's story in 10 rounds.
"I saw in Emile's life the story of a man who was fighting to reconcile who he was inside with who he was in the outside world," said Cristofer. "He was a young man who wanted to make hats and sing and play baseball and instead became a famous and successful prize fighter. He was confused about his sexual identity and that confusion led to violence. That violence led to the death of another man."
Blanchard describes his work as an "opera in jazz." His score for symphony orchestra and jazz trio uses the language of jazz — its rhythms and harmonies — but leaves little space for improvisation. He says his biggest challenge was learning how to write for the individual singers because each human voice has its own characteristics.
While writing Champion, Blanchard also took a new direction with his jazz quintet. The trumpeter's album Magnetic, released in late May, features 10 original compositions by Blanchard and his bandmates that cover a wide range of styles from the driving bop of Don't Run, featuring bassist Ron Carter and saxophonist Ravi Coltrane, to the spacey electronic haze of Hallucinations, with West African guitarist Lionel Loueke.
Blanchard hopes Champion builds bridges between the jazz and opera audiences.
"It's also a compelling story and hopefully we'll start to engage in a more in-depth conversation about being universally tolerant in this country," he said.
Copyright © 2013 Associated Press

WHO'S BLOGGING


RENT A PHOTO
Search Musical America's archive of photos from 1900-1992.