---
Take the Ball and Run With It!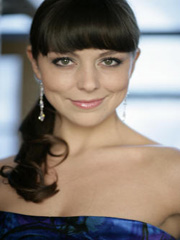 ST. LOUIS, MO --"Things are happening," says soprano Corinne Winters.
That they are. The 28-year-old self-described "lyric soprano with extension" just completed a run of Tchaikovsky's "Iolanta" with New York's Dicapo Opera Theater and heads to Miami this month for a run of Puccini's "La Rondine" with Florida Grand Opera. Next summer she'll sing Micaela in Opera Theatre of Saint Louis' new production of "Carmen," and then head off to Wolf Trap for Anne Trulove in "The Rake's Progress."
Last spring she took on the role of Mélisande in "Pelléas et Mélisande" at OTSL, replacing soprano Kelly Kaduce, who stepped down due to pregnancy. As a former Gerdine Young Artist, Winters was a known quantity to the company's ruling troika of General Director Timothy O'Leary, Music Director Stephen Lord and Artistic Director James Robinson.
She's already made her Met debut, in the small-but- noticeable role of the Countess Ceprano in "Rigoletto," and she'll return there next season. The Year 2013 promises to be a big one: From January to March, she'll sing Violetta in "La Traviata" at English National Opera.
A native of Frederick, MD now living in Philadelphia, Winters comes armed with beauty-queen looks, a Master's Degree from the Peabody Conservatory and an impressive set of roles performed in postgrad work at the Academy of Vocal Arts in Philadelphia. She's won a career grant from the Sullivan Foundation, first prize in the Licia Albanese Puccini Foundation competition and was a Met semifinalist, taking first place in the New England region in 2010.
Last fall, she earned the first-ever Mabel Dorn Reeder Foundation Prize from Opera Theater. The $10,000 award recognizes "extraordinary artistic potential in early-career artists," and provides support for their continued artistic and professional development.
OTSL's O'Leary says, "It's a thrill and a privilege to watch an artist like Corinne grow from a chorister in our young artist program to a major new voice on the rise."
When Winters came to St. Louis to receive the Reeder prize, he says, "I got to hear a preview of what audiences will soon hear in London – Corinne singing 'Sempre libera' with astonishing craft and depth. It was very moving, especially because this prize money is what made it possible for her to travel to London to audition for the ENO, which promptly hired her as Violetta. She is certainly on her way."
For her part, Winters says, "I like to sing repertoire that requires vulnerability, heart and truth – and where I can do some vocal fireworks as well." For now, that means roles like Mimi, Violetta, Massenet's Manon and Juliette.
There are other lyric sopranos out there, of course. Is it hard to make a living? "There's a lot of competition," she replies, "but not when the economy is bad, because those are the beloved operas, the operas that companies do. When companies are down and out, they're not necessarily going to do 'Nixon in China.' When the economy is bad, it's important to do things that sell tickets. Very few artists sell tickets. For the most part, it's the repertoire."
As for Mélisande, "as an opera nerd myself, I enjoyed it. It was a challenge – but it's good to challenge oneself. I've done new works as well, but I always seem to come back to the standard repertoire, which is my bread and butter."
Winters had about three months to learn the role: "I started coaching pretty much immediately" on getting the call. "Musically, it's very hard; she has a lot of interjections that come out of nowhere. It's dramatically difficult, too; it's not the typical role I play. Kelly Kaduce is a really important artist, a wonderful actress; to fill her shoes was something I didn't take lightly."
The dramatic side of opera is another thing Winters doesn't take lightly. Her Gilda at the Met was Diana Damrau ("It was a rock star cast"), and she paid close attention.
"Every note had intention, dramatically and vocally," she says of Damrau. "She never asked permission for her choices; she just did them. I saw why she's a star: she believes in herself, she makes artistic choices that she believes in, and she just goes with them."
Winters adds, "Watching her -- watching her commitment -- every night really changed how I see the type of artist that I want to be, and my commitment to the art form."
She's looking ahead to growing into certain roles: Thais ("I love Massenet; he's the French Puccini, in my opinion"), Desdemona and Tatiana in "Eugene Onegin."
"I love Tatiana. I love her heart. She's a bookworm. She has so much character."
Winters is a bookworm herself. She's involved in starting a book club for singers – "We haven't decided yet which book to start with" – and was very pleased to receive a Kindle for Christmas. "I just finished 'The Sun Also Rises,' which has a very concise and to-the-point style of writing. I think I want to read something more romantic and flowery next."
She has a boyfriend, tenor Zach Borichevsky, whom she met in 2009 in St. Louis when they were both young artists. And she's not a complete opera nerd; she's enjoying life, too. "I'm in Paris! I'm in London! I like to take the art tour, the food tour. I love art; I go to museums in the cities where I sing. You have to bring more to your life than singing."
Winters believes that "The talent is the seed. Really, to make that grow, you need the right combination of hard work and perseverance. You have to know when to be in control, and when to relinquish control.
"You just have to take the ball and run with it."

WHO'S BLOGGING


RENT A PHOTO
Search Musical America's archive of photos from 1900-1992.