---
New Artist of the Month: Clarinetist Jonas Frølund
The layered musical personality that emerges from Jonas Frølund's debut portrait album, Solo Alone and More, is cause enough to sit up and take notice. That it consists almost entirely of solo clarinet playing by a newcomer who only completed his training last year (at the Paris Conservatoire) makes the achievement genuinely astonishing.
Released on Denmark's independent OUR label, Solo Alone surveys music for the clarinet written from just after the First World War up to 2021 and includes four world premiere recordings, along with one excursion into the long 19th century in the form of a bass clarinet transcription of the English horn solo from the third act of Wagner's Tristan und Isolde. But it all sounds intensely contemporary—and intensely personal, reinforced by Frølund's dramatically involving instinct for pacing and an inexhaustible expressive and timbral variety.
"I'm very much more oriented toward finding inspiration in other things besides the clarinet," the young Danish musician said in a recent Zoom interview. Rather than keep a narrow focus on issues strictly related to the clarinet and its history, he prefers to find inspiration from a variety of instrumentalists and singers and from areas outside music, such as contemporary art, architecture, and natural landscapes. "I want to see how these other things can have an impact on my playing."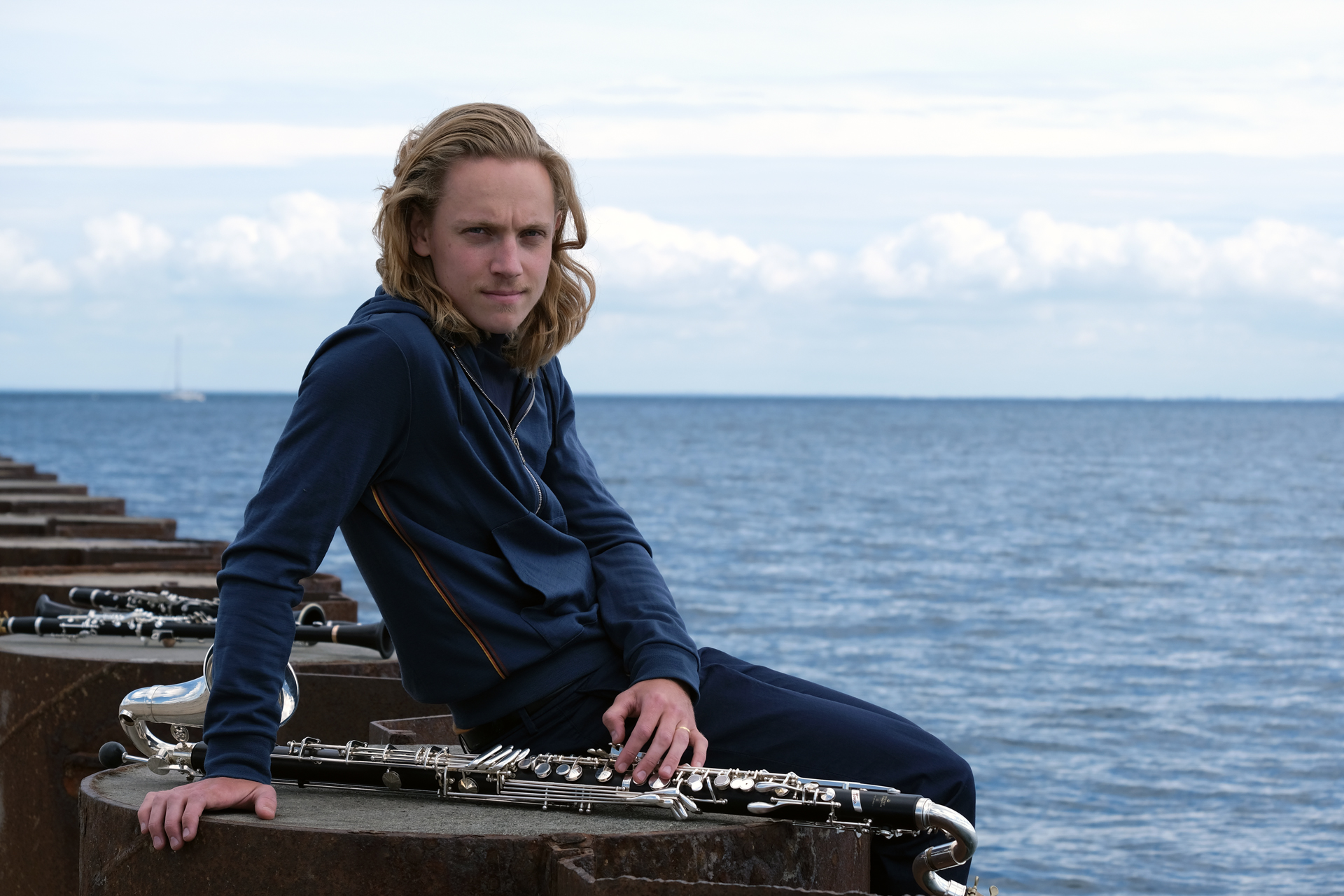 Frølund was born in 1996 in Roskilde, a short distance west of Copenhagen, and was selected for a high school program in the capital that allowed him to focus on music. Choosing the clarinet as his instrument happened through a bit of serendipity. Frølund was originally intrigued by the sound of the saxophone but discovered he would have to wait until he had developed sufficient lung support to learn to play. Impatient to get started, he followed his teacher's advice to try the clarinet in the interim.
The aspiring musician ended up studying both instruments for a brief period but became so smitten with the clarinet that he put his saxophone aside. "But I've closed the saxophone circle," Frølund says, referring to his recent acquisition of a 1920s-era C. G. Conn tenor saxophone to have at his disposal for side projects.
Paris's historical importance for the evolution of woodwind instruments enhanced the attraction of the Conservatoire, to which Frølund transferred from the Royal Danish Academy of Music in Copenhagen. His principal teachers in Paris were Pascal Moragues and Philippe Berrod.
A contract to serve as interim co-principal clarinet with the Malmö Symphony during these years—he continued as a student by commuting from his base in Copenhagen—gave Frølund plenty of exposure to the familiar orchestral repertoire, but early on he began forging an unconventional career path by combining his musical engagements with entrepreneurial projects. With his wind quintet V Coloris, he organized the theme-based Once Upon … chamber music festival in Copenhagen, which took place last month. Frølund also plays principal clarinet with the Danish Chamber Orchestra and serves as the orchestra's chairman.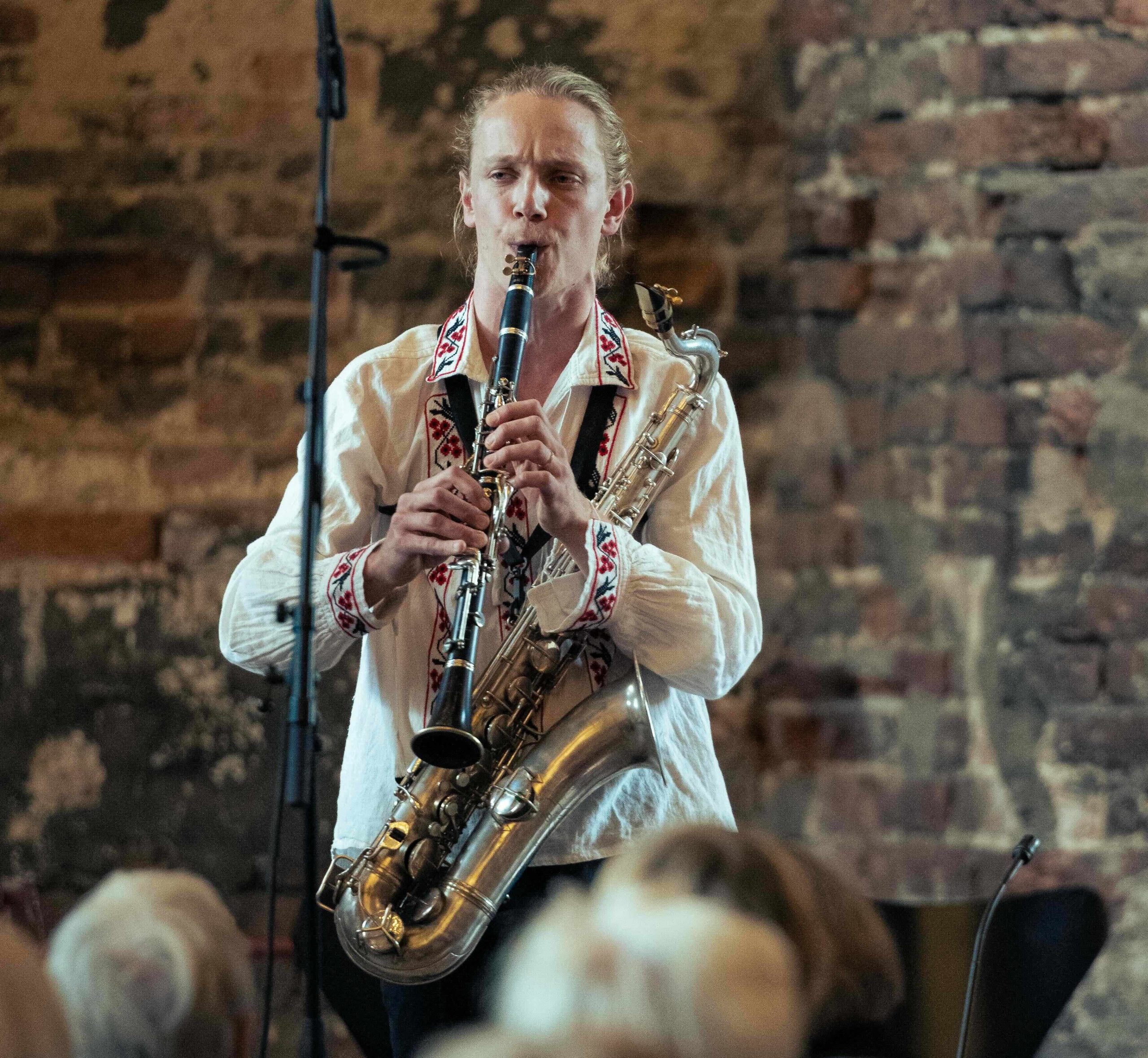 Instead of sticking safely with the tried-and-true hits of the repertoire, Frølund is especially devoted to contemporary music. "Much of it is about the opportunity of working with the composers directly—or, in some cases, of working with somebody who has worked with this composer," he says. "The collaboration between someone who creates and someone who interprets is just so amazing—and even a privilege. It's different each time."
A touch of jealousy for the curiosity that contemporary visual artists can arouse is apparent when Frølund expresses his objection to how new music gets cordoned off into a silo of its own, where it is treated differently from the work of established composers. "It's so strange to me that people who love going to exhibitions of modern art don't listen to the music from their time. But all music was new at some point. I hope to make more people appreciate the music being created around them." His debut album showcases Frølund as a complete clarinetist fascinated by every facet of his instrument: the tracks encompass treble, basset, and bass clarinet. He also plays percussion in a duo with bass clarinet for the longest piece, De Profundis, by his compatriot composer Simon Steen-Anderson. Frølund transcribed the original saxophone solo part.
He demonstrates a corresponding versatility of interpretive resources. He moves effortlessly from the full-blown dramatic contrasts in the cadenza of Carl Nielsen's celebrated Clarinet Concerto to a cooler, less-is-more attitude in Stravinsky's Three Pieces for Clarinet Solo. Especially affecting is the ecstatic lyricism he sustains in the "Abîme des oiseaux" movement from Messiaen's Quatuor pour la Fin du Temps. But he conveys the distinctive personalities of the different generations of Danish composers represented here—Gunnar Berg, Paul Ruders, Bent Sørensen, Simon Steen-Andersen, and Mette Nielsen, the youngest (no relation to Carl)—with remarkable conviction as well.
"It's an instrument with a lot of possibilities of expression," says Frølund when asked what he treasures most about the clarinet. "I would agree with Mozart. He praised Anton Stadler for being able to make this instrument sound like a human voice. I think it has vocal abilities that allow for so many innovations with the instrument. There's so much joy to play every day."
Photos by: Birgit Tengberg (top); Julia Severinsen

WHO'S BLOGGING


RENT A PHOTO
Search Musical America's archive of photos from 1900-1992.