---
New Artist of the Month: Trombonist Hillary Simms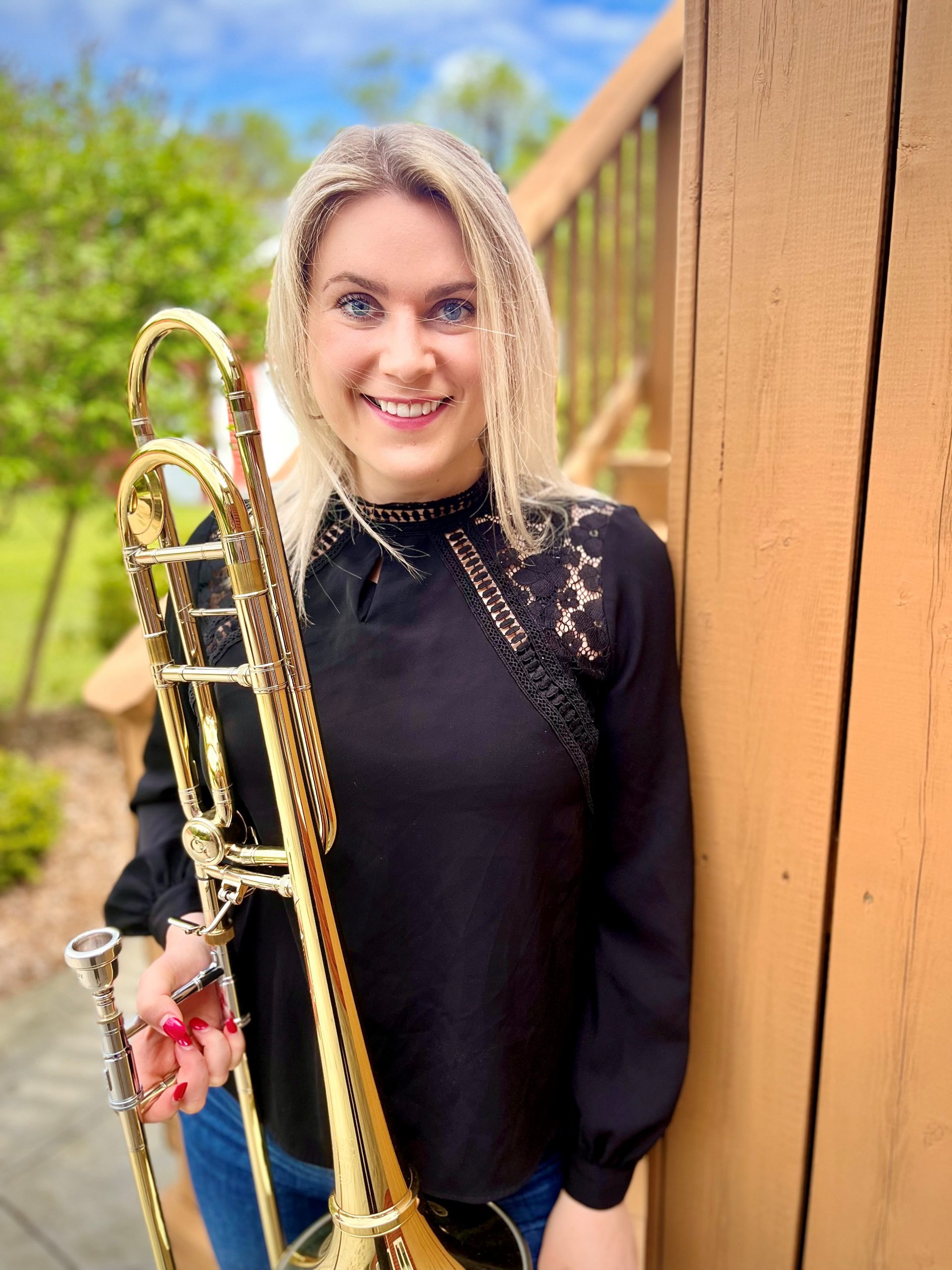 "I never wanted to play trombone," declared Hillary Simms, the new trombonist of the American Brass Quintet. "I wanted to play trumpet because I loved the solo in the middle of Nat King Cole's song 'L-O-V-E.'" But trumpet was already taken in the school band, so her teacher, noting that this nine-year-old had "a really good buzz in her lips" on the various brass mouthpieces, sent her home with a tuba. Her parents, slightly horrified, called the school. "'We know she's musical, but we were hoping for something a bit more melodic,'" she recounts in a phone interview from her home in Newfoundland and Labrador, the northeastern-most province of Canada. The compromise was the euphonium, which has the same range as the trombone; she liked it so much, she next managed to play it in the jazz band ("unheard of in the jazz world," she laughs). Finally, at age 12, she picked up the trombone.
She continued to play through high school, as well as sing, eventually moving on to earn her BM degree from McGill University, where the Tani-Salsinger Gold Medal of Excellence became the first of what were to be many accolades and competition wins, including Le Concours Orchestre Symphonique de Montreal in 2017. There followed an MM from Yale and an Artist Diploma at the Royal Conservatory of Music's Glenn Gould School, where she studied with Toronto Symphony principal trombone Gordon Wolfe, whom she considers one of her role models. Currently, Simms is finishing up her DMA (remotely) at Northwestern's Bienen School of Music. (She also is a relative newlywed, having married Chinese pop sensation Ricky Nan last year.) Just 28, she's been named one of Canada's Top 30 Classical Musicians Under 30, having already played in the ranks of the Chicago Symphony Orchestra, among others, and, recently, as the soloist with the National Arts Center Orchestra in Henri Tomasi's Trombone Concerto.
Her preference is solo or small ensemble work—she's a founding member of the Canadian Trombone Quartet [sic] and the all-female Saltwater Brass—but likes orchestral work as well. "I just like playing—I'll go anywhere." And that, apparently includes New York City, to which she is currently in the process of relocating to be part of ABQ and, as a member, teach at the Juilliard School. The new gig was not dropped in her lap, however.
Squeeky wheel
Last fall, Simms heard that ABQ was holding private auditions for the space vacated by Michael Powell, a member from 1983 to 2022. Having followed ABQ most of her life and even worked with several of its members, she was surprised not be among those selected to audition. "I thought, hey! Why wasn't I considered for this?" She shot off an email to senior member and bass trombonist John Rojak, with whom she had studied at the Colorado College Summer Music Festival in years past.
"She asked me if we could listen to her and I told her no," remembers Rojak, "because she didn't live in New York. And right away, she wrote back: 'I'll move'!"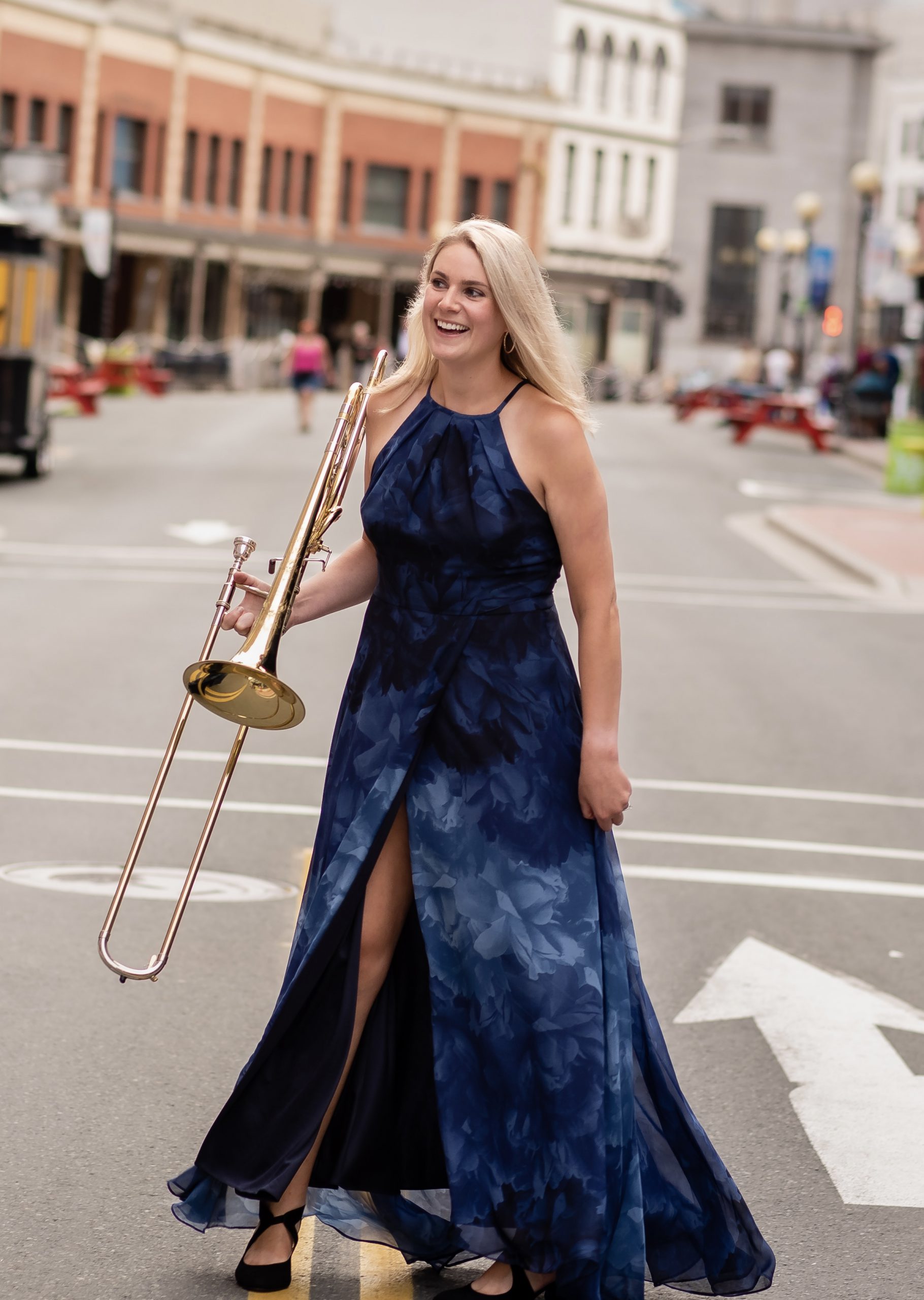 Two weeks later she was in Manhattan auditioning and, despite ABQ being in the final stages of its search, after two-and-a-half hours of being "put through the paces," as Rojak puts it now, Simms quickly landed at the top of the list. She played her first concert with the group in March and, by two concerts later, says Rojak, the sound of the new lineup (which also includes trumpeter Brandon Ridenour) had reached "amazing,"
"She's a quick study," he adds.
With so little turnover across its 60-year history, "fitting in" is not easy, especially on pieces that have long been in the repertoire. For that reason, part of the audition was to learn a new piece with the rest of the group. In this case, it was Anthony Barfield's Samsara, one of a list of recent commissions the group plans to record in the coming months. "Learning a new piece together was so much more important than working on something with our preconceived ideas in place," says Rojak. "One of the things we really liked about her was how she handled the [solo] cadenza in that piece; there's such style and flair in her playing."
Save for early music transcriptions, ABQ plays work written specifically for brass. As such, much of the brass quintet repertoire written in the last 60 years was commissioned by the group. Simms says she knew that, with all that new music, she would have to have her extended technique in good working order to make the cut.
Listening to her performance of the Tomasi, a non-aficionado is impressed with the liquid lyricism that emerges from this back-of-the-orchestra, middle-of the-chord instrument. That Simms trained as a singer—something she does more in a jazz context than classical—has certainly helped in turning the trombone into a melody instrument. "There's so much that can go wrong," she responds when asked about challenges. "There are only seven slide positions, so if your slide technique is off, your intonation is going to be all over the place."
As to being the first woman in the group, both Rojak and Simms shrug it off. "Obviously, it's a male-dominated industry," she says, "especially low brass. But personally I've never been told 'no.' Plus, I'm stubborn. I've had a strong opinion of what I wanted to do for a long time, and no one was ever going to stop me."
Recently, one of her past teachers recounted a time a while back, when a budding trombonist said, "All I ever want to do is play solo or chamber music." Given the odds, her teacher remembers thinking, "Good luck with that."
"I guess my stubbornness paid off," Simms laughs now. "Having the same musical heartbeat onstage with four other people is just magical."

WHO'S BLOGGING


RENT A PHOTO
Search Musical America's archive of photos from 1900-1992.