---
New Artist of the Month: Conductor Huang Yi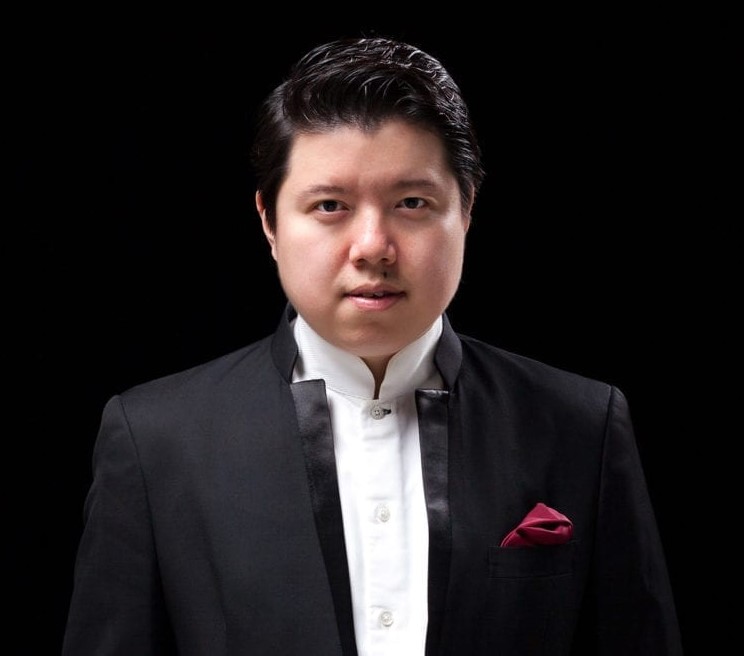 The first time I heard Huang Yi conduct, I barely noticed. The revival of Jin Xiang's 1987 opera Savage Land at the 2012 Beijing Music Festival (BMF) had a huge, high-profile Chinese cast, with no spotlight shining on the pit. Three years later, I saw him lead the Shanghai Symphony Orchestra in the world premiere of Andy Akiho's Ping Pong Concerto (later retitled Ricochet), a dense, polyrhythmic orchestral piece juxtaposed on stage with an actual ping-pong match. It was a riveting piece of music theater.
By 2018, the live orchestral screening of West Side Story with the China Philharmonic at the BMF offered another experience entirely. "He really knew how to create the illusion that the film was following the orchestra, not the other way around," recalled the composer's daughter Jamie recently.
That seems to have been Huang's career approach as well: work hard in the background, keep close to talent, wait till you're called into the spotlight. In late May, the call came.
After years of working in orchestral trenches, the 37-year-old Huang recently has been tapped to become music director of the Guangzhou Symphony Orchestra, succeeding mega-maestro Long Yu, whose 20-year tenure on the GSO podium elevated a fine regional ensemble into a national and international presence. Huang's five-year term begins with the opening of the 2023–24 season in September.
I asked about those early premieres and other challenges for junior conductors. "The hard thing is that you have no experience," he says. "The easy thing is that you have lots of time. When you're only one step away from being a student, you still know how prepare."
Time may now be a lost luxury. Along with Guangzhou, Huang still maintains positions as principal conductor of the China Philharmonic and artistic director and chief conductor of the provincial Kunming Nie'er Symphony Orchestra—organizations with entirely different civic and musical profiles.
Beijing, home to the China Phil, is both traditional and international. Kunming, in China's southwest Yunnan province, where he has been music director since 2016, is a much different story. "We've taken baby steps in developing audiences, mostly by commissioning folksong arrangements," he explains. "But we've found many music lovers. Classical music has become part of their lives."
Guangzhou, though, is a special case. A manufacturing center and fast-moving economy in its own right, the city has become a leading force in China's Greater Bay Area, a central government initiative to link disparate parts of southern China—including Hong Kong, Macau, and Shenzhen—into a single economic and cultural powerhouse. Compared to Huang's other orchestras, the GSO is the most outward-reaching, forward-looking, and poised to gain international attention.
Early days
Born in Beijing to a professor at the Central Conservatory of Music, Huang was blessed by his father's position and social circle. "From the time I was six or seven, everyone I called 'uncle' was either a music professor or a famous player on their instrument," he says.
By age six, Huang had already studied piano for two years. At the Central Conservatory's affiliated middle school, he took up the flute and guzheng (a Chinese zither). He also sang for 12 years in China's most prominent youth choir. Playing Chinese instruments in particular made him aware that much of "what makes a piece musical" can't be written in the score, he says.
"Actually, you could say I've been learning to be a conductor since I was six," he says. "Sitting in an orchestra, I could hear the same piece change with different conductors. From the choir, I learned how a performance can turn from good to magical through changes in harmony and timbre. The choir taught me that music is more than keeping time. You need to feel it in your body. The sound then needs to come through your arms."
It was his choral conductor, Yang Hongnian, who saw Huang's potential and urged him to study conducting formally. Huang led many student ensembles, both while at the Central Conservatory and shortly after graduation, until a fateful engagement in 2009: Helping Long Yu prepare for his first concert with the Shanghai Symphony Orchestra as artistic director. "The first thing Maestro Yu told me was to go abroad," he recalls. "He said very directly that five years in Germany is more valuable than 10 years in China." [Long Yu trained in Germany.]
But Huang soon had several commitments at home, including his China Philharmonic debut leading a children's concert in June 2011. By the time he left for Berlin's Hanns Eisler Hochschule für Music that fall, he had debuted with 10 professional orchestras. "No one in Germany wanted to change my technique," he says. "I had some experience, so my conducting skill was quite functional. But everyone agreed I had a lot to learn about musical styles and culture."
Two years after his China Philharmonic debut, Huang took a leave of absence from his studies to conduct Savage Land. The next year, in 2013, he assisted Christian Thielemann in Wagner's Parsifal, a BMF co-production with the Salzburg Easter Festival. After a couple of seasons of nomadic guest appearances, Huang got his first formal appointment in Kunming in 2016. Three years later, he was tapped to become both chief conductor of the symphony orchestra of the National Ballet of China and principal conductor of the China Philharmonic—the latter still under the baton of Long Yu.
The grand arrival
Huang's recent GSO appointment involved a two-tiered system engaging both players and management, according to orchestra President Chen Qing. Every musician was asked to submit a name for consideration; the list was then compiled and delivered to a nine-member selection committee made up of management and three consulting music professionals (including the former president of the Central Conservatory and the current CEO and artistic director of The Tianjin Juilliard School). Chen Qing reports that the players had nominated 16 different conductors, but that Huang's name recurred with overwhelming frequency—probably, Chen speculates, because he had been guest-conducting there for more than a decade.
"For the selection committee, the most important trait was the ability to face the future and break new paths," Chen adds. "After 20 years of Long Yu's leadership, any successor will face challenges in continuing that growth. Huang Yi was willing to accept the challenge, and the GSO management is convinced that his present trajectory matches the orchestra's."
Huang has already begun planning two seasons ahead. His most immediate priority is to elevate the role of YMCG (originally "Youth Music Culture Guangdong," the final "G" now representing "Greater Bay Area"), an annual educational-musical project inaugurated in 2017 with Yo-Yo Ma as artistic director. (Daniel Harding will become music director in 2024.)
"I'm not 50 yet," Huang says. "While I'm still a little young I hope to develop more opportunities for young musicians. Maestro Yu gave young musicians many prospects, but there's always room to make classical music younger."

WHO'S BLOGGING


RENT A PHOTO
Search Musical America's archive of photos from 1900-1992.