---
New Artist of the Month: Mezzo-soprano Anne Marie Stanley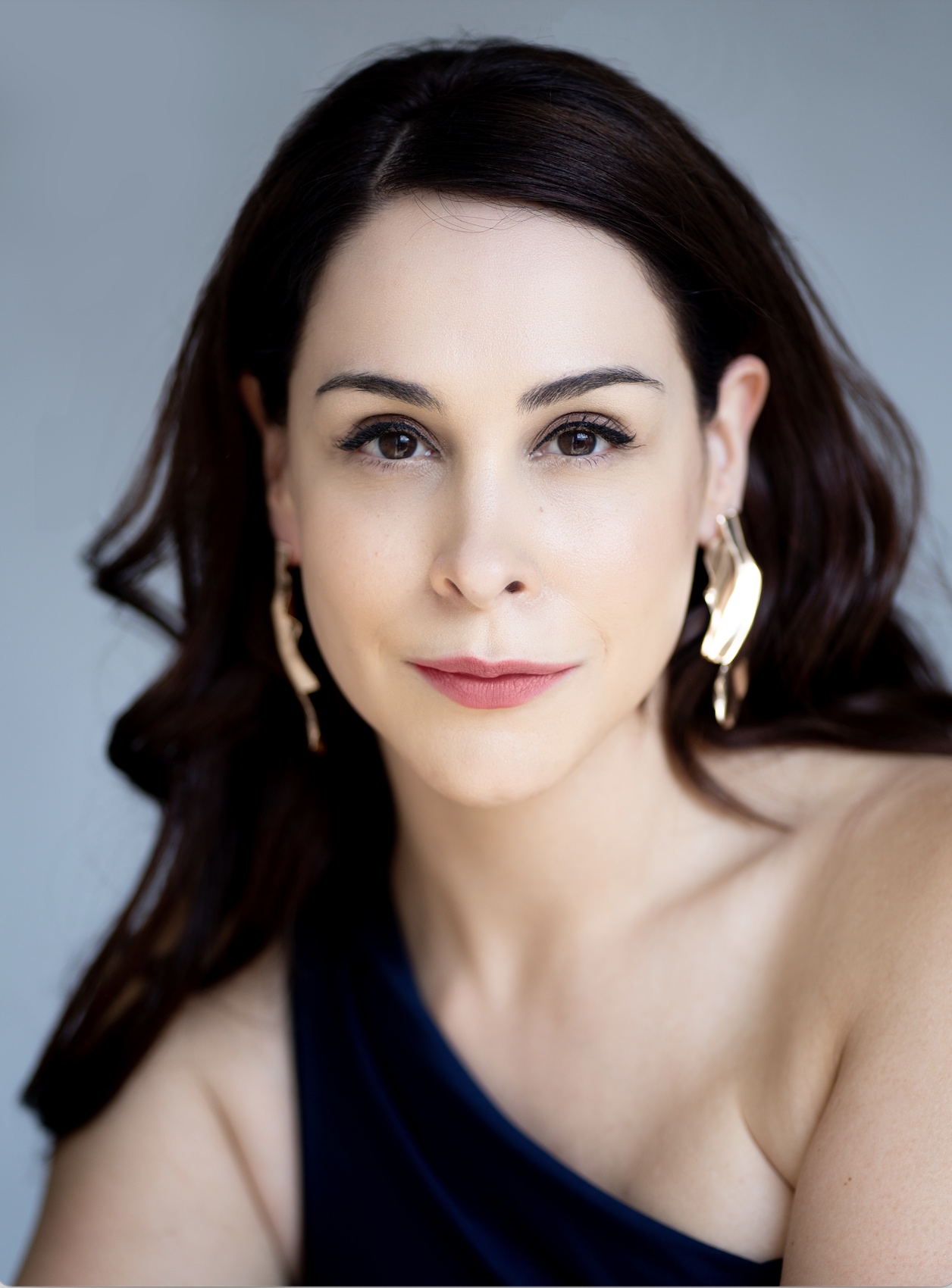 LONDON—The title role in Benjamin Britten's The Rape of Lucretia demands exceptional qualities. The heroine has a long scene in which she's threatened and assaulted, followed almost immediately by one steeped in trauma and ultimately suicide. That Anne Marie Stanley carried it off so effectively at London's Royal Opera House last November is a tribute to the New Jersey-born mezzo-soprano's poise and technique, as well as a willingness to enter into some very dark places in the cause of her art.
"The voice is glorious: rich, deep, and powerful, and with superlative diction," I wrote in my review. "The role can sometimes sound matronly, but Stanley's youthful instrument teems with a life-affirming passion. She's also a consummate actor, conveying [the character's] strict moral principles, her impatience, her vulnerability, and ultimately her decision to die as a final act of defiance… It's a performance of compelling power and passion."
"I understood that this was going to be difficult, and I knew it was going to surprise me, so I tried to map out the emotional journey in my own time so I could be grounded when I came into rehearsal," Stanley confesses over Zoom. "But I was thrilled we had Ita [O'Brien], our intimacy coordinator and Sarita [Piotrowski], who was our movement director. It became a comfortable collaboration amidst the discomfort. I felt very safe in the rehearsal room, and I really didn't expect to."
Stanley has just turned 31 and her career is clearly on the up and up. In 2022, she covered the lead in Ethyl Smyth's The Wreckers for Glyndebourne Festival Opera. The same year she was a Grand Finals Winner of The Metropolitan Opera Laffont Competition,where she received the Faith P. Geier Award. To top it off, both last year and this she is a Britten Pears Young Artist, supported by the composer's foundation based in Aldeburgh in the U.K.
Born in Princeton, N.J., her route into opera was through musicals. "I'm the youngest of six and for a fun activity we did a lot of musical theater productions together," she explains, with shades of The Sound of Music. "Annie, Carousel, Oklahoma, those old-school shows are my fondest childhood memory. We also sang in church and got so good we were known as the Stanley Family Singers."
Initially drawn to acting, she went first to DeSales University in Pennsylvania where they specialized in Shakespeare. "I started out reading A Midsummer Night's Dream, and Agamemnon, and The Divine Comedy," she says, before her voice teacher suggested in no uncertain terms that she should change track. "It was like, girl, you need to go to a conservatory. Now! Don't wait!" she laughs.
Transferring in the middle of her first year, she headed back to Princeton where she studied for her Bachelor of Music in Voice Performance at Westminster Choir College. She puts her operatic epiphany down to her mentor, Professor Lindsey Christiansen. "Once she'd explained how opera worked, and art song, and the way words and music relate too each other, it was transcendental," she says.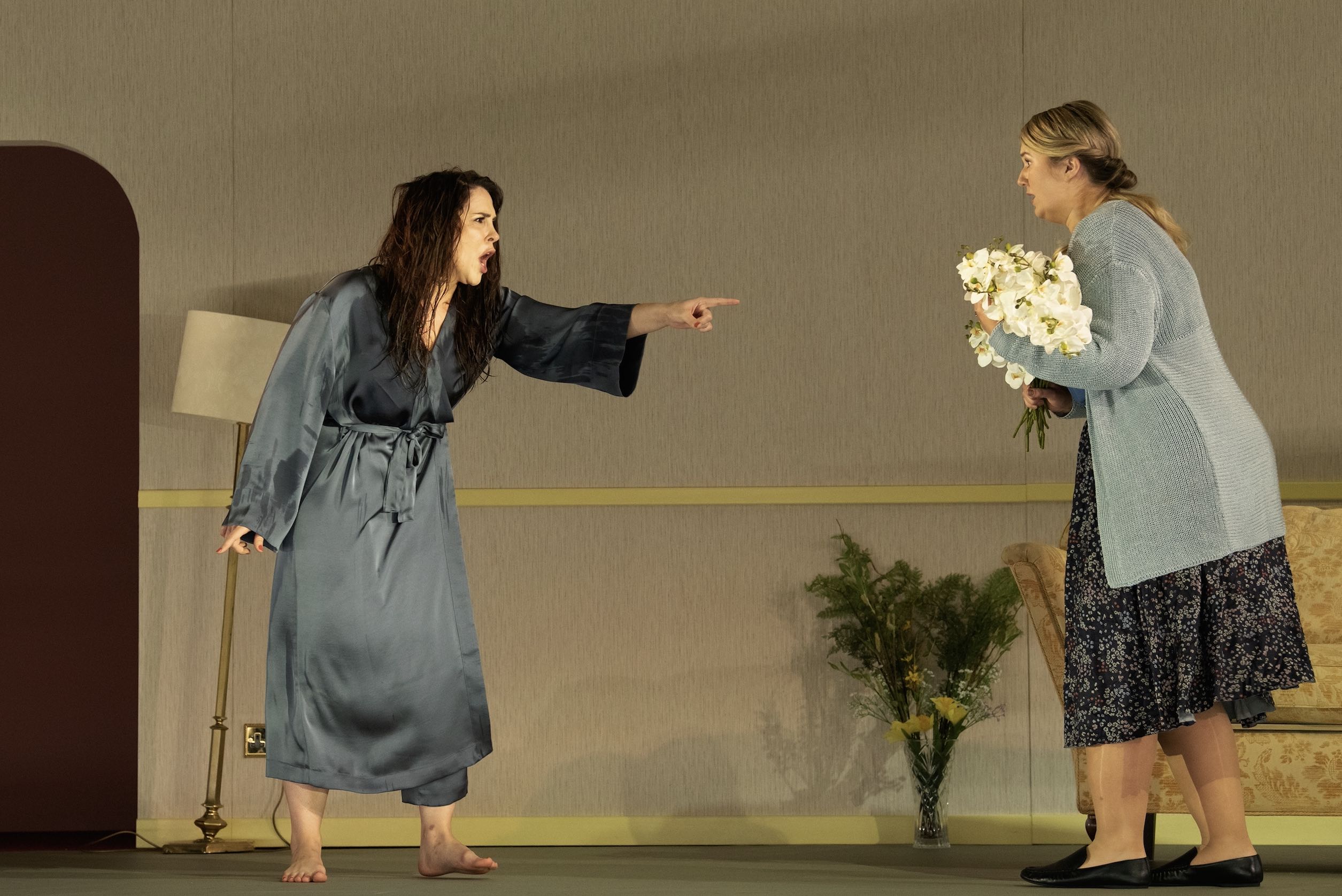 Anne Marie Stanley with Carolyn Holt in The Rape of Lucretia at the Royal Opera House, November 2022
That done, she relocated to Texas to join the Houston Grand Opera Young Artist Vocal Academy and study for a Master of Music in Voice Performance at the Shepherd School of Music at Rice University. Other young artist programs have figured in Stanley's musical education, but one that stands out for her was the Santa Fe Opera Apprentice Singer Program, which she joined in 2015. "I got lucky because they needed a Giovanna in Rigoletto. So, I thought, let's put on these acting chops and get to work," she laughs. "When you're dealing with a major company and the most prime talent around [Quinn Kelsey was the Rigoletto, and Georgia Jarman was Gilda], you learn so much about the industry, so much about what it means to be an actor, and what the best of the best do. That was a real foundation for me."
She also got the chance to cover the role of Olivia in the world premiere of Jennifer Higdon's Cold Mountain, gaining valuable direct experience of what is involved in putting on new work at the highest level.
Competitions have been important too. In 2015 she was first prize winner in both the Philadelphia Orchestra Albert M. Greenfield Student Competition and The New York Lyric Opera Theater National Vocal Competition; similarly in the 2016 Franco-American Grand Concours Vocal Competition in Austin, TX. In 2017, she was a finalist in Houston Grand Opera's Eleanor McCollum Competition.
In 2018, she got lucky again. At Music Academy of the West in Santa Barbara she was mentored by Marilyn Horne, sang Dinah, the female lead in Bernstein's Trouble in Tahiti, and got to play Marcellina in Le nozze di Figaro, conducted by James Conlon and directed by James Darrah.
The following year she started a residency at Philadelphia's Academy of Vocal Arts where she played Léonor in Donizetti's La Favorite. Although she was scheduled to sing Klytemnestra's confidant in Elektra with the Philadelphia Orchestra, conducted by Yannick Nézet-Séguin, the pandemic cancelled the event. Moving in with her eldest sister Kim, a behavioral therapist, helped reground her during the lockdown. Post-pandemic, 2022 was all about the U.K., a country of which she has grown increasingly fond.
Looking ahead, she'd kill to play Bellini's Romeo and Massenet's Charlotte (arias for both roles helped secure her Met Competition win). Meanwhile, her love affair with England looks set to continue when she returns to Covent Garden next month as one of three wood sprites in Rusalka, conducted by Musical America's Conductor of the Year Semyon Bychkov. In March she sings a gala for North Carolina Opera, and then it's off to Amsterdam to sing the Austrian Woman in John Adams's The Death of Klinghoffer. That's real versatility and certainly a talent to watch.
Photo credits: top, Kendra Irene; middle: Camilla Greenwell

WHO'S BLOGGING


RENT A PHOTO
Search Musical America's archive of photos from 1900-1992.