---
MA Top 30 Professional: Harriet Stubbs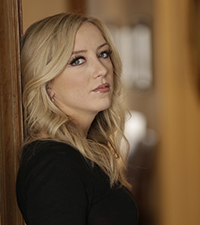 In June, British pianist Harriet Stubbs was named on Queen Elizabeth II's Birthday Honors List, recognized for "services to the community in West London during COVID-19." Her services entailed playing 250 brief concerts, heard every evening through the open window of her apartment by neighbors and people gathered on the street.
"I'm so glad my British Empire Medal came from her," Stubbs said. "Her majesty's death was the end of an era, and I feel so privileged to be on her last list."
Stubbs, who divides her time among New York City, London, Los Angeles, and the Cayman Islands, was stuck in London during the pandemic. She ended up staying for a year and a half to perform her free window concerts. "I think people responded because of the variety," she said. "The repertoire was everything from Beethoven to the Beatles, Scriabin to David Bowie. People came to listen even in the rain and the dark. It was amazing. I felt really invigorated and inspired, because we all got to experience something greater than ourselves at such a desperate time."
One of the most popular numbers Stubbs performed was her arrangement of the Bowie song "Life on Mars," which she intends to include on a 2023 recording whose mix of classical and pop music she describes as "Rachmaninoff meets Bowie." Her first album was Heaven & Hell: The Doors of Perception, an homage to poet William Blake that featured Marianne Faithfull delivering a narrative in Stubbs's rendition of John Adams's formidable Phrygian Gates.
Also on the pianist's agenda: the Sonic Blue Cayman International Festival, which she began developing before the pandemic. The plan is to give performances on a stage set in the water just off a beach on Grand Cayman, with the festival to debut in January 2024. "We'll have a ballet night, an opera night, a jazz night, a rock 'n' roll night," she said. "I want to combine the ocean and different genres of music."
SOCIAL LINKS

WHO'S BLOGGING


RENT A PHOTO
Search Musical America's archive of photos from 1900-1992.