---
MA Top 30 Professional: Kate Sheeran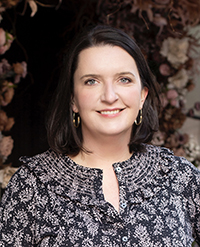 Starting in January of 2021, crowds used to gather in front of an abandoned shop window near Lincoln Center to watch live, socially distanced concerts furnished by New York's Kaufman Music Center. The Musical Storefronts series, helmed by Kaufman Executive Director Kate Sheeran, offered performances from all corners of the musical map: Mozart from established string quartets, Bacharach from acclaimed jazz crooners, daring electronic sets from NYC's avant-garde up-and-comers. Beyond the media buzz—which included a spot on NBC's Kelly Clarkson Show—Sheeran says the project was a beacon of local joy during bleak days. "We saw people holding hands, dancing with their children, even crying," says Sheeran. "It felt life-affirming during such a dark time. It felt like our city was still here."
In addition to an annual concert season at Merkin Concert Hall, the Kaufman Music Center is the umbrella organization for the Special Music School (SMS), a K-12 public school whose curriculum includes intensive music education, and the Lucy Moses School, Manhattan's largest community arts school. One of Sheeran's first projects after joining Kaufman in 2018 was an Artist-in-Residence program, which this season includes Voces8, pianist Aaron Diehl, and the Harlem Quartet. The artists mentor and interact with Center students. "Our students get to know [them] as people and the light gets turned on that maybe one day they too could have a career in music," says Sheeran.
Once a professional-track hornist, Sheeran cut her K-12 teeth as director and dean of Mannes School of Music's pre-college and continuing education divisions. (She served in that role until 2015, when she became San Francisco Conservatory of Music's provost and dean.) At Kaufman, Sheeran oversees a full curriculum of core academic subjects in addition to musical ones. Her holistic purview prevailed when SMS middle-school English students, upon discovering that there was no children's book about Florence Price, decided to write one. Sheeran helped them secure a publishing deal with G. Schirmer, Price's publisher, and Who is Florence Price? was released in November 2021 to national media attention. This in turn resulted in a collaboration with the Philadelphia Orchestra and a family concert in March 2023. "Our students got to see how much power they have in shaping the stories future generations get to hear," Sheeran says. "I am just so proud of them."
SOCIAL LINKS

WHO'S BLOGGING


RENT A PHOTO
Search Musical America's archive of photos from 1900-1992.