---
MA Top 30 Professional: Lara Pellegrinelli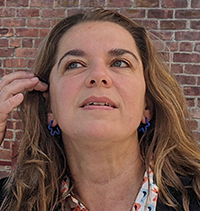 Scholar and Journalist
When it was published, NPR's 2021 Equal At Last? Women In Jazz, by the Numbers was the only quantitative report to illuminate the jazz scene's lack of gender parity. The project was the brainchild of journalist, scholar, and critic Lara Pellegrinelli, who, along with a team of seven reporters, analyzed data from the year-end NPR Music Jazz Critics Poll in search of conclusions about the status of women in the world of recorded jazz. On first glance, they seemed to find convincing evidence that the gender gap was shrinking, but upon further investigation, that data proved misleading—in 2019 (the latest year of analyzed data), only 16 percent of core personnel on Top-10-ranked jazz albums were women.
Pellegrinelli has been writing about jazz, new music, and more for NPR since 2008, and her Harvard Ph.D. dissertation has been cited as the first-ever ethnographic study of jazz singing. But she's particularly proud of the 2021 study's impact—it's been cited in The New York Times and on PBS News Hour, and it led to funding for further, gender-expansive research from the Berklee [School] Institute of Jazz and Gender Justice. "The numbers offer eye-opening, irrefutable evidence … and they have forced a reckoning in classical music and jazz that I hope will continue to gain momentum."
Pellegrinelli is the resident program annotator for the acclaimed Composer Portraits series at Columbia University's Miller Theater. She's often the first to write about these composers and their new work, encouraging readers to think critically about the music. She has taught music journalism at The New School and has given program-note workshops nationally. She views the notes as a way into a piece of music, approaching it as a performer might for the first time. "I want to know what kind of connections a contemporary performer—someone who likely comes from a radically different background than the composer—might form. When you approach music this way, it gives you thousands of new stories to tell."
SOCIAL LINKS

WHO'S BLOGGING


RENT A PHOTO
Search Musical America's archive of photos from 1900-1992.