---
MA Top 30 Professional: Justin John Moniz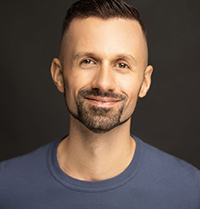 Assistant Professor of Vocal Performance; Associate Director of Vocal Performance & Coordinator of Vocal Pedagogy, NYU Steinhardt
Executive Director, Hawaii Performing Arts Festival
Since 2019, when Justin John Moniz took over as coordinator of vocal pedagogy at NYU, the department has widened its outreach program and focused on schools in underserved communities, where graduate students put their cross-genre studies in vocal instruction, physiology, and health into practice.
In May 2022, Moniz moderated and hosted the symposium "Paving New Paths: Understanding Trans Identities On-Stage and Off," for which he was awarded Steinhardt's prestigious Faculty Development & Diversity Innovation Grant. The groundbreaking forum explored ways to include trans and gender-nonconforming performers in spaces that have a history of intense cis-normativity. "Material that challenges audiences shifts paradigms and serves to increase empathy within our culture," says Moniz. "Art has the power to change history, not simply document it."
In addition to his academic duties, since 2017 Moniz has been executive director of the Hawaii Performing Arts Festival (HPAF). The Festival, which celebrates 20 seasons in 2023, traditionally brings opera and musical theater to Hawaii's Big Island; recently Moniz added programs to raise the profile of Hawaii's indigenous culture. His Hawaiian Cultural Initiative, supported by the state government and the Hawaii Tourism Authority, sponsors classes in hula, Hawaiian language and history, and lei-making. The Festival's 2022 season opened with a tribute to indigenous culture by local performers; all proceeds went to a new HPAF scholarship fund for local high school students to attend future classes at the Festival.
SOCIAL LINKS

WHO'S BLOGGING


RENT A PHOTO
Search Musical America's archive of photos from 1900-1992.