---
MA Top 30 Professional: James M. Kendrick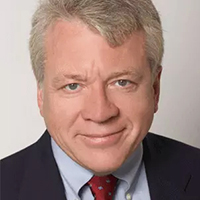 In his long career, Jim Kendrick has worn many a musical hat. He was an oboist who studied at the Manhattan School of Music and the Juilliard School, where he played in Aaron Copland's 75th-birthday concert in 1975. After receiving a law degree from Rutgers University in 1983, he became an authority on intellectual property, with an emphasis on music. In addition to practicing law, he has been a top-level executive with Boosey & Hawkes and other music publishers. He is a pivotal figure in the work of U.S. foundations that have an important role in funding new music, including the Aaron Copland Fund, the Amphion Foundation, and the Charles Ives Society.
"I have done a lot of things in the music business, but the one thing I've never been able to do is take a blank sheet of paper and create something that anyone, including me, would ever want to hear," Kendrick said. "I've always been fascinated with composers."
The composers with whom he has worked constitute a hall of fame of modern Americana, beginning with Leonard Bernstein. In the early 1980s, Bernstein's personal lawyer, the late Paul Epstein, hired Kendrick to work in the office overseeing the conductor/composer's many activities, and that connection continues today. Through the years Kendrick has worked with Elliott Carter, Steve Reich, John Adams, and many other notable American creatives.
Composers took a hit in the pandemic. "For composers, live performance is the gold standard, and that's what got hammered for more than two years," Kendrick said. "Short of nuclear war, I can't imagine anything that would shut things down more comprehensively than Covid did. Nobody ever contemplated such a disaster."
Kendrick is hopeful that foundations will have more new compositions to consider supporting. "Happily, last year we started to see a reasonable amount of activity come back," he said. "When we get into this year's grant rounds, I expect a full slate of activity, although you never know what's coming down the road."

WHO'S BLOGGING


RENT A PHOTO
Search Musical America's archive of photos from 1900-1992.