---
MA Top 30 Professional: Portia Dunkley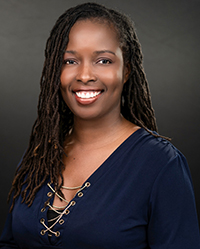 Portia Dunkley is a double bass player, strings instructor, owner of a mobile music education program for children, called Teeny Violini, and founder of the South Florida concert series Music of the Unsung America that celebrates Black composers. In 2021, she founded the New Canon Chamber Collective, an orchestral and choral ensemble made up of musicians of color.
With a bachelor's degree in double bass performance and a master's in arts administration from Florida State University, Dunkley marvels that for all her education she wasn't taught about Black composers. That changed when she participated in the Sphinx Organization's LEAD (Leaders in Excellence, Arts & Diversity) program, designed to empower Black and Latinx arts administrators.
"Sphinx opened a door for me," she said. "It inspired me to get a grant from the Knight Foundation in Miami to develop a program to spotlight work of African American composers." Music of the Unsung America and New Canon put on half a dozen performances during the pandemic. In collaboration with the American Composers Forum, programming included several notable new works by emerging Black composers, such as Michael R. Dudley Jr.'s Elegy: For Those We Have Yet to Lose."
Raised in Miami's Overtown neighborhood, Dunkley has a multicultural background—her mother is Bahamian and her father is Haitian—that is reflective of South Florida's wildly diverse demographics, with a large immigrant population from all over the Caribbean and Latin America. But she doesn't really see the community as a melting pot.
"There is not a lot of overlapping of cultures here—everybody has their own space," Dunkley said. "I would love for New Canon to be a bridge between cultures, from the classical music of the African American composers we've been playing to Afro-Cuban jazz and salsa, the kompa music of Haiti, the calypso you hear in the Bahamas, and every other sort of music that bubbles up here."
Photo: Kenneth Lamor
SOCIAL LINKS

WHO'S BLOGGING


RENT A PHOTO
Search Musical America's archive of photos from 1900-1992.