---
MA Top 30 Professional: Jennifer Bowman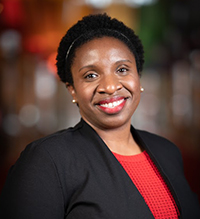 Jennifer Bowman is learning that you can go home again. Twenty-four years ago, she left her hometown of Houston to go away to school, first to Dartmouth College to major in music and Peabody Conservatory to study voice and arts administration, and then to take arts management jobs on the East Coast. They included several positions at the John F. Kennedy Center for the Performing Arts in Washington, DC, where she had a five-year tenure as director of music education, developing initiatives with the National Symphony Orchestra, Washington National Opera, and jazz, hip-hop, and chamber music programs.
In spring 2020 the pandemic shut down the Kennedy Center, and Bowman was furloughed along with much of the administrative staff. "Once the pandemic hit and I was not working, I had to think about how do I pivot, how do I adapt," she said. "I realized that I had been away from my family in Houston for a long time; my mother and aunt and uncles, my brother and his two young boys, my friends from high school, and that I wanted to be closer to them at this time of my life."
After the furlough ended Bowman went back to work at the Center, but this past June her wish came true. She returned home to become director of community and learning at Houston Grand Opera, whose performances she had attended while growing up in the city. "It's exciting for me to bring back all the experience I've had in the arts and put it into practice here," she said. "I want to bring as many people to the table as I can."
Bowman inherited a strong lineup of outreach projects for the 2022-23 season, including HGO's 74th world premiere, Another City, an opera about homelessness by composer Jeremy Howard Beck and librettist Stephanie Fleischmann, to be staged in March at a downtown church that serves the unhoused; and Monkey and Francine in the City of Tigers, a children's opera by composer Kamala Sankaram and librettist David Johnston that is touring to schools, libraries, and community centers.
SOCIAL LINKS

WHO'S BLOGGING


RENT A PHOTO
Search Musical America's archive of photos from 1900-1992.