---
New Artist of the Month: Cellist Jonathan Swensen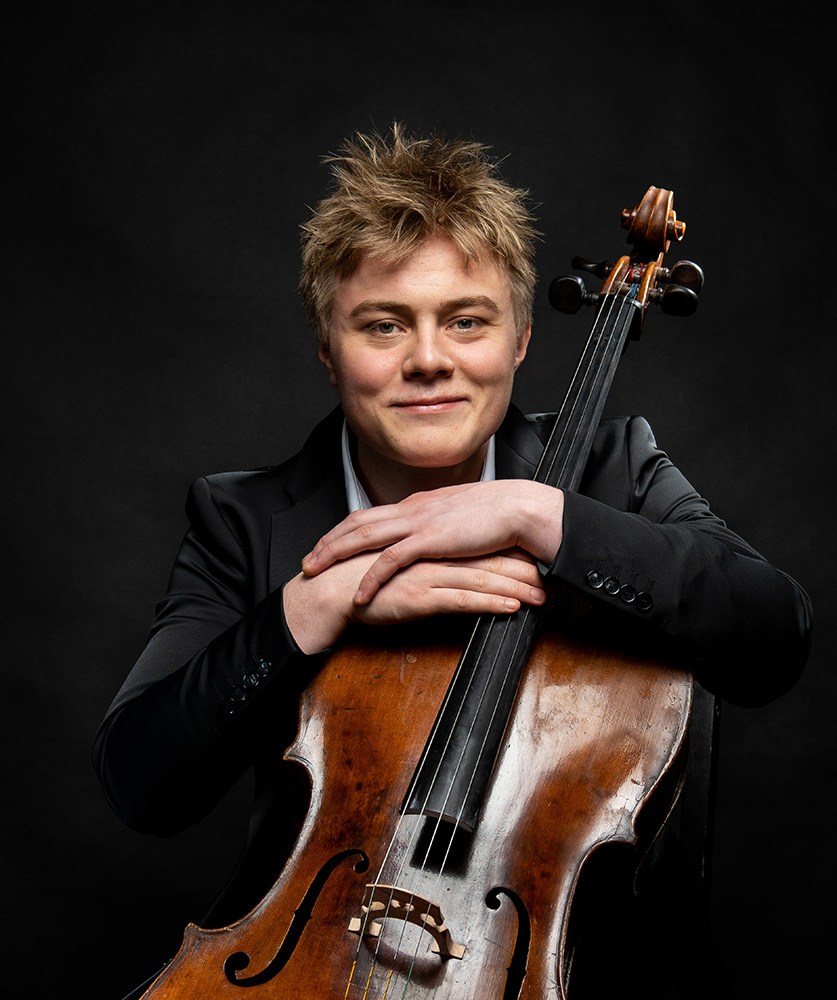 Like many young cellists, Jonathan Swensen fell in love with the instrument during a performance of the Elgar concerto. He was six at the time. It was therefore a dream come true when, 14 years later, he made his concerto debut playing the same work. But there's more to the 26-year-old cellist and recipient of a prestigious 2022 Avery Fisher Career Grant than a love of the big beasts of the late-Romantic repertoire, as his startlingly original debut recording proves. Coupling Ligeti and Dutilleux with new music by Bent Sørensen and a searching performance of the virtuosic Kodály Sonata for Solo Cello, Swensen proves to be not just a bold programmer, but a mature artist with a bold, rounded sound and the emotional chops to back it up.
Born in Copenhagen in 1996, music is baked into Swensen's DNA. His father is Hoboken-born American violinist and conductor Joseph Swensen (also once an Avery Fisher Career Award winner) while his mother is Danish violinist, Kristine Algot Sørensen. "Almost everybody in the family plays music," he says, referencing oboe and violin-playing uncles and a younger brother who is a violist. "They weren't pushing me—it was my own choice to play the cello—but they knew the musical world, which was nice, and they were always supportive."
The Elgar moment
His father was conducting when young Jonathan first heard Ralph Kirshbaum play the Elgar. A year or so later, the cello would become his instrument of choice, no question. "I'm a very intuition-based person and for me the cello was 100 percent the right thing," he explains. "Physically feeling the vibrations of the instrument got me hooked, and this alto/baritone voice made me feel involved and deeply related to the sound."
By his early teens, Swensen sensed that a musical career was an option. "I was definitely not a prodigy, and I didn't practice incredibly seriously until I was 12, but it was around then that I really started thinking this was something I wanted to do," he admits. "What would I have done if I didn't play the cello? It's difficult, but perhaps in another life I would have pursued acting or writing."
These days he prefers the palate-cleansing inspiration of rock or jazz, music he describes as "happening right now." He tries to avoid listening to other cellists, though early on he was a fan of Jacqueline Du Pré. "And I did have a Rostropovich period when I was 15 or 16," he laughs. "I thought he was the God of the universe."
Swensen dropped out of high school in 2013 to enter the Royal Danish Academy of Music in Copenhagen at the age of 17. With a bachelor's degree under his belt, and spurred on by a First Prize win at the 2016 Danish String Competition, he moved to Oslo aged 21 where he studied under Torleif Thedéen at the Norwegian Academy of Music. "It was only then that I got really serious," he says, emphasizing the importance of his new teacher: "He's an amazing cellist and really opened up new possibilities."
March 2017 saw Swensen's aforementioned performance of the Elgar concerto with the Orquestra Sinfónica do Porto Casa da Música. "That was an insane moment," he admits. "My father was conducting, and it felt as if my soul left my body and was watching from the top. I've never experienced anything similar."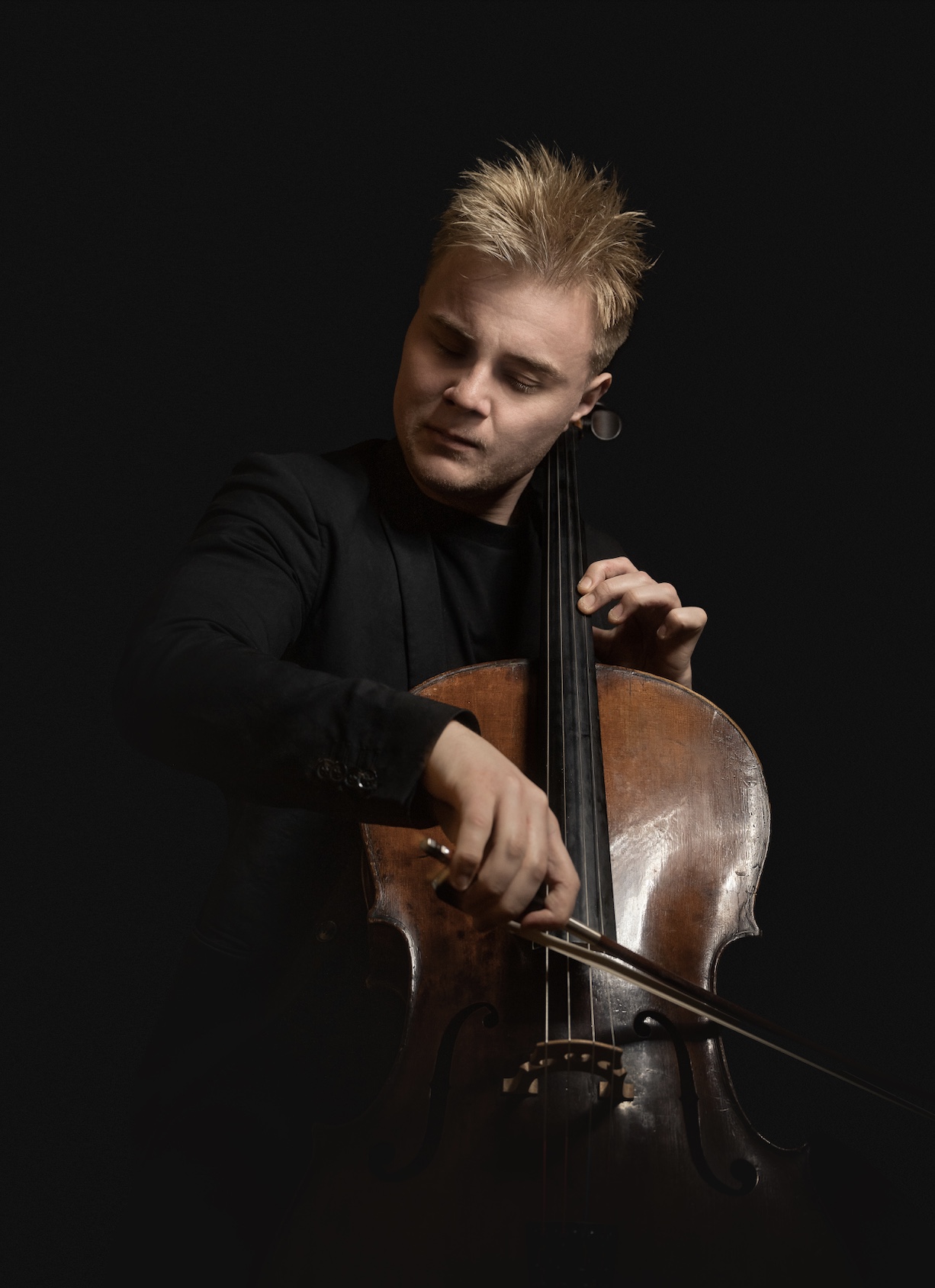 While still based in Oslo, he travelled to New York where he won the 2018 Young Concert Artists International Auditions. The same year he won the Khachaturian International Cello Competition (for which he learned the Soviet composer's challenging Sonate-Fantasie, the extensive first movement of which features on the new CD), and the following year he won the 2019 Windsor International String Competition. For Swensen, competitions always felt like "a cool challenge"; he was nervous, but not in a bad way. "I was always an instinctive player," he explains, "and competitions were a great motivator to practice more as a young kid. But nowadays I'm much more focused on concerts."
Concerts
Those concerts have taken him all over the world, including performances with the Philharmonia Orchestra in the U.K., the Copenhagen Philharmonic, the Iceland Symphony Orchestra, the Armenian State Symphony Orchestra, and the Sun Symphony Orchestra in Vietnam. He is also a regular performer at festivals.
In 2020 Swensen moved to Boston to study with cello guru Laurence Lesser at the New England Conservatory. "It was interesting to go to a new country in the middle of a pandemic, but I actually enjoyed it," he laughs. "I went vegetarian for a whole year, and with no hurry, there was space to be way more creative. I learned so much from Mr. Lesser." He plans to complete his Artist Diploma in the summer of 2023.
The climax of his new recording is the Kodály sonata, a work, he says, that is not only highly demanding but was groundbreaking in its day. "No well-known solo piece was written between the Bach cello suites and the Kodály," he explains. "It's a revolution in terms of what can be done on the instrument, but it's also a revolution in the sense of bringing in rhythmic music and Hungarian folk music. For the CD, I wanted to program music I related to as deeply as possible in different ways, and this piece really speaks to me."
The next few months will see Swensen making his debut with the Aalborg Symphony Orchestra playing the Schumann concerto for the first time under Douglas Boyd. In the U.S., there are upcoming chamber music tours with YCA and Camerata Pacifica, while in February 2023 he will be performing Shostakovich's Second Concerto with the New England Conservatory Philharmonia and the Lalo Concerto with Aiken Symphony in South Carolina. Meanwhile, if you want to hear what all the fuss is about, Fantasia is out now on Champs Hill Records.
Top photo, Matt Dine. Bottom: Julia Eva Severinsen

WHO'S BLOGGING


RENT A PHOTO
Search Musical America's archive of photos from 1900-1992.