---
New Artist of the Month: Soprano Lauren Fagan
Lauren Fagan is a singer whose vocal flexibility is matched by faultless diction and a seemingly effortless ability to put across the meaning behind the words. She's an impressive stage animal too, as proven by her recent debut in Ethel Smyth's The Wreckers at the Glyndebourne Festival. "The other standout is Lauren Fagan, whose soprano rings out with power and precision," this critic wrote. In the potentially two-dimensional role of the jealous love rival to the leading lady, she demonstrated a rare talent for making the flighty lighthouse keeper's daughter Avis into a far more compelling and complicated character than she appears on paper.
Fagan's rise has been a combination of talent, hard work, and a series of useful steppingstones, including the opportunities provided as a member of the Royal Opera House's prestigious Jette Parker Young Artist Programme and the chance to represent her native Australia in the 2019 BBC Cardiff Singer of the World Competition.
Born in Sydney, Fagan, who is now 34, grew up in an opera-free home where musicals were the order of the day. As a kid, she sang along to favorites like The Phantom of the Opera and Les Miserables, but it wasn't until her school music teacher cast her in The Pirates of Penzance that she really caught the stage bug. "I sang Frederick, up the octave, as a 12-year-old girl" she laughs.
In high school she sang in choirs, and later started singing lessons. She didn't, however, decide on music as a career. Instead, she took a business degree and landed a job as an IT sales manager for three years. "Music was the dream, but I'm very practical and realistic," she explains. "At that point it didn't seem like something I could earn money doing, and it was probably the best thing I ever did as it gave me a bit of financial backing before traveling overseas."
A combination of vocal coaching and teachers in Australia convinced Fagan it was worth taking her singing further. "If you want to study music you want to get out of Australia," was their advice, and in 2012 she won a place at London's Guildhall School of Music & Drama.
After just a year and two terms on the opera course, Fagan got into the Glyndebourne chorus, her first professional job, but soon after she decided to throw her hat into the ring for the Jette Parker scheme. "No-one thought I was ready for it, but I thought, what have I got to lose?" she reckoned.
Although they weren't looking for a woman that year, as the ROH mainstage had no female roles that needed covering by Jette Parker singers, Antonio Pappano took a shine to the confident young Australian and she was in. "As it turned out, I got tons of stage time because sopranos get sick, so it worked out really well."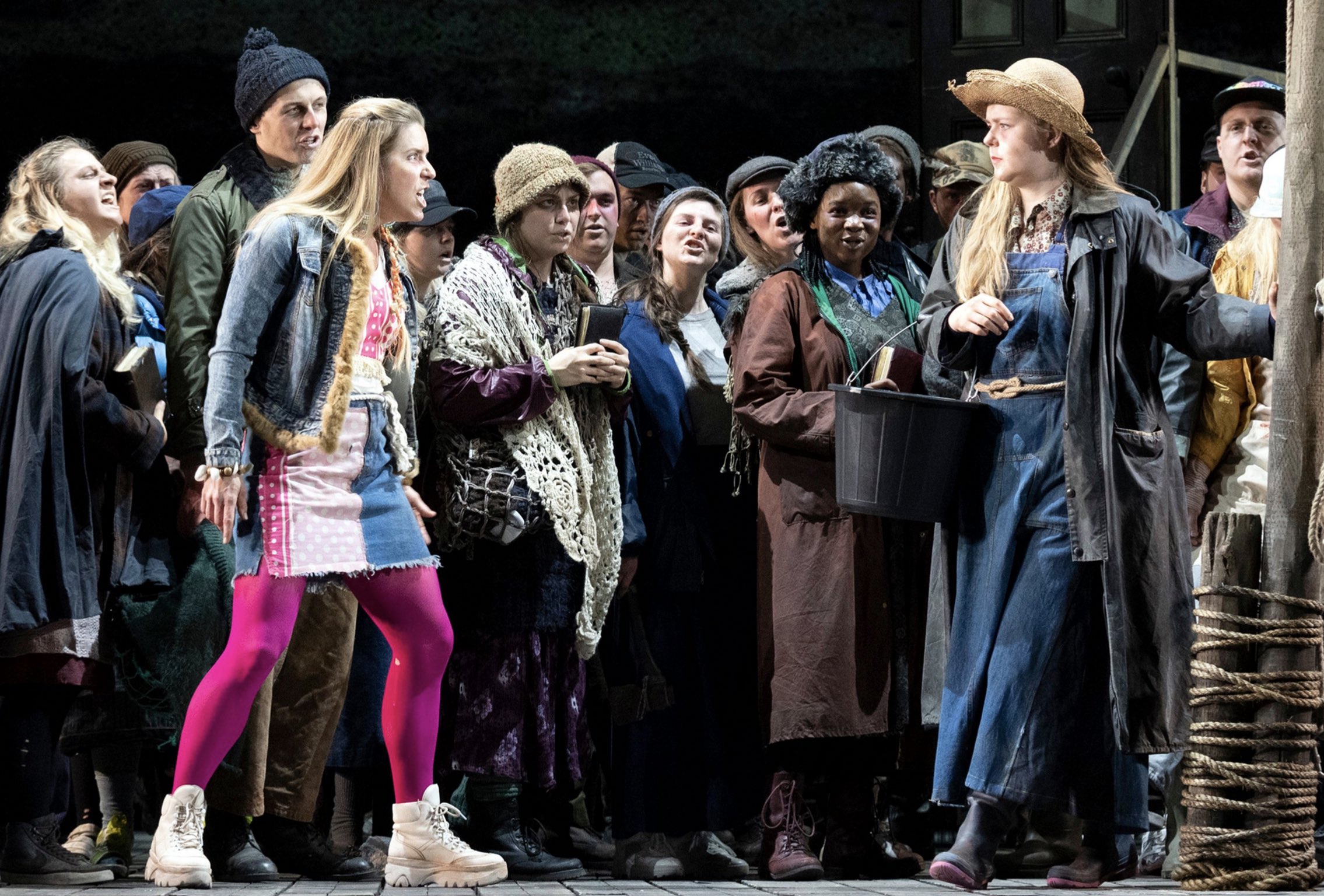 Lauren Fagan (L) as Avis in Ethel Smyth's The Wreckers at Glyndebourne
Opportunities included jumping in to sing decent roles such as Oscar in Un ballo in maschera, Giannetta in L'elisir d'amore, Sophie in Werther, and Jemmy in Guillaume Tell. Meanwhile Pappano took her to Rome for performances as Roxana in Szymanowski's Krol Roger with the Orchestra dell'Accademia Nazionale di Santa Cecilia. In 2018, she made a welcome return to Covent Garden when Pappano cast her as Woglinde in Keith Warner's Ring Cycle. The season after next, she will appear there in her first title role.
"It's really a sink or swim situation," she says of precious time on the Jette Parker. "You are pushed to the limit, and if you cope you get to watch the big stars at work. The way I learn is very much by observing—by seeing what moves me and what doesn't—but the skill I really learned was preparation, for any role, no matter how small or how big. And if you can do a jump-in at five hours' notice, it doesn't go unnoticed."
After two years at the Royal Opera, people were keen to hear her and in 2017 she was cast as Musetta on tour for Welsh National Opera. But it was London's intrepid Opera Holland Park that really boosted her career, casting her in leading roles, including Donna Anna in Don Giovanni (2017) and Violetta in La Traviata (2018). "In Lauren Fagan this new production has a Violetta of considerable force, plangent tones and solid dramatic instincts," wrote Geoff Brown for London's The Times. "These were huge roles that companies usually want you to have done before they'll hire you," Fagan says. "They really nurtured me."
More recent role debuts include Giulietta in Les Contes d'Hoffmann for Opernhaus Zürich, Alcina for the Internationale Händel-Festspiele Karlsruhe, as Mimì for Opera North, and her Bayerische Staatsoper and Opéra de Paris debuts as Norma, one of the Callas incarnations in Marina Abramovic's 7 Deaths of Maria Callas. "I got to sing 'Casta Diva,' which is definitely not my repertoire," she laughs.
Careers seldom make themselves, and Fagan cites Bryn Terfel and Ermonela Jaho as two singers who have "taken me under their wings," and especially director Rodula Gaitanou (another Jette Parker graduate). "She's taught me an insane amount," Fagan says.
Although she remains London-based, just last month she made her belated Australian operatic debut as Violetta for State Opera South Australia. Looking ahead, her busy diary includes a role debut as Margarita Xirgu in Golijov's Ainadamar for Scottish Opera, a rerun of The Wreckers in concert with Deutsches Symphonie-Orchester Berlin, and as Helena in A Midsummer Night's Dream for the 2023 Glyndebourne Festival.
Vocally, Fagan believes her voice is headed for roles that are often sung by both sopranos and mezzos, like Vitellia in La Clemenza di Tito, or the Composer in Ariadne auf Naxos. One day, she'd love to sing Arabella or the Marschallin. "I'm a director's singer," she says. "People want to work with me because I'm open and really onboard, which not all singers are."

WHO'S BLOGGING


RENT A PHOTO
Search Musical America's archive of photos from 1900-1992.