---
New Artist of the Month: Soprano Julie Roset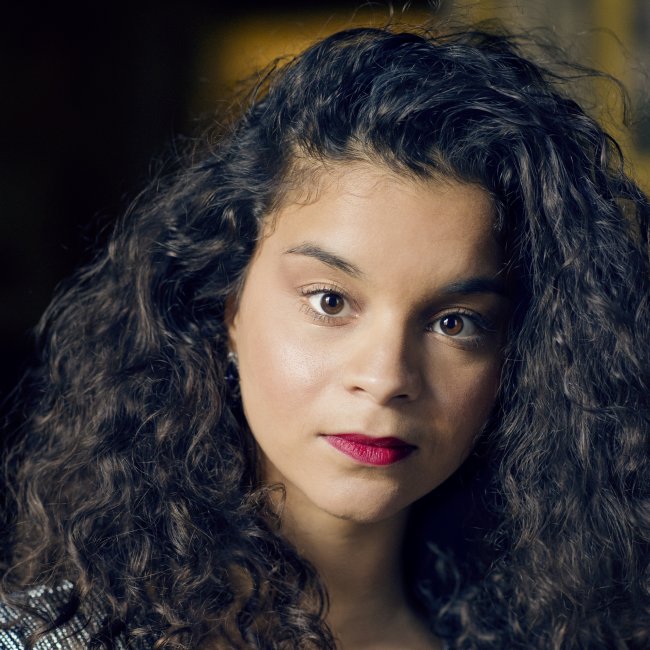 After the six winners were announced at the Metropolitan Opera's Grand Finals Concert on May 1, the culmination of its annual National Council Auditions, I realized that I had already seen one of them in two significant productions. The judges' choice of Julie Roset, 25, a lyric soprano from Avignon, France, was a slam dunk following her consummate performances from the Met stage of two very different arias. "Se pietà per me non senti" from Handel's Giulio Cesare, a poignant Largo, sung with beautifully sculpted phasing, was uncommonly moving, especially for a competition. It's hardly a piece for vocal fireworks, but Roset's lively rendition of the Bell Song from Delibes's Lakmé made up for that. As Musical America reported at the time, "Roset's stratospheric toss-offs" in the Bell Song "were brilliantly executed and consistently spot-on in pitch." Roset's soprano has, well, a bell-like clarity that is difficult to resist.
Her commitment to Baroque music made a Handel audition piece a must, she explained when we met. "One by one I looked at Cleopatra's arias, and 'Se pietà' really spoke to me. It comes after she realizes she is not a teenager anymore but a woman who sacrifices herself for love." Roset has just finished a two-year stint at Juilliard for an Artist Diploma, taking a breather from her busy career in France as a Baroque specialist. Indeed, soon after we met, she was off to Paris for a Radio France performance of Handel's Acis and Galatea.
Spreading her wings
"I want to do opera, so I wanted training as an actress," Roset explained. "I also wanted to learn more post-Baroque music. Juilliard was the right place." Its period ensemble Juilliard 415 was another advantage. Attracted to singing at an early age, Roset studied at the conservatories in Avignon and Aix-en-Provence and graduated with honors from the Haute École de Musique in Geneva. At the Aix Festival's Young Artists Académie, she met Edith Wiens, later her voice teacher at Juilliard. Initially stymied by the pandemic, she finally had the opportunity to perform last November as Euridice in a fully staged production of Luigi Rossi's Orfeo. She excelled in the role. "After the lockdown, working with other students in that large cast was great. I love the opera, especially the duets with Orfeo."
In February she scored another success as Bellezza in Il Trionfo del Tempo e del disinganno, with William Christie conducting the Juilliard 415. Handel's allegorical oratorio about the ephemeral nature of beauty gave her the chance to dazzle the audience with pinpoint coloratura in one aria and sing with disarming purity in Bellezza's melting, repentant final aria. Roset has an alluring way of singing with relatively straight tone, and then adding a touch of vibrato for an appealing dose of color.
William Christie also presided at her Opéra Comique debut last year in Mondonville's charming Titon et l'Aurore in which she sparkled as the mischievous Amour (Cupid). "Roles like this are so much fun!" she commented, adding that Christie's passion for detail in matters such as ornamentation and notes inégales was an inspiration. [The phrase refers to the practice of performing note values of equal duration unequally.] Roset owes much to another Baroque practitioner, Leonardo García Alarcón, a conductor known for his exploration of untraveled repertoire with whom she has frequently collaborated. "He discovered me as a student in Geneva," Roset said. A fascinating concert in Paris's Philharmonie of little known sacred music included Gregorio Allegri's Miserere, in which Roset's several leaps to high C were special moments.
Her recording with Alarcón and Cappella Mediterranea of madrigals by the mannerist composer Sigismondo d'India included one of the "25 best classical music tracks of 2021," according to The New York Times—"Io viddi in terra angelici costumi," in which Roset reaches "hypnotic heights." Her first solo disc, Nun Danket Alle Gott, with works by Buxtehude, Hammerschmidt, Monteverdi and others, was released in 2020 on the Ricercar label. With Alarcón conducting, she will sing another Cupid role, Amore, along with Valletto in L'Incoronazione di Poppea at Aix this summer and will repeat Amore in another production in Strasbourg conducted by Raphäel Pichon next season. In San Francisco she will sing the title role of Handel's Theodora with the Philharmonia Baroque Orchestra in October. Meanwhile, her assimilation of post-Baroque repertoire proceeds apace, with music ranging from Mozart soubrette roles to Rachmaninoff songs; Sophie (Rosenkavalier) and Sister Constance (Dialogues of the Carmelites) figure in too. "I love to travel and am ready to work, curious where my career will take me," she said. A growing number of admirers will be eager to follow.
For additional clips, see Julie Roset's YouTube channel.

WHO'S BLOGGING


RENT A PHOTO
Search Musical America's archive of photos from 1900-1992.