---
New Artist of the Month: Conductor Lee Mills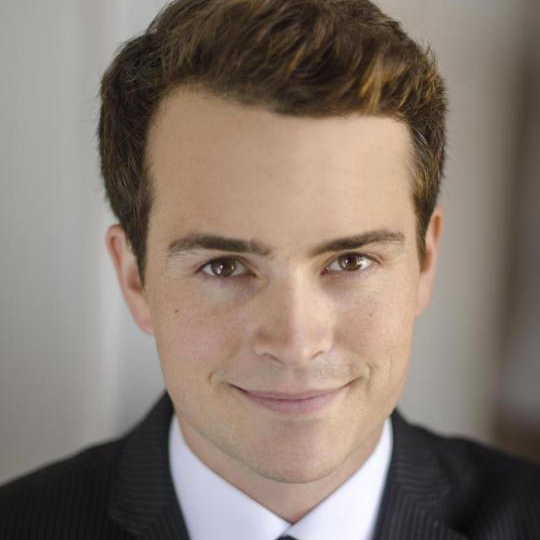 When he was still in college, Lee Mills dreamed of becoming a roller coaster designer. But the career path he ended up following has provided the young conductor with some different and very memorable thrills—especially during the current season of turbulent twists and turns.
Mills's responsibilities as the Seattle Symphony Orchestra's associate conductor require him to be on standby, ready to take over in unforeseen circumstances. The 35-year-old Mills had to do just that last November when Thomas Dausgaard, at the time still music director of the orchestra, withdrew due to illness.
Trials byfire
It's one thing when a cover conductor has to show their stuff performing standard repertoire. But Mills had to take on an unusual program of novelties entirely lacking in safety nets: the SSO's first-ever complete performance of Amy Beach's Gaelic Symphony from 1894 and the world premiere of a newly commissioned concerto for two harps (The Peril of Dreams) by American composer Hannah Lash.
Mills not only mustered the confidence essential to facing this high-pressure challenge but, in particular, shaped an exciting, sympathetic account of Beach's woefully neglected score that crackled with sensitive details.
"I think my time in Brazil has really helped me a lot," Mills said in a recent Zoom conversation from his home in the Seattle region. He was referring to the pivotal period he spent as resident conductor of the Brazilian Symphony Orchestra in Rio de Janeiro for five years before coming to the SSO. Financial problems in recession-hit Brazil made it too costly to hire guest conductors, and at the start of one season he had a mere four weeks to prepare for seven back-to-back programs. "That kind of pace was constant when I was in Brazil. So I got used to studying scores very quickly."
Mills's trial by fire in Rio helped forge an omnivorous musical temperament eager to try out highly contrasting musical styles and approaches. He admires how the Brazilian players would typically head out after a concert to play samba at late-night bar sessions. Their ability "to find the pocket," he says, helped them home in on "what makes a piece tick, especially when it relies on a groove or any sort of swing sensation."
Intrigued by his achievement with the last-minute substitution at the November concert, I went to hear Mills at one of the holiday events in December that are among the associate's normal responsibilities. The program involved a rather odd, and oddly named ("holiday Baroque"), mixture of Haydn and Mozart/Handel (including non-choral excerpts from Mozart's "updated" version of Messiah). While less persuasive in the Mozart selections, Mills inspired delectably engaged playing for Haydn's Symphony No. 102, leaning into its surprises and in-jokes with giddy intensity. I can't wait to hear what he'll do with the repertoire as he develops and refines his ability to elicit precision.
Developing as a young conductor
Mills grew up in the small Montana city of Belgrade and was encouraged by his parents, who owned and ran an auto repair shop, to explore the musical enthusiasm he began displaying from a young age. He started piano lessons at four after a friend donated a spinet to the family and was regularly taken to Bozeman Symphony concerts. Along with choir singing, Mills gravitated toward the trumpet, focusing on jazz and big-band groups.
Attending Whitman College in southeast Washington State, Mills assembled a small orchestra of his own and was advised by Robert Bode. (He decided to drop his physics double major, bidding farewell to his dreams of engineering roller coasters.) At the Peabody Institute, his main mentors were Gustav Meier and Marin Alsop—he served as a conducting fellow with the Baltimore Symphony—and Mills went on to work with Robert Spano and David Robertson. The young artist also points to Louis Langrée as an inspiration. In 2017, Mills headed to Paris to spend six weeks observing Langrée as he rehearsed a new production of Pelléas et Mélisande at the Théâtre des Champs Elysées with the Orchestre National de France.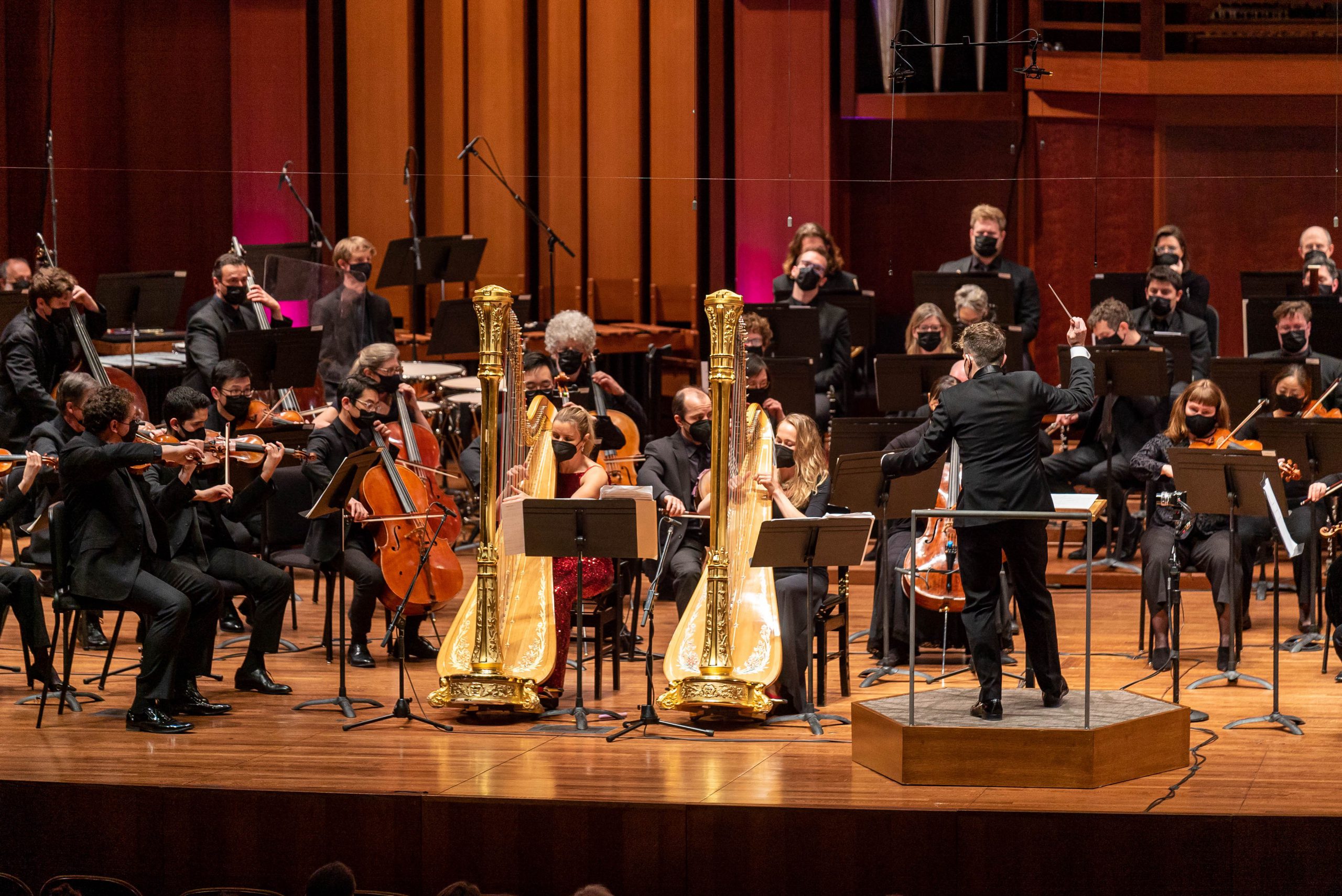 The Seattle Symphony on November 19: Conductor Lee Mills, with composer/harpist Hannah Lash (in black)
and SSO principal harp Valerie Muzzolini
Thomas Dausgaard is another model. Mills says he admired the Danish conductor ever since encountering his complete Schumann symphonies with the Swedish Chamber Orchestra. "Schumann really speaks to my soul. And I'll never forget the first time I listened to those recordings." When he discovered that Dausgaard had been named music director in Seattle, Mills was eager to apply for the associate position. "His way of rehearsing is so poetic—the way he creates a scene for the musicians. Just being able to ask Thomas questions around rehearsals and be in his recording sessions for [Scriabin's] The Poem of Ecstasy was great."
He took up his current position in the fall of 2019—his tenure runs through the end of this season.
Of course Mills hadn't counted on the pandemic that disrupted both his and Dausgaard's first season (2019-20). And he doesn't talk about his reactions to the mid-season turmoil caused by Dausgaard's sudden resignation in January. Instead, he focuses on the return to live music-making. The SSO musicians, he says, "have a generally good disposition, which makes it easier as a conductor to be able to work with them."
Going forward, Mills's upcoming SSO assignments include family concerts and the Pride Pops concerts this season. (Dausgaard's remaining assignments were divvied up among the following guest conductors in the immediate aftermath of his resignation: Norman Huynh, Ruth Reinhardt, Asher Fisch, and conductor emeritus Ludovic Morlot). Mills has been invited to return as guest conductor during the 2022-2023 season and has also been delegated to participate in a few music director searches. Says Mills: "I'm entering the fun and slightly daunting phase of transitioning from a staff conductor to building up my guest conducting schedule and positioning myself to be a music director. I think this phase is always a little daunting for young conductors, and the pandemic has only added to the uncertainty."
Going forward, Mills hopes to find a balance that will allow him to spend part of his year working in Brazil, where he met his husband, though he acknowledges the current political situation is not particularly favorable to the cultural sector. "Now that the pandemic is entering what seems to be a more controlled and predictable phase, I'm also resuming planning for my Vibe Sinfônica project in Brazil, which aims to bring classical music into unconventional settings. In 2018, for instance, we played Vivaldi's Summer concerto to a crowd of 10,000 to open for the principal DJ of an EDM festival."
"'What's your thing?' is the question that haunts me all the time," he says. He thinks his early pull towards jazz and his experiences with Latin American music have made him especially adept at sharing a sense of energized excitement with audiences. "What I learned is that it doesn't matter what school of conducting you come from. It's all about trying to get to the bottom of what the composer was seeking."
Middle photo by James Holt


WHO'S BLOGGING


RENT A PHOTO
Search Musical America's archive of photos from 1900-1992.