---
New Artist of the Month: Pianist Tom Borrow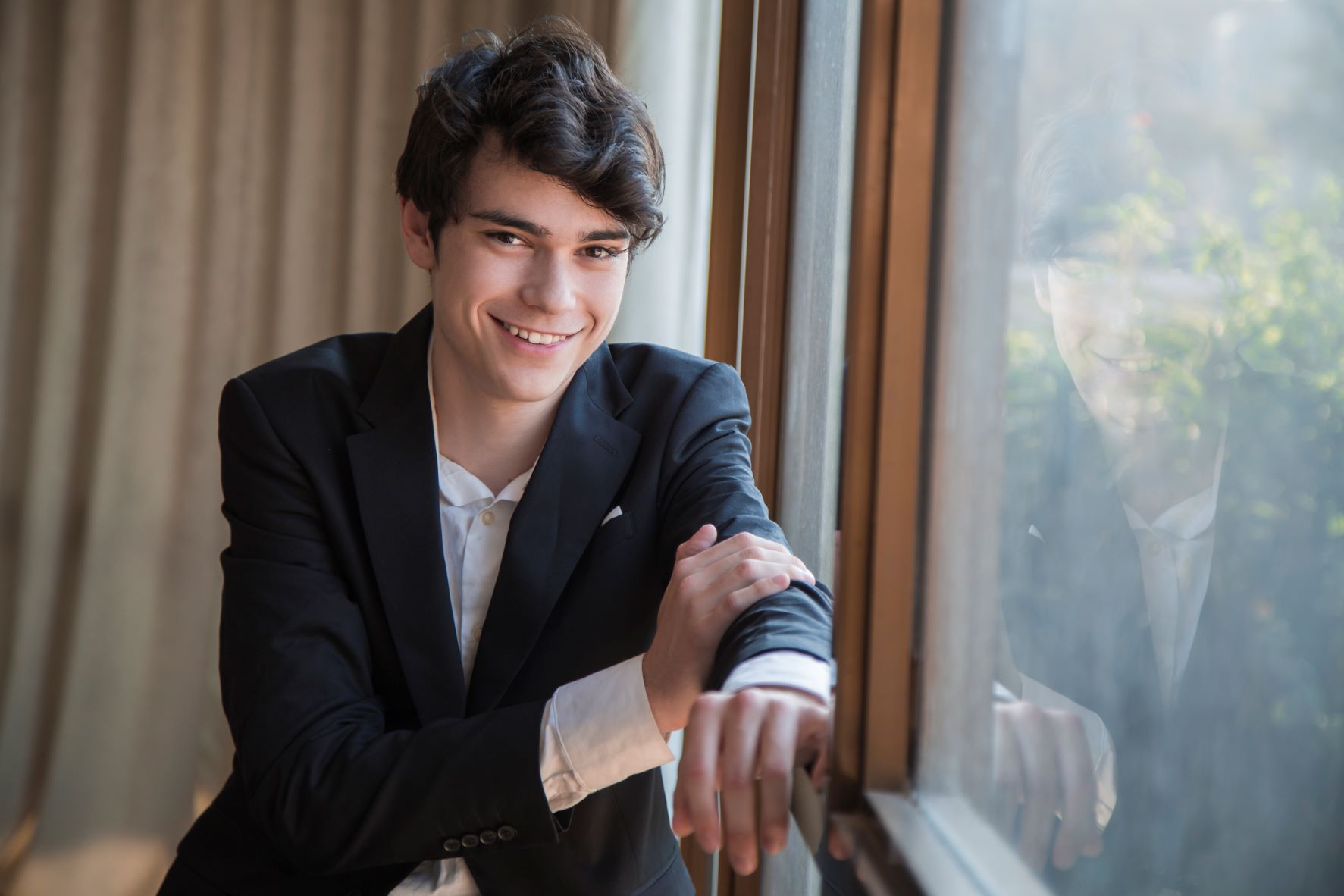 CLEVELAND—Plenty of rising artists have gained attention by substituting for their more established colleagues at the last minute. Pianist Tom Borrow, however, is making a career out of it.
Still just 21 years old, Borrow has hit the surprise jackpot several times, landing in places he might not have landed otherwise, at least not for a few more years. "I feel extremely lucky," Borrow said recently by Zoom from London, where he was visiting his parents while also recording radio programs with the BBC Symphony. Borrow was born in Israel to British parents and remained there to study at Tel Aviv University after his family moved to England three years ago.
His first unexpected leap came at age 18 when Israel Philharmonic Orchestra Managing Director Avi Shoshani asked him to step in on 36 hours' notice for pianist Khatia Buniatishvili, who was ill. He was to play with the IPO at the Jerusalem Music Center, followed by a 12-concert tour that included London and Mexico City.
A love story
The IPO substitution marked Borrow's first public performances of Ravel's Piano Concerto in G Major, a work with which he's since become associated, and for which his brilliant, light touch seems uniquely suited, as several critics (including this one), have observed. "I'm not just fond of this concerto," said the pianist. "I love it. It's really a marvelous piece. I don't think there's even one note too many. I have an especially soft spot for the middle movement."
Borrow's second big break came about as a result of the pandemic. "In this year which has been impossible, I feel fortunate to have had all these opportunities," he said. It was December 2020, and conductor Semyon Bychkov and the Santa Cecilia Orchestra were scheduled to perform Mahler's Symphony No. 7 in Rome. When pandemic restrictions forced a change in repertoire to Mozart's Piano Concerto No. 24, due to a reduced complement of musicians allowed on stage, some heavy networking by Borrow's manager put the young pianist on stage. However, even further safety restrictions precluded the presence of an audience. So the three concerts were reduced to one, which was live streamed and televised on RAI. (It remained on the orchestra's streaming service for three months.) Bychkov and the orchestra were impressed, so much so that the conductor invited Borrow for several subsequent engagements, including his U.S. debut in Cleveland last month, where this writer first heard him.
That, too, though, was not to proceed as planned. Days before his debut at the venue now known as Severance Music Center, Bychkov canceled, and the orchestra called in conductor Thierry Fischer, music director of the São Paolo Symphony. They managed one performance before the other two had to be called off when a member of the orchestra contracted COVID-19.
Of the one that did go forward, which Borrow says he'll never forget, he managed to leave a profound impression as a serious, gifted musician, not only in his interpretation of the Ravel but with his sparkling account of the Debussy Prelude "Feux d'artifice" he offered as an encore. His playing was incandescent, light but powerful, and uncommonly responsive to the orchestra.
Playing on butter
"That performance was exhilarating enough to soften the blow of losing the other two," Borrow said. "It was quite amazing to play with them. This was the first time I felt like I was playing on butter. It was such a pleasure."
Inspired by Cleveland, Borrow and Fischer have lined up another collaboration, in March, this time in São Paulo, with Beethoven's Piano Concerto No. 4.
As the pandemic marches on, it's anybody's guess as to whether those concerts will proceed as planned. Either way, Borrow has gained a reputation as a performer who can go with the flow. If there's a change to the program or a conductor substitution, he says, he'll roll with it.
The pandemic lull was a fruitful time for Borrow in other ways, too. Even as his first recording project with Hänssler Classic was delayed and he lost one gig for every surprise one that surfaced, he used the time to concentrate on his craft in a way that isn't always possible.
"I could work in a meditative manner," Borrow said. "It was a peaceful year to really examine things carefully."
His only concern at this early stage is avoiding a pigeon-hole. He may love, excel at, and be gaining renown with Ravel, but he doesn't want to be thought of as a specialist in French or indeed any music. He wants to play it all, he says, mentioning Beethoven, Mozart, Brahms, Scriabin, and Rachmaninoff. No doubt he'll finesse them all, whether at the last minute or with years of planning.

WHO'S BLOGGING


RENT A PHOTO
Search Musical America's archive of photos from 1900-1992.