---
MA Top 30 Professional of the Year: Frank Luzi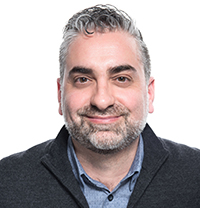 Vice President of Marketing & Digital Strategy
Opera Philadelphia
Frank Luzi's background as a critic for TV Guide came in especially handy at Opera Philadelphia during the pandemic. When the company saw the need to transition online, he already knew how to evaluate digital content and which digital platforms to use. Rather than offer Zoom interviews or archived vocal recitals, Luzi urged the company to adhere to its mission, to tell meaningful stories and connect viewers to great art. The initial result, in late spring and summer of 2020, was "Digital Festival O," a five-part series that included several recent premieres: Denis & Katya, We Shall Not Be Moved, Sky on Wings, and Breaking the Waves.
As the pandemic settled in for the long haul, the company launched an entire subscription season of made-for-digital performances on its own Opera Philadelphia Channel (OPC). These productions of works by Tyshawn Sorey, Angélica Negrón, Courtney Bryan, and Caroline Shaw brought singers, designers, and producers safely back to work and challenged them in new and unusual ways.

"Opera Philadelphia became a film production and distribution company seemingly overnight," Luzi says, noting that OPC has since evolved into "an authentic extension of our company." "Digital Festival O" garnered some 70,000 views, Luzi says, and the first OPC season reached nearly 3,000 households, a third of them new to the company and half from outside Philadelphia. "I don't think it's too much of an exaggeration to say that it saved us," Luzi says. "Producing opera for the screen and creating a distribution platform…opened new sources of philanthropy, sustaining us both spiritually and financially."
As live performances return, Opera Philadelphia has planned a hybrid season integrating digital and live stage productions, and likely will do the same next year. "With every project that comes up we consider it for stage or for screen, and sometimes for both a stage and screen," says Luzi. Opera Philadelphia is also exploring a collaborative opera channel to be developed and distributed by multiple companies.
"We were not wired to sit on the sidelines for 18 months and wait to get back to the way things were," Luzi says. "We had to keep working. We had to keep experimenting and trying new things."
SOCIAL LINKS

WHO'S BLOGGING


RENT A PHOTO
Search Musical America's archive of photos from 1900-1992.