---
MA Top 30 Professional: Nancy Laturno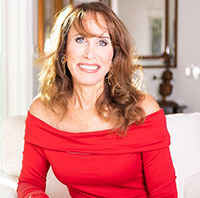 Early in the pandemic lockdown, Mainly Mozart CEO Nancy Laturno made a bold commitment. "I started saying publicly that we were going to dig in our heels and commit to live performances for live audiences—whatever that meant," said Laturno, a co-founder of the San Diego-based company, in 1988.
At first, what Laturno's commitment meant was a series of drive-in concerts in the parking lot of the Del Mar Fairgrounds, starting with a Saturday afternoon performance in July 2020 by eight musicians from the Los Angeles Philharmonic and the San Diego Symphony. Newsweek called it "the first concert for a live audience given by a major classical music organization during the pandemic."
Pre-pandemic, Mainly Mozart was built around one orchestral festival in June, primarily in the Balboa Theater in downtown San Diego. But over the 12-month period from October 2020 to this past September, it put on five outdoor orchestral festivals. They featured an all-star orchestra of concertmasters and first-chair players from top-level orchestras that were largely shut down, including the New York Philharmonic, the Metropolitan Opera Orchestra, the San Francisco Symphony, the Philadelphia Orchestra, the Cleveland Orchestra, and more.
By September, performances had moved to Del Mar Surf Cup Sports Park, where audience members were no longer confined to cars and could show their appreciation by applauding rather than honking horns. Concerts sold out, with attendance up to 1,300; the audience was younger and more diverse than in the past.
"The pandemic forced us to innovate in a way that would have been considered too risky during normal times," Laturno said. "It repositioned the organization to shift its emphasis to the all-star orchestra. We don't plan to go back to just doing a single orchestral festival per year. In the longer term, our plan is for three orchestral festivals a year."
Mainly Mozart may be the only arts organization in the world whose budget increased during the pandemic—by 30 percent, in fact, to $2.8 million, with a modest deficit. "It wasn't a financial decision that caused us to keep producing concerts," Laturno says. "It was what we believed was the right thing to do for everybody during COVID—for the community, for the musicians, for the artform."
SOCIAL LINKS

WHO'S BLOGGING


RENT A PHOTO
Search Musical America's archive of photos from 1900-1992.