---
MA Top 30 Professional of the Year: Jennifer Koh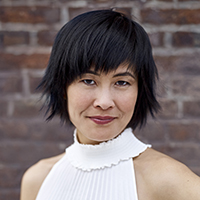 Alone Together is violinist Jennifer Koh's contribution to understanding what it meant to experience the pandemic crisis. The digital album, released in August on the Cedille label, is a record of Koh's project of the same name for which she commissioned dozens of short works from as many composers for solo violin.
She gave their premieres in livestreamed performances every Saturday night for 10 weeks from her New York City apartment. "It was incredibly intense," said Koh, whose began the series on April 4, 2020, during a period when an average of more than 700 people a day were dying from COVID in the city. "The pieces were being written when New York was at the epicenter of the pandemic, when we were sheltering in place. Alone Together is a musical archive of that difficult time."
The project was also a way for Koh to support emerging composers who needed a financial boost during the lockdown. She asked 20 established composers to donate a new 30-second "micro" work, and then each in turn recommended a lesser-known composer to receive a paid commission from her nonprofit, Arco Collaborative. The fee was $500 for 30 seconds of music (all 39 pieces on the album run longer).
The established composers included Du Yun, Vijay Iyer, George Lewis, Missy Mazzoli, Ellen Reid, Anthony Cheung, and Wang Lu. Among the emerging composers, all but one are women, people of color, or both, or nonbinary; they included Katherine Balch, Nina Shekhar, Lester St. Louis, Adelia Faizullina, and Sugar Vendil. "You hear what was happening during COVID in this music," said Koh, who has played some of the new works in her return to live, in-person performance. "For example, Wang Lu's Hover and Recede has a melody like sirens running through it."
Looking back on Alone Together, Koh finds it hard to revisit the emotions of that painful time. "Most of all, the pandemic distilled what is important to me as a person and an artist," she said. "And that is really to help others, to help the next generation of artists, and to further the mission of inclusivity and hearing from multiple voices. That has always been important in my work, but it has become even more clear to me now."
SOCIAL LINKS

WHO'S BLOGGING


RENT A PHOTO
Search Musical America's archive of photos from 1900-1992.