---
MA Top 30 Professional of the Year: Lisa Jaehnig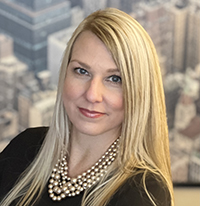 When first hired by Shuman Associates public relations, Lisa Jaehnig worked as a part-time publicity assistant while pursuing a career as an opera singer. When President Constance Shuman suggested she could be a full-fledged publicist, and to try it with just one client, "I said, okay, fine, as long it's someone in opera," Jaehnig remembered. "It was James Conlon, around the time he was named music director of LA Opera. And I still work with him to this day, and that's amazing." She took on other projects as well. "I did a little bit here, a little bit there, put singing on the back burner, and now here we are."
It was 21 years ago that Jaehnig joined New York-based Shuman, whose boutique roster includes conductor Michael Tilson Thomas, the Minnesota Orchestra, pianist Jonathan Biss, and others of their stature. "What the pandemic did was to open up our wonderful artists' minds to work in different ways, and that pushed us to do the same," she says. "We brainstormed with clients and used a virtual space to make sure their creativity caught the public's eye and didn't go unnoticed even though they were not on stage."
Early in the lockdown, Jaehnig coordinated with the 92nd Street Y to transform Biss's COVID-canceled Beethoven recital into a major classical music event. The pianist filmed himself playing the program in his apartment, it was streamed on Facebook, and, after some strong promotion, the performance drew 283,000 views.
Other virtual projects that Jaehnig collaborated on with clients that made significant impacts were violinist Jennifer Koh's "Alone Together" recitals of newly commissioned solo works livestreamed from the violinist's home; a dozen episodes of "Pop-Up Pipa with Wu Man"; pianist Lara Downes's digital record label Rising Sun Music; and bass-baritone Davóne Tines's video VIGIL, dedicated to the memory of Breonna Taylor.
Jaehnig was also instrumental in adapting Shuman's operations to the new realities of the pandemic. "I do so much more than publicity," she says. "I do the payroll. Tax reports. All those PPP forms. Revamping our information systems into a shared workplace in the cloud. Things like that. I'm a jack-of-alltrades in the small business of publicity."
SOCIAL LINKS

WHO'S BLOGGING


RENT A PHOTO
Search Musical America's archive of photos from 1900-1992.