---
MA Top 30 Professional of the Year: Cerise Lim Jacobs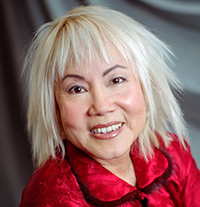 As head of the opera company White Snake Projects, Cerise Lim Jacobs addressed the COVID crisis by creating what came to be known as the Pandemic Trilogy. "To think that I produced three operas in less than a year is just frightening," said Jacobs, a lawyer turned librettist who founded the Boston-based company in 2005. "It became clear to me when the pandemic first set in that the choice for us was either to go dark or seize the moment and artistically confront this terrible situation. And I knew that we would need to produce work quickly for it to be relevant."
The trilogy's first online opera, which premiered in October 2020, was Alice in the Pandemic, about a nurse whose mother is hospitalized with the virus (materials from the opera, which has a score by Jorge Sosa, were acquired by the Library of Congress for its Performing Arts COVID-19 Response Collection). Then came Death by Life (May 2021), in response to the police murder of George Floyd; and A Survivor's Odyssey (September 2021), which explores the "shadow" pandemic, a surge in intimate partner violence, by evoking the women of Homer's Odyssey.
"We are the only opera company doing virtual productions live," Jacobs said. "We're not a movie company. We don't have the resources to compete with Netflix. And pre-recorded videos are just not interesting to me. The challenge for opera is how to retain its essential liveness whether it's virtual or on stage."
Innovative technology allowed the Pandemic Trilogy to be streamed live. Each opera was produced remotely, with cast members singing together in real time from their respective homes around the country. Audio software called Tutti Remote, fostered by Jacobs's company, made it possible for singers and their accompaniment to perform in synch. Producers used video-game software to create the imagery in which singers and animated characters were embedded.
Coordinating all that complex video and audio technology live can be tricky. Glitches are bound to occur. "Oh, absolutely," said Jacobs, "but isn't that kind of the point? We have singers and musicians who are trained to perform live. They make artistic choices in the moment. That's the beauty of live opera."
SOCIAL LINKS

WHO'S BLOGGING


RENT A PHOTO
Search Musical America's archive of photos from 1900-1992.