---
MA Top 30 Professional of the Year: Andrew Irvin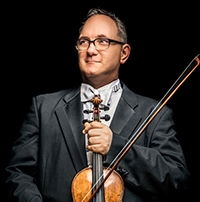 March 13, 2020 is a date violinist Andrew Irvin will never forget. On that day, the veteran concertmaster of the Arkansas Symphony Orchestra (ASO) planted the seed for "Bedtime with Bach," an online offering that ended up sustaining him, his colleagues, and listeners everywhere through the pandemic to come. An orchestra concert that evening had been canceled, and Irvin and his colleagues were struggling to fill the void. "I could see the brains of the staff spinning…[and] my own brain was spinning," he recently recalled.
In the end, he performed after all—alone and online. He spent the evening recording for social media what he called "an underprepared but heartfelt" movement of Bach, a "rough, poorly lit" performance that nonetheless soothed his nerves on a shocking day. Thus was born "Bedtime with Bach." Irvin's idea took root among his ASO colleagues, and before long, like Scheherazade telling her tales, there were similar, equally intimate offerings every night at 9 p.m. from players across the ensemble, representing every family of instrument and a huge range of styles and composers. There were solos, duos, trios—even an appearance by a Great Dane. For 80 consecutive nights, they "gave us music...when we were missing each other, our concertgoers, and live music," Irvin said. "It brought us and our audiences comfort."
And many more listeners as well. After reports of the project appeared in The Washington Post, CNN, and The Kelly Clarkson Show, viewership of "Bedtime with Bach" exploded to over one million people in 30 countries. "Our feisty band…might not be able to compete with the likes of the Chicago Symphony or the New York Phil," Irvin said, "but our music still touched hearts, and we hope made a difference in the crazy days we all experienced during COVID."
"Bedtime with Bach," along with the ASO's virtual education programs and outreach efforts, helped keep the orchestra afloat during the pandemic. It also made an artistic difference. When the ASO reunited in person for the first time, at the Robinson Center in Little Rock, "something had changed," Irvin said. "I heard depth and growth [from] the journey we had been on." In his mind, there was only one conclusion to be drawn. "Missing each other and live performing made us even more committed to the amazing music we are so fortunate to play every day."
SOCIAL LINKS

WHO'S BLOGGING


RENT A PHOTO
Search Musical America's archive of photos from 1900-1992.