---
MA Top 30 Professional of the Year: Daniel Hahn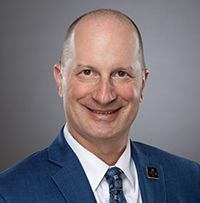 In a normal year, Playhouse Square in Cleveland serves about 40,000 students with live, in-person programming. Last year, during the COVID-19 pandemic, it reached over 95,000, with virtual programming. For that, one of the nation's largest performing arts centers can thank Daniel Hahn, vice president of education. He and a consortium of education executives at centers around the country pooled their resources to produce and deliver new, high-quality "virtual field-trips" on topics that teachers everywhere could easily work into their remote learning schedules. Over weeks of long Zoom sessions and phone calls, Hahn and his peers, which included theater artists and performers, settled on what proved to be a winning formula: short, 20-minute video segments, along with pre-recorded Q&A sessions and interactive tutorials for schoolchildren, all licensable for multiple weeks.
Over a dozen presenters chipped in with $3,000 each to produce the first project, Five Days with Step Afrika! "The barriers between artist and executives came down, and we really worked together," Hahn said. "By pooling our resources, we were able to commission a new work…It was a win-win for everyone." And that was just the beginning. After his success with Step Afrika!, Hahn came up with Grimmz Fairy Tales, a hip-hop musical for children that, in Cleveland alone, was viewed by some 10,000 students and has since been licensed in Florida, Nevada, and New Jersey. "[W]e are shaping the lives of our children by stimulating their feelings, curiosity, and creativity," said Grimmz sales agent Robin Klinger, adding that while in-person theaters were closed, Hahn "opened the doors back up again with virtual programming."
For Hahn, an educator, it was all in a day's work. But he's also proud of the effect his efforts had on the artists themselves. By developing paid, rewarding projects during the pandemic, he said, "[W]e were able to do just enough to help some of our friends in the industry…get through those extremely difficult months."
SOCIAL LINKS

WHO'S BLOGGING


RENT A PHOTO
Search Musical America's archive of photos from 1900-1992.