---
MA Top 30 Professional of the Year: Sophie Galaise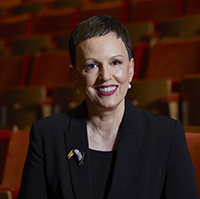 In 2016, Sophie Galaise made history when she was appointed as the Melbourne Symphony Orchestra's (MSO) first female managing director. When the pandemic hit and Melbourne endured some of the longest lockdowns in the world, Galaise managed to maintain the Orchestra's steady course, set from the time of her arrival.
"It quickly became obvious that one had to find new ways to work together to remain relevant," Galaise said. Her first order of business was fundraising, launched with a "Keep the Music Going" campaign. After demonstrating "significant efforts to survive" and upping communication and engagement with stakeholders, the MSO received $5 million, among the government's first sustainability grants for the arts. Meanwhile, the Orchestra had launched its own streaming platform, MSO.LIVE, whose pay-perview and subscription income netted a small surplus with 80 programs streaming to some 2.8 million viewers in 56 countries. It's now on track to hit a similar mark in 2021, with over 60 performances to date.
MSO.LIVE also enabled the Orchestra to continue its educational programming, even to remote areas. "At a time where the world went dark, we kept the music going," said Galaise, once named one of Australia's 100 Women of Influence. They also managed to make plans for an otherwise unpredictable future, announcing the appointments of Jaime Martin as chief conductor and Deborah Cheetham as MSO's inaugural First Nations Creative Chair. Galaise said the two have "significantly reinforced our artistic vision" and stand as further evidence that the MSO is doing far more than merely surviving the pandemic. "I am hopeful and a bit optimistic that the pandemic will have changed us for the better," she said.
SOCIAL LINKS

WHO'S BLOGGING


RENT A PHOTO
Search Musical America's archive of photos from 1900-1992.