---
MA Top 30 Professional of the Year: Lara Downes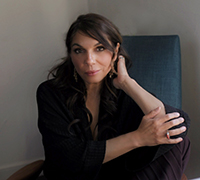 During the pandemic, Lara Downes put her itinerant life as a concert pianist on pause and largely stayed home in California. That shutdown spawned a burst of new projects by her.
They ranged from her record label Rising Sun Music, on which Downes releases monthly digital EPs dedicated to music by Black American composers; to an interview series with Black artists for NPR Music called Amplify with Lara Downes; to a pair of albums, Some of These Days and New Day Begun. And if all that wasn't enough, Downes in March began to host Evening Music with Lara Downes on the San Francisco classical station KDFC, for which she is also the station's first-ever resident artist.
"I think the pandemic came at a time when so much of my work had come together and I was ready to do something with it," said Downes, who lives in Sacramento. "Honestly, it was kind of a coincidence of timing. I had all of these ideas and all of this material and I did with them what I could when I was locked in my house."
Downes, who is of mixed race, with a Jamaican father and Jewish mother, is a champion of relatively unknown Black composers. Rising Sun releases have included works by Henry T. Burleigh, Nathaniel Dett, Justin Holland, Nora Douglas Holt, and Margaret Bonds. "It's pretty shocking how little of this historic American music was well recorded," said the pianist, who has edited new editions of works by Burleigh and Dett for publisher Theodore Presser. "This is music that should be played at piano recitals all over the place."
In some ways, Downes's quest to diversify American classical music began with Florence Price, who became the first Black female composer to have a work performed by an American ensemble when the Chicago Symphony Orchestra premiered her Symphony in E minor, in 1934. "The piece that really blew my mind was her Fantasie Negre 1, which I started playing in 2009," said Downes. "There was a collective gasp in the audience whenever I would play it."
Next on the Downes agenda: A piano concerto commissioning initiative for Black composers, including Jon Batiste, Jessie Coleman, Adolphus Hailstork, Kathryn Bostic, Carlos Simon, and more.
SOCIAL LINKS

WHO'S BLOGGING


RENT A PHOTO
Search Musical America's archive of photos from 1900-1992.