---
MA Top 30 Professional of the Year: Wayne S. Brown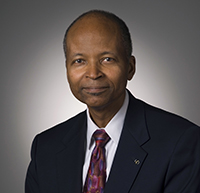 For Michigan Opera Theatre, the pandemic came during a long search for a successor to Founder and General Director David DiChiera, who died in 2018. "The lockdown triggered an opportunity for us to ask: If we had a blank slate and could reimagine the company, what might that look like?" said Detroit native Wayne S. Brown, MOT president and CEO.
The answer came in the form of Yuval Sharon, known for the innovative site-specific works done by the experimental opera company he founded in Los Angeles, The Industry. Sharon was appointed MOT artistic director in September 2020 and promptly made a splash with Twilight: Gods, his drive-through adaptation of Wagner's Götterdämmerung in the Detroit Opera House parking garage. It was followed by more productions in alternative venues that allowed live, in-person performances that complied with pandemic public health protocol.
"The pandemic, for all its darkness, created a moment of light—and Yuval Sharon was our moment of light," said Brown, a longtime Sharon admirer. Before becoming head of the opera company in 2014, he directed the music and opera program of the National Endowment for the Arts, one of many places where he was exposed to Sharon's innovative work.
If the risk-taking director has turned a traditional opera company on its ear, it was the pandemic that moved Brown to take an even greater risk by hiring him. MOT has not performed in the opera house since March of 2020. Its 2021 offerings included an outdoor concert version of Mascagni's Cavalleria rusticana, featuring soprano Christine Goerke. Blue, an opera by Jeanine Tesori and Tazewell Thompson about a police murder of a young Black man, was performed in the Aretha Franklin Amphitheater, a covered, open-sided venue by the Detroit River.
Sharon staged a performance-art piece called Bliss in the historic Michigan Building Theater parking garage. Singers and orchestra repeated the finale of Mozart's The Marriage of Figaro in half-hour segments over 12 hours on a Saturday. With "pay what you can" admission, more than 2,700 people dropped by at one point or another to take in the scene in which Count Almaviva asks the Countess for forgiveness.
In 2022, the Sharon-Brown team will originate two productions in partnership with other companies. Puccini's La Bohème, with its acts in reverse order, is a co-production with Boston Lyric Opera and the Spoleto Festival; Anthony Davis's X: The Life and Times of Malcolm X is a co-production with Opera Omaha, the Metropolitan Opera, and Seattle Opera.
SOCIAL LINKS

WHO'S BLOGGING


RENT A PHOTO
Search Musical America's archive of photos from 1900-1992.