---
MA Top Professional of the Year: Lorna Aizlewood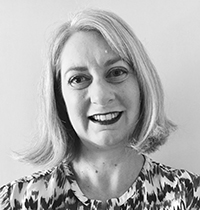 Chief Operating Officer and General Counsel
HarrisonParrott
When Lorna Aizlewood assumed her top-level post with the venerable London-based artist management firm HarrisonParrott in 2018, she brought impressive experience as a corporate lawyer and executive with IMG Artists and EMI Classics. But nothing prepared her for what was to come two years later.
"Being trained as a lawyer, I'm always looking after risk management, and in the arts business, you always take into account the possible loss of income if something happens to a key artist," Aizlewood said. "What you don't consider is that the world will literally shut down. The zombie apocalypse kind of scenario was not one that anyone took seriously, and yet with the pandemic, it happened."
HP has a large, starry lineup of artists and arts organizations under its management, but with no live, in-person performances, income vanished. "From a strategic point of view, the pandemic has really shown that a business cannot be reliant upon just one stream of income," she said. "That really puts you in jeopardy."
To protect HP in the shutdown, Aizlewood sought to diversify and broaden its business model, creating a livestreaming series called Virtual Circle on the eMusic Live platform. It launched in December 2020 with a concert by the Oslo Philharmonic to celebrate the 155th anniversary of the birth of Sibelius. In its first year, the online service streamed 17 ticketed programs, primarily by the agency's clients.
One of the Virtual Circle performances—Nico Muhly's new violin concerto Shrink by the Norwegian Chamber Orchestra and conductor/soloist Pekka Kuusisto—made classical music cyberspace history as the first NFT (non-fungible tokens) transaction used alongside a ticket bundle.
"NFT transactions are big in the art world, and we think it could be a promising way for classical music organizations to engage with different audiences and raise funds," Aizlewood said.
Aizlewood also led HP into a music publishing venture called Birdsong, which was announced in September 2021 with six composers, including Jimmy López Bellido, Charlotte Bray, and Freya Waley-Cohen. "There was a real gap in the classical music market for what I call bespoke publishing, whereby HP can bring a holistic approach to guiding a composer's career," she said. "I think it has a massive future."

WHO'S BLOGGING


RENT A PHOTO
Search Musical America's archive of photos from 1900-1992.