---
New Artist of the Month: Pianist Martín García García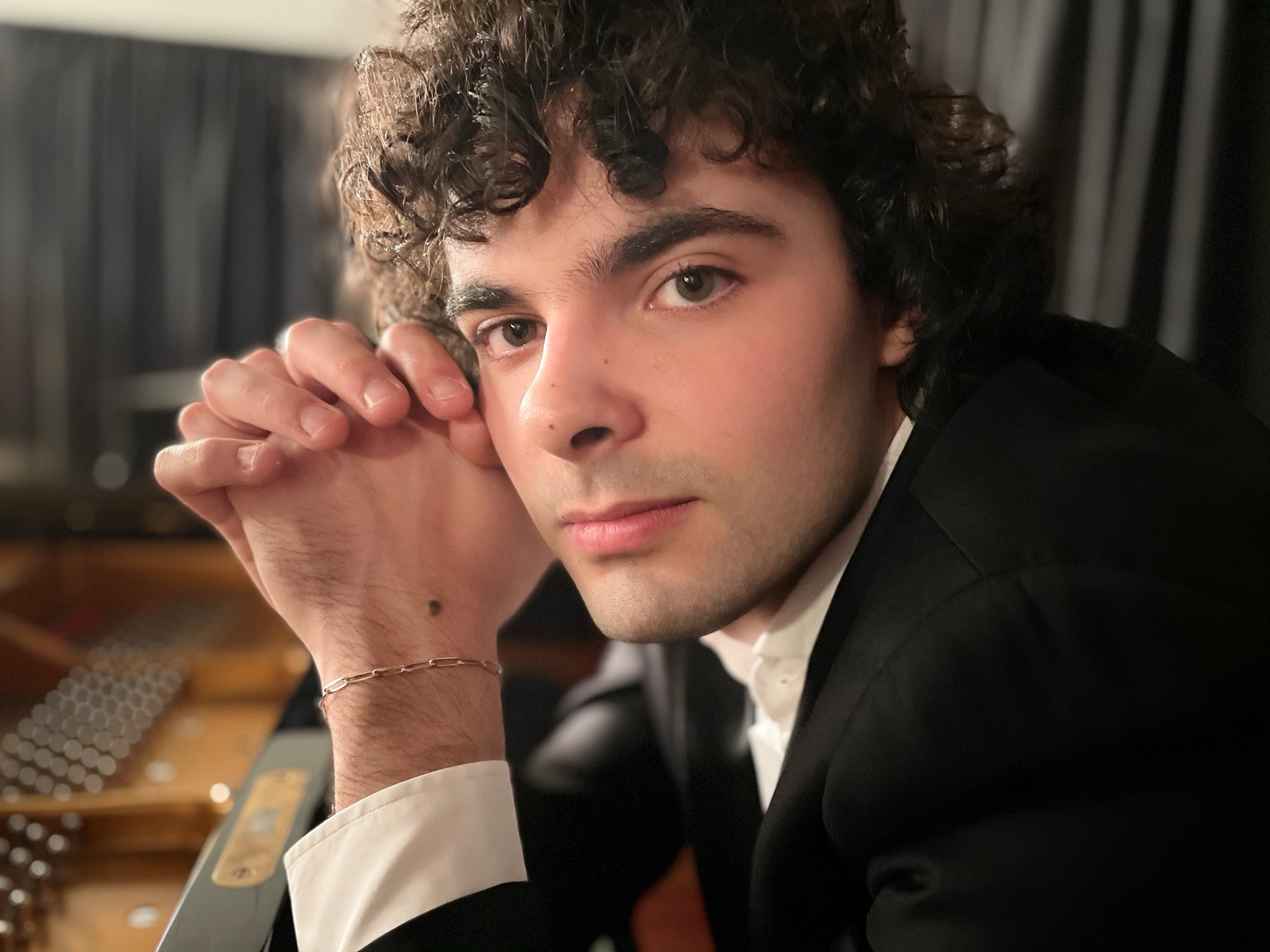 Life for Mannes School of Music master's student Martín García García took a dramatic turn last month, and the road ahead is looking even curvier.
With his August win at the 2021 Cleveland International Piano Competition, the young Spanish pianist has been catapulted from toiling in academia to presiding on a world stage. He's now over $75,000 richer and will soon enjoy a Steinway recording session, three years of management, and a New York debut.
He's not done competing, either. In October, pandemic permitting, García heads to Poland to take part in his fourth major contest this year, the International Chopin Competition. He was also a candidate for the 2021 Queen Elisabeth Competition in Belgium, in May and the virtual 16th Arthur Rubinstein International Piano Competition, in April.
Previously, Garcia took third at the Moscow Piano Open in 2019 and first prize at the 2018 International Keyboard Institute & Festival Artist Recognition Scholarship Awards.
"My brain is still processing it all," García tells me in near perfect English following his win. "It's like the rising sun," he says, referring to his career prospects. "It felt like it was dark until now. The foundation of the building is there, and we are now starting to build."
The Path to Victory
He's right about his foundation. García's pedigree at age 24 is about as good as it could be. He's nearly done earning his master's degree at Mannes, where he has studied with Jerome Rose, and he holds an undergraduate degree from the Reina Sofia School of Music in his hometown of Madrid, Spain, where his family still lives. He himself has lived in New York since 2019 and plans to remain there for the time being.
He's also got an unusually permanent, if long-distance, mentor in his older brother Daniel García García. A gifted but now inactive pianist who inspired him to take up piano, he still serves as García's closest, most trusted advisor. "It's about who you can trust in your career and who can make the criticisms that you need to hear."
García drew several more significant players into his corner in Cleveland. Michelle Cann, chair of piano studies at the Curtis Institute of Music and one of eight members of the Cleveland competition jury, said she had no problem voting for García for first prize.
He clinched her support with a commanding and poetic final-round performance of Rachmaninoff's Piano Concerto No. 3, a work he chose in part to honor his Russian teacher at Reina Sofia, Galina Eguiazarova. But the truth is his fate had already been sealed not only in the eyes (and ears) of Cann and other jurors, but in those of the audience, which awarded him the Audience Prize. He also won the Chamber Music Prize--playing Shostakovich with the Escher String Quartet--and Piano Duo Prize, playing Schubert with pianist Rafael Skorka.
Apart from his recital performances, coursing Beethoven, Liszt, Scriabin, Schubert, and others, his Rachmaninoff, said Cann, kept her "on the edge of my seat…I was very moved…But immediately, he stuck out to me. His voice, he carried it through various styles and composers. And technically, he's a very strong pianist."
Life in the Real Musical World
To prepare for the concerto final with the Jahja Ling and the Cleveland Orchestra in Severance Hall, arguably the most significant appearance in his life to date, he got just over an hour of rehearsal with his collaborators. This, when the work alone spans 45 minutes.
"There was no time for fooling around," García recalled. "But they did such a good job, it went so smoothly. They were all listening. You never know what's happening behind the scenes."
While some discount competitions as anti-artistic, García said he welcomes musical contests for the focused intensity they demand and the opportunity they afford to meet artists one might never encounter otherwise. For pianists, he said, a competition is "a little bubble."
Consider García officially out of that bubble.
During the Cleveland contest, in a video interview aired between rounds, the pianist described music as "a way to create new worlds, new worlds we would like to be in."
Clearly, García has done just that. His daily practice regimen may not change, but by competing so widely and earning a major victory in Cleveland, the pianist has created a whole new sphere for himself.
"Now I see doors opening," García said. "I like to think nothing has changed, but I know I'm lying."

WHO'S BLOGGING


RENT A PHOTO
Search Musical America's archive of photos from 1900-1992.