---
New Artist of the Month: Pianist Tianxu An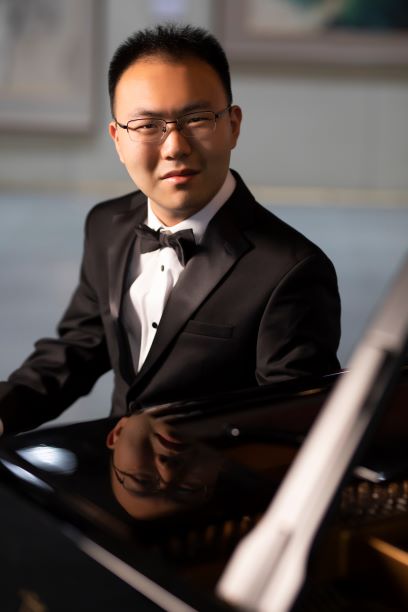 When Chinese-born pianist Tianxu An returns to the Curtis Institute of Music in September, he will have advanced his career by leaps and bounds under the least likely of circumstances—the Covid-19 pandemic. Since March 2020—when Curtis officially shuttered and forced its international students to return home—he has (a) performed concertos at Beijing's National Center for the Performing Arts (NCPA), (b) completed a month-long, 19-city recital tour of China, and (c) scheduled his recording debut on an international label, officially launching his career.
To be fair, An wasn't entirely unknown beforehand. A finalist in the 2019 Tchaikovsky Competition, he garnered music industry attention—and a "Special Prize for Courage and Restraint" from the judges—when the concerto order in his final round was reversed. He had expected to play the Tchaikovsky Concerto No.1 first, followed by Rachmaninoff's Variations on a Theme by Paganini. A program reversal announcement before he played was made, but only in Russian. His fourth-place win ultimately garnered him engagements with the Mariinsky Orchestra, the Philadelphia Orchestra, and the NCPA Orchestra in China, where memes of his terror-stricken face in Moscow [see video below] had made him (by classical music standards) an internet sensation.
Returning to Curtis was relatively low-key until the 2020 Covid break, when he says things got "interesting." Although China's health crisis had already run its course, out-of-town arrivals in Beijing were immediately carted by ambulance to local hospitals for testing and a mandatory 14-day quarantine. Though he lacked a piano during those two weeks, An did have recordings of his Curtis lessons, which he replayed during isolation. Returning to his hometown of Baoding, a hundred miles outside Beijing, An faced another 14-day quarantine, though this time with his own piano and Zoom classes with his Curtis professors.
An's homecoming was noticed by China's Poly Group, who quickly organized a summer 2020 recital tour despite concert venues remaining in Covid limbo, regaining only 30 percent capacity by August. Apart from a handful of online performances, An spent most of his summer learning new repertory; by fall 2020, when audience capacity surpassed 50 percent, he was performing two or three times a month, including orchestra appearances in Macau and Suzhou.
The early days
An's musical life began at age five, urged by parents who considered the piano a good way to develop intelligence "since you have to move both hands independently," he recalls. Soon outgrowing his local teacher, An found his way into the affiliated middle school of Beijing's Central Conservatory of Music. By age 15, he auditioned for Curtis and was formally accepted a few months later.
Differences between China and the U.S. were stark. The first thing he noticed were the city streets, which (at least in New York and Philadelphia) were shorter and neatly arranged in grids that made finding a precise address much easier than in China. Intellectually, though, America proved to be more complicated. "I'd been influenced by Confucianism," An says, "so I had this idea that great scholars and cultural elites were perfect and never did anything wrong. Of course, I realize now this is impossible. I used to think any question had only one ultimate answer, but living in America taught me that there are always many answers."
One question that still bothers him is why the media became fixated with one particular moment in a competition while he remained focused on the bigger picture. "I was overwhelmed by being in the same hall where Scriabin and Prokofiev and Richter and Horowitz—all my idols—had performed," says An, whose fascination with Russian culture began after reading War and Peace at age 12. He soon began applying the literary esthetic at the keyboard. "There's great passion, but also great loneliness," he explains. "Perhaps that's why the great pianists play with such fury, but without showing off. Music is their tool to connect with others."
Touring as a pro
In July 2021, An deepened his own connection with his native country when his new China-based manager Armstrong Music and Arts augmented his Poly recital postponements into a full 19-city recital tour. It also marked a change in mindset from a student musician to a touring concert artist. "It was a huge test, both in musicianship and conserving physical energy. There was no time to practice," he says, citing one four-day period with four concerts in different cities, with up to four hours of travel time daily. "There was just enough time to warm up in the hall."
Those lessons in stamina are getting put to the test once again as An prepares his debut recording for the Paris-based Alpha Classics label, which he plans to record at Guangzhou's Xinghai Concert Hall shortly before returning to the U.S. Paired with a set of short works by Tchaikovsky will be Rachmaninoff's monumental Variations on a Theme of Chopin, a work rarely performed in its entirety.
Although several pianists have recorded edited versions—and even Rachmaninoff often omitted several variations—An has been emboldened by his experience on the road and intends both to record and later perform the work in recital uncut. "These are the things I need to do as a young man," he says, "while I still have the energy."

WHO'S BLOGGING


RENT A PHOTO
Search Musical America's archive of photos from 1900-1992.