---
MA's Free Guide to (Mostly) Free Streams, April 5-12
We will be updating this list weekly. Please note that all times are given in U.S. Eastern Time (ET). To calculate in other time zones or counties, British Summer Time (BST) is currently five hours ahead of ET and Central European Time (CET) is currently six hours ahead. U.S. Central Daylight Time (CDT) is one hour behind ET. Mountain Time (MT) is two hours behind ET, while Pacific Time (PT) is three hours behind. Contact editor@musicalamerica.com.
Classical music coverage on Musical America is supported in part by a grant from the Rubin Institute for Music Criticism, the San Francisco Conservatory of Music, and the Ann and Gordon Getty Foundation. Musical America makes all editorial decisions.
---
** Highly recommended
Monday, April 5
** 6 am ET: Berliner Philharmoniker Digital Concert Hall presents Petrenko conducts Tchaikovsky & Rachmaninov. This March 20 concert in front of 1000 spectators took place as part of the Berlin project "Perspektive Kultur" to test the logistical and practical feasibility of events in conjunction with SARS-CoV-2 antigen testing. The Berliner Philharmoniker is conducted by Kirill Petrenko in Tchaikovsky's Romeo and Juliet, Fantasy Overture after Shakespeare and Rachmaninov's Symphony No. 2 in E minor, Op. 27. Includes an interview with BPO principal flute Emmanuel Pahud in conversation with Daniel Stabrawa. Tickets EUR 9.90. View here. LIVE
** 10 am ET: Virtual Circle presents Bach's St. Matthew Passion. HarrisonParrott's live-streaming and digital content platform features Bach Collegium Japan performing Bach's St. Matthew Passion recorded in Suntory Hall, Tokyo. Masato Suzuki leads the Chorus and Orchestra with soloists Makoto Sakurada (Evangelist), sopranos Maki Mori and Aki Matsui, altos Noriyuki Kubo and Hiroya Aoki, tenor Yosuke Taniguchi, and basses Toru Kaku and Hirotaka Kato. Tickets £15. View here.
1 pm ET: Wiener Staatsoper presents Puccini's La Bohème. Conductor: Mikko Franck, director: Franco Zeffirelli. With Rámon Vargas, Maija Kovalevska, Alessio Arduini, Adrian Eröd, and Ildikó Raimondi. Production from March 2014. Register for free and view here.
**2 pm ET: St John's Smith Square & Tenebrae present Holy Week Festival 2021. The London Handel Festival blends "liive" and "virtual" as Laurence Cummings conducts soloists, including Iestyn Davies and Lucy Crowe, and the London Handel Orchestra in a live performance from St. George's, Hanover Square in London's Mayfair—Handel's own church. The choruses have been prepared and pre-recorded by 15 choirs totaling some 500 singers from all over the world and will be integrated digitally into the performance. Register and view here.
7 pm ET: 92nd St Y presents A Celebration of Mimouna. Mimouna is a North African Sephardi holiday that marks the end of Passover. Traditionally an evening of good food (especially breads), this concert features Sebt Gnawa, a traditional Jewish-Moroccan musical style performed by Grammy-nominated Samir LanGus and Itamar Borochov. Afterward, both musicians will share more about their ties to this music and their belief in multicultural collaboration. View here.
7:30 pm ET: Met Opera Streams presents Gounod's Faust. Starring Marina Poplavskaya, Jonas Kaufmann, and René Pape, conducted by Yannick Nézet-Séguin. Production by Des McAnuff. From December 10, 2011. View here and for 24 hours.
7:30 pm ET: Chamber Music Society of Lincoln Center presents Musical Heritage: Pablo Casals. The great Catalan cellist Pablo Casals (1876-1973) stands as arguably the most influential and universally revered instrumentalist of all time. In this exploration of Casals, the musician and the man, cellist and CMS Artistic Director David Finckel leads a panel of musicians—Dmitri Atapine, Arnold Steinhardt, Jaime Laredo, and Timothy Eddy—who, either through direct contact or inherited influence, have been changed by the art of Casals forever. Register, view here and on demand for one week.
Tuesday, April 6
2 pm ET: IDAGIO Global Concert Hall presents Mark Padmore and Julius Drake in Recital. Filmed live in London during lockdown, this recital brings together tenor Mark Padmore and pianist Julius Drake. Celebrating the 250th anniversary of Beethoven's birth, the program begins with a selection of the composer's Lieder beside his ground-breaking cycle An die ferne Geliebte, and closes with Schumann's Kerner-Lieder, Op. 35. The event includes an interval discussion with the artists and series curator. Tickets from $5. View here.
2 pm ET: Royal Liverpool Philharmonic presents Stravinsky in Memoriam 50 Years. Vasily Petrenko conducts Stravinsky's Suite No.1 for small orchestra, Apollon Musagète for strings, and Concerto for Piano and Winds with pianist Steven Osborne. The concert will be preceded by a live pre-concert talk on Zoom and a post-concert Zoom Q&A with musicians and conductor in a sort of post-match analysis. Tickets £10 and view here for 30 days. LIVE
2:15 pm ET: Gürzenich-Orchester Köln presents Roth & Bavouzet play Stravinsky. François-Xavier Roth conducts the Gürzenich-Orchester Köln with pianist Jean-Efflam Bavouzet in an all-Stravinsky program comprising the Symphonies of Winds, the Capriccio for Piano and Orchestra, and the Divertimento from Le Baiser de la Fée. View here.
5 pm ET: Copland House & I Care If You Listen present Cultivated Spaces. The third of a six-program series featuring the world premieres of the six new works Copland House commissioned for its CULTIVATE 2020 emerging composers institute. This week: Baldwin Giang's to be alone with you, which takes its title from the eponymous song by Sufjan Stevens and is scored for piano trio and makes use of some of the musical material of Stevens's song transformed by microtonal harmony and extended techniques. View here.
** 7 pm ET: Miller Theatre at Columbia University presents Pop-Ups in the Lantern: Attacca Quartet. The Attacca Quartet performs the works of four living composers. Program: Anne Müller's Drifting Circles (arr. Domenic Salerni), selections from John Adams's John's Book of Alleged Dances, Philip Glass's String Quartet No. 3, Mishima, and Flying Lotus's Suite (arr. Nathan Schram). View here and on demand.
** 7:30 pm ET: Nightly Met Opera Streams presents Verdi's Rigoletto. Starring Christiane Eda-Pierre, Isola Jones, Luciano Pavarotti, Louis Quilico, and Ara Berberian, conducted by James Levine. Production by John Dexter. From December 15, 1981. View here and for 24 hours.
7:30 pm ET: UNCSA School of Music presents Liederabend with Kevin McMillan & Gabriel Dobner. From Watson Hall, McMillan and Dobner perform a recital of Lieder, including Schumann's song cycle, Dichterliebe, Op. 48 (words by poet Heinrich Heine), selected Heine-Lieder by Schumann, and Sechs Monologe aus Jedermann by Frank Martin. Works will be sung in German with English captioning. Tickets $10. View here.
8 pm ET: Roulette presents Jen Shyu & Jade Tongue. Vocalist, composer and multi-instrumentalist Jen Shyu and ensemble Jade Tongue perform a concert in downtown Brooklyn of music from their new album, Zero Grasses: Ritual for the Losses (released by Pi Recordings on April 23), as well as free-form improvisations between Shyu and Jade Tongue characteristic of their years-long collaborative relationship. View here.
10 pm ET: Philharmonic Society of Orange County presents Piazzolla at 100. In a centennial celebration, violinist Phillippe Quint and members of Joffrey Ballet perform iconic tango pieces in a program that showcases the music and movement that define this historical dance. Quint's narration leads the audience in a celebration of Piazzolla's life through visual and musical depictions of the composer's influences and personal relationships with figures such as Ginastera, Duke Ellington, Stravinsky, Nadia Boulanger, and Bach. Tickets $20. View here and for one week.
Wednesday, April 7
12 pm ET: Kronberg Academy presents Kirill Gerstein in a second online seminar with Reinhard Goebel on the Brandenburg Concertos. Goebel has surveyed the historical background of these compositions and discussed the effects the socio-diplomatic implications have on the works. After performing these pieces countless times, with two reference recordings of the cycle and an upcoming book about them, Goebel will share his passion and knowledge of these seminal pieces. Register here for the free Zoom seminar. LIVE
12 pm ET: Young Concert Artists presents Randall Goosby. The violinist appears at the Morgan Library & Museum in a program that includes Ravel's Violin Sonata No. 2 in G, Coleridge-Taylor Perkinson's Blue/s Forms for Solo Violin and Louisiana Blues Strut: A Cakewalk for Solo Violin, and Brahms's Violin Sonata No. 3 in D minor, Op. 108. View here. LIVE
1 pm ET: Wiener Staatsoper presents Beethoven's Fidelio. Conductor: Peter Schneider, director: Otto Schenk. With Klaus Florian Vogt, Anja Kampe, Evgeny Nikitin, Stephen Milling, and Valentina Nafornita. Production from January 2016. Register for free and view here.
3 pm ET: London Philharmonic presents London Calling. Filmed without audience on March 13, 2021, young British conductor Ben Gernon leads the London Philharmonic Orchestra in Haydn's Symphony No. 30, Alleluia, Coleridge-Taylor's Ballade for Orchestra, and Mendelssohn's Symphony No. 1. View here for seven days.
6:30 pm ET: Orchestra of St. Luke's presents The Lark & The Titan. Tito Muñoz returns to OSL to lead the orchestra in chamber arrangements of Vaughan Williams's The Lark Ascending and Mahler's Symphony No. 1. Originally written for solo violin and piano, The Lark Ascending was later orchestrated by Vaughan Williams for solo violin and full orchestra. Here, OSL musicians perform Martin Gerigk's arrangement of the work for string sextet with violinist Tai Murray. Suggested donation $40. View here.
** 7:30 pm ET: Nightly Met Opera Streams presents Tchaikovsky's Eugene Onegin. Starring Anna Netrebko, Elena Maximova, Alexey Dolgov, Peter Mattei, and Štefan Kocán, conducted by Robin Ticciati. Production by Deborah Warner. From April 22, 2017. View here and for 24 hours.
8 pm ET: Baltimore Symphony Orchestra presents BSO Sessions: Three Quarter Time. From Debussy's jazzy La plus que lente to the inventive dances by Ulysses Kay, composers have found ways to put their own spin on the waltz. Discover the variety in three quarter time as the BSO performs pieces by Brahms, Clara Schumann, Saint-Saëns, and more. Tickets $10. View here and on demand.
Thursday, April 8
12 pm ET: Boston Symphony Orchestra presents Ozawa Conducts Swan Lake. Originally recorded on October 25, 1978, then-BSO Music Director Seiji Ozawa conducts the orchestra in excerpts from Acts II and III of Tchaikovsky's Swan Lake. Donate $100 for full access to BSO Now. View here until May 8.
1 pm ET: Wiener Staatsoper presents Wagner's Lohengrin. Conductor: Simone Young, director: Andreas Homoki. With Andreas Schager, Elza van den Heever, Petra Lang, Evgeny Nikitin, and Kwangchul Youn. Production from November 2018. Register for free and view here.
1 pm ET: IDAGIO presents Thursdays with Thomas. Join Thomas Hampson in conversation with colleagues, friends, and other major personalities of the classical music world. In this episode Thomas chats withthe Music Director of the Royal Opera House and of the Orchestra dell'Accademia Nazionale di Santa Cecilia, and the designated next Chief Conductor of the London Symphony Orchestra, Antonio Pappano. View here. LIVE
1:15 pm ET: Midtown Concerts presents The Vivaldi Project. The Vivaldi Project continues its exploration of the 18th-century string trio, as it finds its way to Vienna at the cusp of the 19th century. This program features string trios by Beethoven and his colleagues, Paul Wranitsky and Leopold Hofmann. View here.
1:25 pm ET: Bergen Philharmonic presents Relieff. Eivind Gullberg Jensen conducts the Bergen Philharmonic with cellist Amalie Stalheim in the world premiere of Knut Vaage's Relieff for cello and orchestra and Anne-Marie Ørbeck's Symphony in D. View here.
**2 pm ET: London Symphony Orchestra presents Bennett, Ravel & Gershwin. John Wilson conducts the LSO in Richard Rodney Bennett's Partita for Orchestra, Ravel's Valses Nobles et Sentimentales, and Gershwin, arr. Robert Russell Bennett, Porgy and Bess: A Symphonic Picture. View here.
2 pm ET: IDAGIO Global Concert Hall presents Schubert's Die Schöne Müllerin. Tenor Julien Van Mellaerts and pianist Jocelyn Freeman perform Schubert's pioneering song cycle, Die schöne Müllerin, as part of The Wanderlust Series. This performance was captured with a live, socially distanced audience in Blackheath Halls, London in September 2020. The event includes a pre-concert talk with Dr Natasha Loges and Jocelyn Freeman, chaired by Natasha Riordan. Tickets from $5. View here.
2:15 pm ET: Czech Philharmonic presents International Romani Day Celebration. In collaboration with singer, musician, choir leader, and teacher Ida Kelarová, the Czech Philharmonic celebrates International Romani Day with a performance by the Chavorenge's Children Choir. Streamed live from Prague's La Fabrika, the concert will feature jazz, classical, folk, and contemporary Romani music with the orchestra joined by members of the Czech Student Philharmonic, Kelarová's band Jazz Famelija, the Salut Roma dance ensemble, and soloists Radek Bagár (piano) and Milan Angelo Novák (guitar). View here for seven days. LIVE
3 pm ET: Polyphonic Concert Club presents Isata Kanneh-Mason. Filmed in St. George's Bristol, the pianist performs music by Clara Schumann, Sofia Gubaidulina, and Samuel Coleridge-Taylor. Tickets £95 for the series of six. View here and on demand.
5 pm ET: The Violin Channel & Vanguard Concerts presents Jordan Bak. The violist performs Bach's Adagio and Fuga from his Solo Violin Sonata No. 1 in G minor; Hindemith's "Thema mit Variationen: Schnelle Viertel" from his Sonata for Solo Viola Op. 31 No. 4, Jeffrey Mumford's wending, and Joan Tower's Wild Purple. View here.
5 pm ET: Baryshnikov Arts Center presents Anne Teresa de Keersmaeker/Rosas: Verklärte Nacht. Filmed January 2019 in the Jerome Robbins Theater. Verklärte Nacht (Transfigured Night) is set to Schoenberg's late Romantic score based on an 1866 poem about a woman who confesses to the man she loves that she is pregnant with another man's child. Originally choreographed in 1995 for an ensemble, this 2014 reconstruction is derived from a process of reduction, concentrating the poem's dramatic structure in an evocative dance for three performers from which the narrative lines and expressive modulations emerge. View here until April 15.
** 6 pm ET: Philadelphia Chamber Music Society presents Shai Wosner. The pianist performs Schubert's Piano Sonata in A, D. 664, Scarlatti's Keyboard Sonata, K. 141, Keyboard Sonata, K. 9, and Keyboard Sonata, K. 230, Rzewski's Three Nanosonatas, and Beethoven's Piano Sonata in E-flat, Op. 31, No. 3. View here.
6 pm ET: National Sawdust presents Brianna Mims. Part of a season-long collaboration with the Center for Ballet and the Arts at NYU, model, dancer and activist Brianna Mims brings together fashion, dance, advocacy, and healing for positive change. This season, through intimate compositions of dance and music, she focuses on the body as a poetic and political site of liberation. View here.
7 pm ET: The Cleveland Orchestra presents In Focus Episode 8: Visions & Impressions. Principal flute Joshua Smith performs two enigmatic pieces for solo flute—Japanese composer Toru Takemitsu's Air and Debussy's Syrinx. Between these, Franz Welser-Möst leads The Cleveland Orchestra strings in Prokofiev's Visions fugitives, and the program concludes with Poulenc's Organ Concerto played by Paul Jacobs. View here via TCO's streaming platform Adella.
7:30 pm ET: Nightly Met Opera Streams presents Zandonai's Francesca da Rimini. Starring Renata Scotto, Plácido Domingo, and Cornell MacNeil, conducted by James Levine. Production by Piero Faggioni. From April 7, 1984. View here and for 24 hours.
7:30 pm ET: Chamber Music Society of Lincoln Center presents New Milestones: Time (Stillness, Movement, and Memory). Archival performances of Malika Kishino's Monochromer Garten VI for Viola, Patrick Castillo's Incident for Violin and Piano, Thomas Meadowcroft's Cradles for Percussion Duo with Wurlitzer e-Piano, and Juri Seo's #three for Piano, Percussion, and Bass. With Gilles Vonsattel, Wu Qian, Alexander Sitkovetsky, Matthew Lipman, Brendan Kane, Ayano Kataoka, and Ian David Rosenbaum. View here and on demand for one week.
7:30 pm ET: St Louis Symphony Orchestra presents The Heart of the Matter. Stéphane Denève conducts the SLSO in Anna Clyne's Within Her Arms, Elgar's Serenade for Strings, Tchaikovsky's Andante cantabile, and Puccini's I crisantemi (The Chrysanthemums). Tickets $15. View here until May 8.
7:30 pm ET: Detroit Symphony Orchestra presents Cloudscapes. Asher Fisch conducts the DSO in Lachlan Skipworth's Avem asperitas, a soundscape that tells of a storm that will never quite arrive. Ginastera shines a spotlight on each section of the orchestra in the Variaciones concertantes, evoking the sounds and rhythms of his native Argentina. Tickets $12. View here. LIVE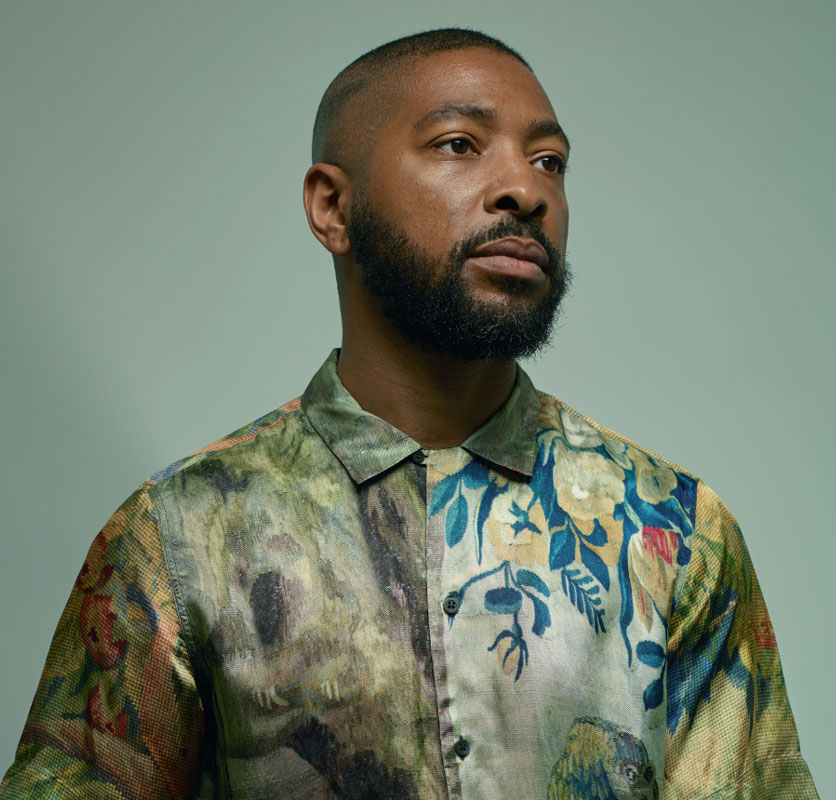 8 pm ET: New York City Ballet presents Kyle Abraham Premiere. Choreographer Kyle Abraham returns to premiere his third creation for NYCB, created at a three-week COVID-compliant residency bubble at the Kaatsbaan Cultural Park in Tivoli, NY. After the residency, this new work—featuring dancers India Bradley, Jonathan Fahoury, Christopher Grant, Claire Kretzschmar, Lauren Lovette, Taylor Stanley, KJ Takahashi, and Sebastian Villarini-Velez—was filmed on the promenade and stage of the David H. Koch Theater. View here until April 22.
8 pm ET: Tippet Rise Art Center presents George Li. The pianist performs Haydn's Sonata in C, Hob. XVI:50, Chopin's Sonata in B flat Minor, Op. 35, Rachmaninov's Variations on a Theme of Corelli, Op. 42, and Liszt's Consolation and Hungarian Rhapsody No. 2. Filmed at the Olivier Music Barn on July 8, 2016. View here.
8 pm ET: Atlanta Symphony Orchestra presents Behind the Curtain: Beethoven & Mozart. Imperial Vienna comes to Atlanta in the Fourth Symphony by Beethoven and the Concerto for Flute and Harp by Mozart featuring ASO musicians Christina Smith and Elisabeth Remy Johnson. Donald Runnicles performs on the piano alongside soprano Talise Trevigne for four songs by Alma Mahler: "In meines Vaters Garten," "Die stille Stadt," "Laue Sommernacht," and "Lobgesang". Tickets $20. View here.
8 pm ET: Caramoor presents Son Little. A solo set from the Rhythm and Blues musician who came to international prominence with his self-titled debut, released in 2015. Equal parts vintage and modern, Son Little's newest work, aloha, blends classic soul, old-school R&B, and adventurous indie sensibilities into a timeless swirl fueled by gritty instrumental virtuosity and raw, raspy vocals. Tickets from $15. View here.
11 pm ET: Seattle Symphony presents Mozart Piano Concerto No. 20. American pianist Eric Lu makes his Seattle Symphony debut with Mozart's Piano Concerto No. 20. The concerto is paired with Schubert's Unfinished Symphony on the Benaroya Hall stage. David Danzmayr conducts. View here.
Friday, April 9
6:15 am ET: Royal Stockholm Philharmonic presents Bartók's First Piano Concerto. Dima Slobodeniouk conducts the Royal Stockholm Philharmonic Orchestra with pianist Martin Helmchen in Bartók's Piano Concerto No. 1 followed by Prokofiev's Symphony No. 7. View here and on demand.
12 pm ET: Les Arts Florissants & Qwest TV present Charpentier's Grands Motets. With musical direction by William Christie, the choir and orchestra of Les Arts Florissants filmed Marc-Antoine Charpentier's Grand Motets at Versailles's Chapel Royal on February 28, 2021 without a live audience. Tickets with $4.99 per week subscription or free seven-day trial. View here and on demand.
1 pm ET: Wiener Staatsoper presents Cavalleria Rusticana & Pagliacci. Conductor: Marco Armiliato, director: Jean-Pierre Ponnelle. With Eva-Maria Westbroek, Brian Jagde, Ambrogio Maestri, Zoryana Kushpler, and Isabel Signoret; Roberto Alagna, Aleksandra Kurzak, Ambrogio Maestri, Andrea Giovannini, and Sergey Kaydalov. Production from November 2020. Register for free and view here.
** 1 pm ET: OperaVision presents Debussy's Pelléas et Mélisande. Recorded in March 2021, Opéra de Lille presents a Mélisande full of vitality and determination, far from the familiar ethereal figure. In the pit, François-Xavier Roth and his ensemble Les Siècles, playing on period instruments, lend new colors to a familiar score. Daniel Jeanneteau directs. Recorded on August 1, 2020. View here for six months.
1 pm ET: IDAGIO presents Jean-Guihen Queyras: Bach Cello Suites. Queyras takes a journey into the secrets of one of the most famous works for cello solo. In this episode—Suite 6, Gavottes: A village feast and a bagpipe—Queyras explores the many variations of the Gavotte-steps in this joyful dance. View here. LIVE
2 pm ET: Concertgebouworkest presents Chamber Music. Musicians from the Concertgebouworkest play chamber music in various line-ups. Music for strings by Tchaikovsky—his Souvenir de Florence—and Borodin is followed by Arvo Pärt's meditative Spiegel im Spiegel, Berio's playful Opus Number Zoo, and Rob Dirksens's Resilience, which will receive its world premiere. Alexei Ogrintchouk conducts. View here.
2 pm ET: Komische Oper Berlin presents Gaffigan Conducts Webern, Gulda & Mozart. James Gaffigan leads the Orchester der Komischen Oper Berlin in a program of Webern's Variations for Orchestra, Op. 30, Friedrich Gulda's Concerto for Cello and Winds with soloist Felix Nickel, and Mozart's Symphony No. 41 in C, Jupiter. View here.
2 pm ET: DG Stage presents Ottensamer & Schumann Quartet Play Mendelssohn & Schumann. Filmed in Berlin, this concert begins with a selection of Mendelssohn's Songs without Words, newly arranged for clarinet and string quintet by Andreas Ottensamer, principal clarinetist of the Berliner Philharmoniker. He's joined by the Schumann Quartet and double bassist Gunars Upatnieks. In the second half, the Schumann Quartet performs the last of Schumann's Op. 41 string quartets. Tickets Euro 9.90. View here until April 11.
** 2:30 pm ET: Royal Opera House presents The Seven Deadly Sins & Mahagonny Songspiel. The ROH presents its first fully staged production since the start of the pandemic with a brand-new double bill of Bertolt Brecht's and Kurt Weill's, The Seven Deadly Sins and Mahagonny Songspiel. Directed by British director Isabelle Kettle, soloists of the Jette Parker Young Artists Programme will perform Weill's satirical double bill under the baton of British-Cypriot conductor Michael Papadopoulos and with choreography from Julia Cheng. The production is available to online audiences only. View here. LIVE
6 pm ET: Philadelphia Chamber Music Society presents Joseph Lin. The former first violinist of the Juilliard Quartet performs Bach's Partita in E, BWV 1006, Sonata in A Minor, BWV 1003, and Partita in D Minor, BWV 1004. View here.
7 pm ET: Mannes Sounds Festival presents A Musical Journey through American History Part III. A series of four concerts that represent a musical journey through American history. Curated by Keller Coker, Dean, School of Jazz and Contemporary Music, Part three features works by iconic American jazz musicians. View here.
**7:30 pm ET: Nightly Met Opera Streams presents Shostakovich's The Nose. Starring Andrey Popov, Alexander Lewis, and Paulo Szot, conducted by Pavel Smelkov. Production by William Kentridge. From October 26, 2013. View here and for 24 hours.
** 7:30 pm ET: Celebrity Series of Boston presents Dreamers' Circus. Young Danish trio, Dreamers' Circus draw inspiration from the traditions of folk music in the region and reshape them into something bright, shiny, and new. Their art embraces music from Denmark and Sweden as well as Iceland, Finland, and the far reaches of the Faroe Islands. Dreamers' Circus are Nikolaj Busk on piano and accordion, Ale Carr on Nordic cittern and Rune Tonsgaard Sørensen also of the Danish String Quartet, on violin. The ensemble has won five Danish Music Awards. The performance was recorded in the Library Hall in Copenhagen's historic Round Tower, built in the mid-17th century as an astronomical observatory. View here.
7:30 pm ET: The Gilmore presents The Aaron Diehl Trio. Live-streamed from the Wellspring Theater in Kalamazoo, Diehl and his trio of Paul Sikivie (bass) and Aaron Kimmel (drums) perform works in the early jazz tradition. A classically trained pianist and composer, Diehl has collaborated with living masters ranging from jazz greats Wynton Marsalis and Benny Golson to classical titan Philip Glass. View here.
7:30 pm ET: Detroit Symphony Orchestra presents Biss plays Schumann. Pianist Jonathan Biss returns to Detroit to perform Schumann's Piano Concerto, first performed by his wife Clara and featuring a tender melody that spells out the letters of her name. Before that comes Rossini's Overture to La Scala di Seta. Tickets $12. View here. LIVE
**8 pm ET: UChicago presents Mahan Esfahani: Goldberg Variations. The Persian American harpsichordist plays Bach's Goldberg Variations, recorded in Leipzig's Tomaskirche where Bach wrote this music 280 years ago. Register and view here until April 11.
8 pm ET: LA Opera presents Signature Recital: Russell Thomas. LA Opera's Artist in Residence partners with pianist Mi-Kyung Kim for a traversal of Schumann's Dichterliebe (Poet's Love), one of the masterpieces of the Romantic-era song repertoire. Tickets $45 for the series of five recitals. View here until July 1.
8:30 pm ET: Houston Grand Opera presents Live from The Cullen: Nicole Heaston. Soprano and HGO Studio alumna Nicole Heaston performs a recital featuring classics from the American songbook, featuring HGO Director of Artistic Operations and Chorus Master Richard Bado on piano. Register and view here until May 9.
8:30 pm ET: Cantus presents Fields of Wonder. Anchored by a rediscovered song cycle tailored for low voices by Margaret Bonds set to the poetry of Langston Hughes, Fields of Wonder explores the interplay between authors and musicians. Repertoire includes music by Take 6, Rosephanye Powell, Christopher H. Harris, Ysaye M. Barnwell, as well as O Salutáris Hóstia, Panis Angélicus, Te Decet Laus, Nod by Florence B. Price, and Renmen Renmen by Sydney Guillaume. Tickets $20 (suggested). View here.
9:30 pm ET: Los Angeles Chamber Orchestra presents Beethoven Serioso. Music Director Jaime Martín and Director and Designer James Darrah seek to create a digital series that celebrates collaboration in an age of isolation through classical music performances set to images and art created and processed in a first-of-its-kind digital studio at Wilhardt + Naud. In this episode, concertmaster Margaret Batjer leads a performance of Beethoven's Serioso String Quartet in F-minor, arranged for string ensemble by Mahler. Cinematographer Michael Elias Thomas is filming from within the orchestra, presenting the audience with a seat on stage. View here.
Saturday, April 10
12 pm ET: NPR presents AMPLIFY with Lara Downes. In this episode of the bi-weekly series of intimate video conversations with visionary Black artists, Downes speaks with James Beard Award-winning chef and Grammy Award and Tony Award-winning opera singer Alexander Smalls to discuss the traditions, cultures, and flavors that meet in Harlem, the subject of Smalls' book Between Harlem and Heaven, and an ongoing focus of Downes's work celebrating Black composers. View here.
1 pm ET: Wiener Staatsoper presents Peer Gynt. Conductor: Simon Hewett, choreography: Edward Clug. With Jakob Feyferlik, Alice Firenze, Eno Peci, Zsolt Török, and Soloists and Corps de ballet of Wiener Staatsballetts. Production from December 2018. Register for free and view here.
1 pm ET: San Francisco Opera presents The Fall of the House of Usher. Two one-act operas by Gordon Getty (Usher House) and Debussy (La Chute de la Maison Usher) whose librettos are adaptations of the 1839 Edgar Allan Poe short story. In a co-production with Welsh National Opera, American baritone Brian Mulligan plays Roderick Usher in both works. In Usher House tenor Jason Bridges portrays Edgar Allan Poe, bass Anthony Reed is Doctor Primus, Jamielyn Duggan dances the role of Madeline Usher, and soprano Jacqueline Piccolino is the voice of Madeline. The American premiere of Debussy's La Chute de la Maison Usher features musical reconstruction and orchestration by Robert Orledge. Mulligan (Usher) is joined by baritone Edward Nelson as L'Ami, Piccolino as Lady Madeline, and tenor Joel Sorensen as Le Medecin. David Poutney directs with Lawrence Foster leading the San Francisco Opera Orchestra. View here until midnight the following day.
2 pm ET: NDR Elbphilharmonie presents Gilbert conducts Stravinsky. Alan Gilbert conducts the NDR Elbphilharmonie with pianist Kirill Gerstein in Stravinsky's Concerto for Piano and Winds, Apollon Musagète, and The Firebird Suite. View here.
2 pm ET: London Symphony Orchestra presents Soundhub. Darren Bloom conducts Ryan Latimer's Down at Black Delph, Clare Elton's Around, Ruaidhrí Mannion's I mbéal na toinne, and Anselm McDonnell's The Union is our God. These new works were conceived in October 2019 by composers on Phase I of LSO Discovery's Soundhub scheme. View here.
3 pm ET: Live from the Barbican presents Benjamin Grosvenor. The British pianist performs Chopin's Piano Sonata No 3 in B minor, Schubert/Liszt's Ave Maria, Ginastera's Three Argentinian Dances, and Ravel's Gaspard de la nuit. Tickets £12.50. View here.
7:30 pm ET: Nightly Met Opera Streams presents Gounod's Roméo et Juliette. Starring Anna Netrebko, Roberto Alagna, Nathan Gunn, and Robert Lloyd, conducted by Plácido Domingo. Production by Guy Joosten. From December 15, 2007. View here and for 24 hours.
7:30 pm ET: Pittsburgh Symphony Orchestra presents Ultra Violinistics. Manfred Honeck conducts with violinist Simone Porter and flautist Lorna McGhee in Dvorák's Seven Gypsy Songs, Op. 55, No. 4 for String Orchestra, Harp and Percussion (World Premiere arrangement), Kreisler (arr. Wood) Praeludium and Allegro for Solo Violin and String Orchestra, Pärt's Fratres for Solo Violin, String Orchestra and Percussion, Vivaldi's "Winter" from The Four Seasons, Sigfrid Karg-Elert's Chaconne for Solo Flute, and Shostakovich (arr. Barshai) Chamber Symphony (after String Quartet No. 8) in C minor. Tickets $15. Register and view here until April 9.
** 7:30 pm ET: Peoples' Symphony Concerts presents JACK Quartet & Shai Wosner. The JACK Quartet and pianist Shai Wosner perform Rodericus's Angelorum Psalat (arr. Chris Otto), Mozart's Piano Sonata in C K545 (Allegro), Thomas Adès's Piano Quintet Op. 2, Grieg's "Evening in the Mountains" (from Lyric Pieces, Op. 68), John Luther Adams's "Maclaren Summit" (from The Wind in High Places), and Amy Williams's Cineshape. Tickets $50 for five concerts. View here.
7:30 pm ET: Louisville Symphony Orchestra presents Wailing Trumpets. Bob Bernhardt is on the podium with trumpet virtuoso Byron Stripling. The program is a celebration of Ragtime and Blues music. Stripling, a trumpet player, actor, singer, and music director, is joined in this performance by fellow musicians from the Columbus Jazz Orchestra. Four concert subscription $75. View here. LIVE
** 7:30 pm ET: American Lyric Theater presents Celebrating BIPOC Composers and Librettists. ALT celebrates BIPOC composers and librettists in a concert that includes scenes from Los Juegos Olímpicos (1673) by Juan Hidalgo de Polanco and Agustín de Salazar y Torres, Ernestine (1777) by Joseph Bologne and Pierre Choderlos de Laclos, L'isola disabitata (1831) by Manuel García, Sr. and Pietro Metastasio, Marina (1871) by Emilio Arrieta, Francisco Camprodón and Miguel Ramos Carrión, Morgiane, ou, Le sultan d'Ispahan (1888) by Edmond Dédé, Brocéliande (1892) by Lucien Lambert and André Alexandre, Thelma (1907-1909) by Samuel Coleridge-Taylor, La hija de Rappaccini (1989) by Daniel Catán and Juan Tovar, Amistad (1997) by Anthony Davis and Thulani Davis, Monkey and Francine in the City of Tigers (2017) by Kamala Sankaram and David Johnston, We shall not be moved (2017) by Daniel Bernard Roumain and Marc Bemuthi Joseph, "To those fleeing persecution, terror, and war" (2018) by Rene Orth and Kanika Ambrose, An American Soldier (2018) by Huang Ruo and David Henry Hwang, and The Life and Death(s) of Alan Turing (premiering in 2023) by Justine F. Chen and David Simpatico. View here.
7:30 pm ET: UNCSA School of Music presents Borromeo String Quartet. In a livestream from Watson Hall, the Borromeo String Quartet plays Beethoven's String Quartet No. 2 in G, Op. 18, Bartók's String Quartet No. 4, and Beethoven's String Quartet No. 15 in A minor, Op. 132. The quartet will perform from original composer manuscripts on digital devices. Tickets $10. View here. LIVE
8 pm ET: The Orchestra Now presents Mendelssohn & Bernstein. TON music director Leon Botstein leads the orchestra in Mendelssohn's Scottish Symphony and Bernstein's Serenade (after Plato's Symposium), featuring violin soloist Zongheng Zhang. Also on the program is Ácana by Cuban-born composer Tania León, and Stravinsky's Concerto for Piano and Wind Instruments, performed with pianist Blair McMillen. View here.
8 pm ET: Rhode Island Philharmonic presents Mozart with Jon Kimura Parker. Conductor Bramwell Tovey is joined by pianist Jon Kimura Parker for Mozart's Piano Concerto Number 21, the Elvira Madigan Concerto. Tovey also conducts Schubert's Fifth Symphony. Tickets $40. View here.
8 pm ET: Chamber Music Detroit presents Juilliard String Quartet. The Juilliard Quartet performs Mozart's String Quartet in B-flat, K. 458, Hunt, Dutilleux's Ainsi la nuit, and Brahms's String Quartet in A minor, Op. 51, No. 2. Tickets $15. View here until April 17.
8:30 pm ET: Milwaukee Symphony Orchestra presents Night Music. Ken-David Masur, music director and host, conducts Böhme's Nachtmusik, Op. 44 No. 1, Hailstork's Divertimento for Violin and Viola, Nielsen's Serenata in vano, Roussel's Serenade, and Mozart's Eine Kleine Nachtmusik. View here.
9 pm ET: San Antonio Symphony presents Classical Concert VI. Garrett Keast conducts the SAS with soprano Lyubov Petrova in a program that includes works by Puccini, Mozart, Stravinsky, and Copland. Tickets $21. View here.
9 pm ET: St Paul Chamber Orchestra presents Sounds From Home. A program centering around our ever-evolving sense of home opening with the world premiere of Elegy for Solo Oboe by Chen Yi, who was born in Guangzhou and settled in the U.S., performed by principal oboe Cassie Pilgrim. The program also features excerpts from Florence Price's String Quartet No. 2, infused with Black idioms of the mid-20th century. Principal flute Julia Bogorad-Kogan performs a solo work by James Lee III, inspired by his relationship with Brazilian music. Composer and musician PaviElle French reprises a movement from A Requiem for Zula, a symphony that revisits her upbringing in Saint Paul's Rondo neighborhood. The program closes with Dvorák's American String Quartet, a piece written after the composer moved to the United States, that blends Czech influences with popular American music. Register and view here.
10 pm ET: La Jolla Music Society presents Philippe Quint: Chaplin's Smile. Charlie Chaplin composed almost all of the music in his films. This program juxtaposes the music of Chaplin with works by the composers who influenced him, including Debussy, Stravinsky, Brahms, and Gershwin. Chaplin's relationships with these masters is explored through music and story with screen clips of Chaplin's silent era films, musical accompaniment by Quint, and rare video footage of Chaplin conducting his orchestras in recording sessions. Tickets $20. View here for one week.
Sunday, April 11
5 am ET: Philharmonie de Paris presents Nielsen's Aladdin. Debora Waldman conducts Orchestre Idomeneo in Carl Nielsen's incidental music to Aladdin. View here. LIVE
1 pm ET: Wiener Staatsoper presents Wagner's Lohengrin. Conductor: Simone Young, director: Andreas Homoki. With Andreas Schager, Elza van den Heever, Petra Lang, Evgeny Nikitin, and Kwangchul Youn. Production from November 2018. Register for free and view here.
2 pm ET: National Philharmonic presents Encore Performance: The Four Seasons. Vivaldi's classic is presented in its entirety. The inspiration for came from a set of four anonymous sonnets, one for each season, from which Vivaldi took descriptive phrases to direct the development of musical ideas. View here.
2 pm ET: Teatro alla Scala presents Aleksandra Kurzak. Soprano Aleksandra Kurzak, violist Tomasz Wabnic, and pianist Marek Ruszczynski perform a program of songs by Chopin, Pauline Viardot, Brahms, and Tchaikovsky as well as Schumann's Frauenliebe und Leben. View here.
2 pm ET: IDAGIO Global Concert Hall presents NWS: Pintscher & Barnatan. Matthias Pintscher—Music Director of Ensemble Intercontemporain—returns to the New World Symphony to perform the U.S. premiere of his own piano concerto NUR with Inon Barnatan. The program also features innovative works by Brazil's Marcos Balter, Germany's Enno Poppe and the U.S.'s George Lewis. Tickets from $20. View here. LIVE
** 3 pm ET: Lyric Opera of Chicago presents Atilla Highlights in Concert. Music Director Designate Enrique Mazzola leads a performance of piano-accompanied excerpts from Verdi's Attila, the story of the infamous "Scourge of God," his consuming desire for power, and his final downfall. With Christian van Horn, Tamara Wilson, Matthew Polenzani, and Quinn Kelsey. View here.
4 pm ET: Our Concerts Live presents Concertos from the Inside: Week 14: Bruch's Scottish Fantasy. In a 24-part series, Rachel Barton Pine performs the entire solo violin part of the greatest violin concertos unaccompanied and shares her perspective on each, explaining how she prepares and how her performance connects to the work's historical and musical context. The series is geared towards career violinists, advanced students, violin teachers, and violin aficionados. Tickets $20. Register and view here.
5:30 pm ET: Shriver Hall presents Jennifer Koh. The violinist juxtaposes two of Bach's landmark works for solo violin with 12 micro-works that she commissioned in 2020 as part of her Alone Together project, a response to the pandemic and the financial hardship it has placed on many in the arts community. Tickets $15. View here.
6 pm ET: New West Symphony presents A Tour of Iran. Michael Christie leads a concert exploring centuries old traditions of Iranian poetic and musical cultural influences including music by composers Behzad Ranjbaran, Masoud Rezaei, and Golfam Khayam who share their inspiration from Iranian sites and poetry. Mezzo-soprano Sasha Cooke and Iranian instrumentalists Pejman Hadadi (tombak and daf) and Masoud Rezaei (setar) join the NWS on a musical voyage which includes Western classical masterworks by Handel, Rameau, Gounod, and the Overture to Mozart's The Magic Flute. Festival passes $25. View here.
6 pm ET: Friends of Chamber Music Portland presents Chanticleer. The vocal ensemble performs Palestrina's Gaude Gloriosa, George Walker's O Praise the Lord (Psalm 117), Steven Sametz's Birds of Paradise, Sibelius's Rakastava, Michael McGlynn's Dúlamán, Holst's I Love My Love, Matthew Alber's Rescue, as well as traditional and popular songs. View here for three days.
7:30 pm ET: Met Opera Streams presents Verdi's Luisa Miller. Starring Sonya Yoncheva, Olesya Petrova, Piotr Beczala, Plácido Domingo, Alexander Vinogradov, and Dmitry Belosselskiy, conducted by Bertrand de Billy. Production by Elijah Moshinsky. From April 14, 2018. View here and for 24 hours.
8 pm ET: Seattle Opera presents The Big Opera Show. A journey through Seattle Opera's upcoming season featuring special guests and a performance by tenor, Lawrence Brownlee, who got his start in Seattle Opera's young artist program. The Big Opera Show is hosted by actor, director, and emcee Rebecca M. Davis with performers including Kenneth Kellogg and Karen Vuong. No fee to attend but donations made during the event will allow Seattle Opera to keep singing until it is safe to gather again. Register and view here.
Monday, April 12
8 am ET: Wigmore Hall presents Benjamin Appl & James Baillieu. The baritone and pianist perform a recital of songs. Register, view here and on demand for 30 days. LIVE
1 pm ET: Wiener Staatsoper presents Puccini's Tosca. Conductor: Marco Armiliato, director: Margarethe Wallmann. With Sondra Radvanovsky, Piotr Beczala, Thomas Hampson, and Ryan Speedo Green. Production from February 2019. Register for free and view here.
2:30 pm ET: Wigmore Hall presents Imogen Cooper. The pianist returns to Wigmore Hall for a performance of Beethoven's monumental set of 33 variations based on a waltz theme by Anton Diabelli, composed between 1819 and 1823. Register, view here and on demand for 30 days. LIVE
7:30 pm ET: Met Opera Streams presents Massenet's Cendrillon. Starring Kathleen Kim, Joyce DiDonato, Alice Coote, Stephanie Blythe, and Laurent Naouri, conducted by Bertrand de Billy. Production by Laurent Pelly. From April 28, 2018. View here and for 24 hours.
7:30 pm ET: Cutting Edge Concerts presents The Art of the 21st Century Trombone. New York Philharmonic principal trombone Joseph Alessi performs Adelante by Jorge Machain; principal trombone of the Metropolitan Opera, John Romeo, performs The Beginning of Spring by Harrison J. Collins; associate principal trombone of the New York Philharmonic, Colin Williams performs Anthony Barfield's Red Sky; bass trombone of the New York Philharmonic, George Curran, performs Kenneth Fuchs's Bass Trombone Concerto; Professor of trombone, Univ. of Missouri-Kansas City Conservatory, JoDee Davis, performs the premiere of The Voices of Air by Victoria Bond. Pianists Hanako Yamagata Greenberg and Martha Locker accompany. View here.
7:30 pm ET: Chamber Music Society of Lincoln Center presents Inside Chamber Music: Ravel's Sonata for Violin and Piano. Bruce Adolphe is joined by Arnaud Sussmann and Gilles Vonsattel to examine Ravel's Sonata for Violin and Piano. With Ravel's style considered old-fashioned he deliberately issued a more modern aesthetic statement with this bold, elegant, and humorous sonata. From Stravinsky to Jazz, Ravel seized upon a variety of musical ideas, made them his own, and kept it completely French. Register, view here and on demand for one week.
Artists and Organizations Offering Free Content
The following are all accessible during the coronavirus pandemic:
Academy of Ancient Music
The most listened-to period instrument ensemble, directed by Richard Egarr, has made a number of streams available on its website. Guest artists include Louise Alder, soprano, Nicola Benedetti, violin, Mary Bevan, soprano, David Blackadder, trumpet, Iestyn Davies, countertenor, Tim Mead, countertenor, Christopher Purvis, bass, and Tenebrae, directed by Nigel Short. Explore here.
Alternative Classical
Humans of Classical Music is a video series in which musicians, actors, comedians, and podcasters from around the world recommend their favorite piece of classical music in one minute. A new video will go live every Thursday during 2021, starting on February 4, accompanied with a link on Spotify. Each video is free of musical jargon and is suitable for anyone interested in exploring the world of classical music. The list includes countertenor Anthony Roth Costanzo, three-time Edinburgh Comedy Award nominee Kieran Hodgson, Principal Conductor of Glyndebourne on Tour Ben Glassberg-Frost, Chief Executive of Manchester Collective Adam Szabo, and composers Anna Clyne, Gabriel Prokofiev, and Missy Mazzoli. Explore here.
American Lyric Theater: Opera Writers Symposium
ALT is recruiting musicians and for a series of workshops and mini-seminars taking place February 27 – April 24. ALT seeks to introduce musicians and writers from diverse racial and artistic backgrounds to opera and explore how they might use the tools of the art form to tell their stories. ALT also hopes to encourage applications to the Composer Librettist Development Program (CLDP), the country's only full-time paid mentorship for emerging opera composers, librettists and dramaturgs. No previous experience in writing opera is necessary. Classes will address timely topics like Dramatizing History and Opera as Activism led by composer Anthony Davis and dramaturg Cori Ellison; Opera, Technology and Innovation with composers Kamala Sankaram and Jorge Sosa; From Erased to Self-Empowered: Celebrating BIPOC Opera Composers and Librettists led by ALT's Associate Artistic Director Kelly Kuo; The Architecture of Opera led by composer/librettist Mark Adamo. Guest speakers include composers Missy Mazzoli, Daniel Bernard Roumain, Huang Ruo and Errollyn Wallen; and librettists Mark Campbell, Thulani Davis (also a poet and playwright), David Henry Hwang, and Andrea Davis Pinkney.
American Opera Project
First Glimpse is a video album of 20 songs created during the first year of AOP's 2019-21 fellowship program, Composers & the Voice. Originally intended as a live concert, the videos will be released every Friday beginning October 23 and for the following six weeks. The composers are Alaina Ferris, Matt Frey, Michael Lanci, Mary Prescott, Jessica Rudman and Tony Solitro, with librettists Amanda Hollander and Jonathan Douglass Turner. Videos will be free for one week following their release, after which they will be available to rent or purchase, individually or as a full set through AOP's Website. Explore here.
American Symphony Orchestra
American Symphony Orchestra releases weekly recordings from its archives with content alternating between live video recordings of SummerScape operas and audio recordings from previous ASO concerts. Ethel Smyth's The Wreckers, Richard Strauss's Die Liebe aus Danae, and Korngold's Das Wunder der Heliane, all conducted by Leon Botstein, are all highly recommended and available now.
Apollo's Fire: Music for the Soul
The Cleveland-based baroque orchestra founded by Artistic Director Jeannette Sorrell is offering a series of video streams entitled "Music for the Soul." New episodes are posted here.
Atlanta Opera
The Atlanta Opera has released the first four episodes of Orfano Mondo, a world premiere film series by bass-baritone Ryan McKinny and filmmaker Felipe Barral. Taking its title from the prologue to Leoncavallo's Pagliacci, Orfano Mondo ("orphan world") addresses the fears surrounding live performance during the pandemic though exclusive behind-the-scenes footage, material filmed expressly for the series, and scenes from Atlanta's live fall productions of Pagliacci and of Viktor Ullmann and Peter Kien's The Kaiser of Atlantis. Performed in Italian and German with English subtitles available, each Orfano Mondo episode is 10-15 minutes long, and four more episodes are scheduled for release over the next two months. Explore here through April.
Baltimore Symphony Orchestra
BSO Sessions continues to bring the stories of BSO musicians, conductors, and collaborators to life through a documentary-style narrative. Real stories are paired with powerful music, including the elevation of unheard voices in classical music. Episodes premiere weekly on Wednesdays at 8 pm ET and are available through June 2021. Explore here.
Bard SummerScape & Fisher Center
Archival works highlight Bard's wealth and breadth of programming, including performances from its SummerScape Opera and BMF archives. Recent include Bard SummerScape's 2011 production of Strauss's rarely performed Die Liebe der Danae and last year's Daniel Fish directed staging of Michael Gordon's Acquanetta. More details here.
The Benedetti Foundation
Intention, thought, confidence, openness, and individuality are all intrinsic to developing playing. How to stand, how to breathe, focus and comfort, are all important questions. This new series of virtual sessions from March 28 to April 18 will help musicians address their physical and psychological foundations and the majority are open to players of any instrument and at any level. The sessions are intended to complement participants' individual lessons or group tuition. There will be live sessions, improvisation sessions, wellbeing sessions and daily challenges available for any instrument. Participants can join in as often as they want, and each live session will be repeated each day to allow those in different time zones to attend live. The Sessions will be free but with a recommended donation of £25 per person. Explore here.
Bergen Philharmonic
Bergen's outstanding orchestra enjoys national status in Norway with a history dating back to 1765. Its free streaming service was established as part of 250-year anniversary in 2015 and offers a fine selection of works from its concert series in Grieghallen, Bergen. Conductors include Edward Gardner, James Gaffigan, Thierry Fischer, David Zinman, Neeme Järvi, Jukka Pekka Saraste, Nathalie Stutzmann, and Christian Zacharias with soloists including Leif Ove Andsnes, Lise Davidsen, Truls Mørk, Mari Eriksmoen, and Freddy Kempf. Well worth exploring here.
Carnegie Hall
More than 200 teen musicians hailing from 41 states across the US came together in July 2020 as an online virtual community to form three musical ensembles: the National Youth Orchestra of the United States of America (NYO-USA), NYO2, and NYO Jazz. All three ensembles recorded exuberant virtual performance videos during the residency, directed by Emmy Award-winner Habib Azar. The first four videos—Valerie Coleman's Umoja by the musicians of NYO-USA; a unique adaptation of Grieg's Morning Mood by NYO2; and Thad Jones's Cherry Juice and Wycliffe Gordon's We're Still Here by NYO Jazz—are now available for viewing. Explore here.
Chatham Baroque
Chatham Baroque is releasing high-quality monthly videos featuring leading baroque performers including gambist Jaap ter Linden, lutenists Nigel North and Stephen Stubbs, and countertenor Reginald Mobley. Once posted, videos are available on demand through June 30, 2021. Each program includes artist interviews and are available for as little as $18 per program. Explore here.
Cliburn Kids
Cliburn Kids is a growing collection of entertaining 7- to 10-minute videos designed to introduce children to the fun of classical music. How does music paint pictures, tell stories, express feelings? Host Buddy Bray and guest artists use individual pieces to explore topics that delve into the way music is organized and structured, counting and rhythm, expressive elements, and sometimes just lighthearted enjoyment. Programs are geared towards elementary-aged children, and activities are provided for each episode that are perfect for in-classroom or at-home studies. New episodes and lesson plans are released every Tuesday. Explore here.
Days & Nights Festival
The annual multidisciplinary Days and Nights Festival—which since 2011 has taken place in and around Big Sur, California and has brought together luminaries and pioneers in fields including music, dance, theater, literature, film and the sciences—launches its premiere streaming portal featuring exclusive films of a selection of its landmark performances and events. Films slated for release, from February to May 2021, includes contributions by such wide-ranging figures as JoAnne Akalaitis, Tibetan artist Tenzin Choegyal, Danny Elfman, Molissa Fenley, María Irene Fornés, Allen Ginsberg, Dev Hynes (Blood Orange), Jerry Quickley, and Glass himself. Featured performers and ensembles include Dennis Russell Davies, Ira Glass, Matt Haimovitz, Tara Hugo, Lavinia Meijer, Maki Namekawa, Gregory Purnhagen, Third Coast Percussion, Opera Parallèle, and Glass and his Philip Glass Ensemble. Explore here.
Detroit Symphony Orchestra
The Detroit Symphony Orchestra has made its webcast archive available for free. The collection features 200+ works going back three years, and highlights include Leonard Slatkin conducting John Luther Adams's climate change-inspired Become Ocean from 2019, several world premieres, and a host of bite-sized encores. Explore here.
Deutsche Grammophon Yellow Lounge
The German classical music giant is streaming Yellow Lounge broadcasts from its archives. Recent additions include clarinetist Andreas Ottensamer, pianists Alice Sara Ott and Chihiro Yamanaka, and cellist Mischa Maisky. Performances are broadcast in rotation, one video at a time, adding a new performance every few days. DG communicates the start of each new performance by newsletter at the start of each week. To keep updated sign up here.
English Symphony Orchestra
The English Symphony Orchestra's ESO Digital is an expanding digital archive of music, performed by English Symphony Orchestra and its partners, that you are unlikely to hear anywhere else. Access is free with a monthly donation; however Musical America readers can get a free trial of one week when setting up a new donation by using the coupon code MusicalAmerica2021. Register here.
Finnish National Opera
Finnish National Opera presents Stage24, a series of streamed archived performances on its website, which are then available for the next six months. Recent content includes a staged version of Sibelius's Kullervo, Stravinsky's The Rake's Progress, Caspar Holten's staging of Wagner's Der Fliegende Holländer with Camilla Nylund, and Christoff Loy's Tosca. An excellent company and some interesting and original work worth investigating. Explore here.
Handel and Haydn Society
Boston's Handel and Haydn Society has created the H+H Listening Room where you can hear and watch H+H performances including Mozart's Requiem, Handel's Messiah, and Purcell's Dido and Aeneas filmed at New York's Met Museum. There are also more than a dozen videos of musicians performing from their homes, a special video of principal flutist Emi Ferguson teaching people how to make their own baroque flute, and a new podcast called "Tuning In". In the first episode Principal Cellist Guy Fishman interviews Artistic Director Harry Christophers about Bach's St. Matthew Passion. Explore here.
Kennedy Center: Arts Across America: Spring
Arts across America continues this Spring with a focus on cultural leadership and art as a catalyst for public healing, decolonization, and genuine global change. With artistic contributions from the Black Trans theater community, programs about Sacrifice Zones and the environment, the fight for women's rights in the Latinx community, and discussions of the prisons and detention center system, and about the importance of Indigenous food and health. Hosted by sage artistic minds, these performances and conversations strive to bring audiences together to heal our country, communities, and selves. Explore here and other Kennedy Center regular online releases via their digital stage here.
La Scala/RAI
Italy's RAI presents five productions from La Scala Milan including the world premiere of Kurtág's Fin de Partie, Daniel Barenboim conducting Götterdämmerung, Lisette Oropesa in Verdi's I Masnadieri, Montedervi's Orfeo conducted by Rinaldo Alessandrini, and Les Vêpres Siciliennes conducted by Daniele Gatti. A wide range of concerts are also available. Explore and register here.
Les Arts Florissants
Les Arts Florissants's annual Festival in Thiré, France included a series of 10- to 15-minute "Meditation" concerts recorded earlier this summer. Now available to enjoy online, the Meditations include performances by students of Juilliard's Historical Performance program in the spirit of their annual participation in the Festival. View here.
Lincoln Center Lincoln Center Passport to the Arts
A variety of virtual classes, performances, and bonus content designed for children, teens and adults with disabilities and their families. Offerings include programs with Chamber Music Society of Lincoln Center, Jazz at Lincoln Center, the Metropolitan Opera Guild, New York City Ballet, the New York Philharmonic, and The New York Public Library for the Performing Arts. Families can attend dance, music or drama classes, watch exclusive performances, check out behind-the-scenes content, and even meet performers—all from their homes. Families will receive pre-visit materials, including social narratives, photos, and links before each program. All programs take place via Zoom. Register here.
NEW: Look + Listen Festival
The free annual festival returns for its 19th season in May 2021 with an "At Home Edition" designed to bring art directly into audiences' homes, in both digital and tangible forms. Along with online performances, audiences will be treated to limited-edition physical artworks, delivered by mail (to U.S. residents only). On three Saturdays—May 8, 15, and 29 —sound, visual, and literature artists Mendi + Keith Obadike will play LULL: a sleep temple, an eight-hour sonic experience incorporating field recordings, analog synths, and acoustic instruments intended to create a field of sound for dreaming. The first 100 registrants will be sent a small "dream kit" containing a booklet, candle, and sachet. On Saturday, May 22, Berlin-based composer/performer/instrument builder Viola Yip joins forces with composer/vocalist/sound artist Ken Ueno, a professor at UC Berkeley, for the world premiere of an hourlong piece performed synchronously by the two artists from their home locations. thingNY's Dear Nancine consists of mailed gifts to experience alone, and/or with your household or close friends. The work centers around cartography, land rights, colonization, and routine. Packages will arrive to the first 100 registrants on Saturday, May 1. And Audra Wolowiec has created Semaphore, a printed booklet exploring modes of communication across long distances, mailed to all festival registrants in the US. Semaphore will serve simultaneously as a festival program, conceptual art piece, and activity book. Register and explore here.
Los Angeles Chamber Orchestra
LACO AT HOME offers streaming and on demand performances, including a full showing of the orchestra's critically acclaimed West Coast premiere of Dark with Excessive Bright for double bass and strings by LACO Artist-in-Residence Missy Mazzoli. View streaming here and on demand here.
Los Angeles Master Chorale
Videos recorded as part of the "Offstage with the Los Angeles Master Chorale" series from April 24 to June 19 included interviews conducted by Artistic Director Grant Gershon and Associate Conductor Jenny Wong with notable performers—including special guests Reena Esmail, Morten Lauridsen, Anna Schubert, Peter Sellars, Derrick Spiva—as well as Master Chorale singers. Available on demand here.
Mark Morris Dance Group 40th Anniversary Digital Season
MMDG continues to celebrate its 40th Anniversary with a new archival collection featuring three excerpts from Mark Morris dances?I Don't Want to Love, Rhymes With Silver, and V, and one full-length work, Rock of Ages, selected by veteran MMDG company members Joe Bowie and Lauren Grant. Viewers are also able to watch the full performances of the excerpted works on demand. Each work is preceded by video introductions by Joe Bowie and Lauren Grant. Explore here.
Metropolitan Opera Live In Schools
The Metropolitan Opera's HD Live in Schools program has launched a new series for the 2020–21 school year, creating cross-disciplinary educational opportunities across the country. For the 2020–21 school year, students and teachers will receive free subscriptions to the Met Opera on Demand service, with a catalogue of more than 700 Live in HD presentations, classic telecasts, and radio broadcasts. Ten operas have been selected for the HD Live in Schools program, and will be presented in five educational units, with two thematically paired operas per unit. The series opens with Beethoven's Fidelio and Donizetti's La Fille du Régiment (September 28–October 16), both of which explore the intersection of music and politics. The Met will continue to offer teachers HD Live in Schools Educator Guides and access to Google Classroom materials that can be adapted for virtual learning lesson plans. In addition, the Met's National Educators Conference will be hosted on a virtual platform this year and take place on five Saturdays throughout the 2020–21 school year. Two conferences, scheduled for October 10, 2020, and October 17, 2020, will also feature live conversations with Met artists. More information here.
Minnesota Orchestra
Minnesota Orchestra at Home shares video, audio, and educational materials through the categories of Watch, Listen and Learn, including videos from the orchestra's archives and newly created "mini-concerts" directly from the homes of Orchestra musicians. Explore and view here.
National Sawdust Digital Discovery Festival, Volume One
With more than 65 events, featuring over 100 artists premiering in a four-month span, National Sawdust Digital Discovery Festival: Volume One was a bright spot in NYC's post-COVID live music world. Featuring post-COVID performances from Robert Wilson, Julian Lage, Tyondai Braxton, Emel Mathlouthi, Matthew Whitaker, Dan Tepfer, Ashley Bathgate, Emily Wells, Brooklyn Rider, Joel Ross, Conrad Tao, Andrew Yee, and Lucy Dhegrae, and recently recorded Masterclasses with Tania León, Ted Hearne, Vijay Iyer, Jamie Barton, Lawrence Brownlee, Trimpin, and Lara St. John. Archival performances include David Byrne, Lara Downes and Rhiannon Giddens, and Ryuichi Sakamoto. Explore here.
New World Symphony
The New World Symphony presents a web-based series called NWS Archive+. Michael Tilson Thomas moderates discussions with NWS Fellows, alumni, guest artists, and visiting faculty about archived recordings. Performances will be available here. NWS Fellows also play live, informal chamber music concerts from their homes in Miami Beach and broadcast via Facebook Live. In addition, the NWS online archive contains master classes, tutorials and town halls, which can be found here. Finally, for the past 10 years, the Fellows have performed one-hour concerts for local school children. These concerts and preparatory material will be available free to students and parents. NWS Educational concerts can be found here.
Opera Australia
OA | TV: Opera Australia on Demand is the Sydney-based company's new digital space. Alongside the world's largest collection of Dame Joan Sutherland on video, OA will offer exclusive content from the OA back catalogue, productions from Handa Opera on Sydney Harbour, and a new series of chat show-style interviews conducted by AD Lyddon Terracini. The first posted full show is Sutherland in The Merry Widow, and the fileted aria's in the section labelled "The Best of Dame Joan Sutherland" are even better. View here.
Opéra National de Paris
The Palais Garnier and Bastille Opera have made their digital stage, "The 3e Scène," free. The platform is a pure place of artistic adventure and exploration, giving free rein to photographers, filmmakers, writers, illustrators, visual artists, composers, and choreographers to create original works. Visit here. Some of Opéra National de Paris's productions are accessible on the company's Facebook Page. In addition, Octave, the Paris Opera's online magazine, is posting articles, videos, and interviews here.
Opera North
One of Britain's most respected smaller opera companies, Opera North has put its acclaimed semi-staged concerts of Wagner's epic Ring Cycle online. "Beg, borrow, or be like Wotan and steal a ticket for this show," said the UK's Times of Das Rheingold. "You'd be lucky to hear as good at Bayreuth," said The Telegraph of Die Walküre. Richard Farnes proves a seriously impressive Wagner conductor. Watch here.
OperaVision
OperaVision offers livestreams of operas available for free and online for up to six months. Previous offerings include Barrie Kosky's visually spectacular Moses und Aron, David McVicar's superb Die Entführung aus dem Serail from Glyndebourne, and Deborah Warner's thoughtful Death in Venice for English National Opera. View upcoming and past content here.
Rotterdam Philharmonic Orchestra: Beethoven at Home
RPO brought Beethoven to living rooms in December playing all nine symphonies. The musicians performed the first eight symphonies in small chamber ensembles varying from a string sextet to a 15-strong brass ensemble. The Grand Finale took place on New Year's Eve: Beethoven's Ninth, played by the full orchestra with chorus and soloists. View here.
Orli Shaham Bach Yard Playdates
Pianist Orli Shaham brings her acclaimed interactive concert series for kids to the internet. Bach Yard Playdates introduces musical concepts, instruments, and the experience of concert-going to a global audience of children and their families. A number of 10-minute episodes are already available for on-demand streaming. Programs and performances range from Bach's Two-Part Invention to Steve Reich's Clapping Music. Explore here.
The Sixteen Choral Odyssey
Actor Sir Simon Russell Beale, Harry Christophers and The Sixteen have recorded a special, five-part series. A Choral Odyssey explores choral music from across the ages in iconic, relevant surroundings—from Byrd in Elizabeth I's childhood home of Hatfield House, to Purcell in the reconstructed 17th-century theatre of the Sam Wanamaker Playhouse at London's Globe Theatre. With a mix of conversation, music demonstration and performance, these programs reunite Harry Christophers and Simon Russell Beale—a partnership which proved successful in the popular BBC Sacred Music series—and feature performers from The Sixteen. Tickets £10 per episode. View here until March 31.
Trinity Wall Street
New York's Trinity Church Wall Street introduces daily weekday "Comfort at One" (1 pm ET) streaming performances on Facebook with full videos posted here. Tune in for encore performances of favorite Trinity concerts, professionally filmed in HD, along with current at-home performances from Trinity's extended artistic family.
University of Colorado Boulder
University of Colorado Boulder College of Music faculty artists perform with students and colleagues in Faculty Tuesdays, chamber music recitals featuring world premieres alongside classics. Free most Tuesdays from September 2020 through March 2021. Upcoming performers include violinist Harumi Rhodes, violist Richard O'Neill, cellist David Requiro, pianist David Korevaar, harpist Janet Harriman, and more. Explore here.
Voices of Ascension
New York choir Voices of Ascension, which celebrates its 30th anniversary next season, is posting a daily offering of choral beauty on its website. Music is chosen by staff, members of the chorus and orchestra, and listeners. View here.
Warsaw Philharmonic
The Warsaw Philharmonic has made a selection of video recordings available on its YouTube channel. Recent offerings include Saint-Saëns's Organ Symphony and Arvo Pärt's Swansong conducted by Artistic Director Andrzej Boreyko, as well as rarities by Polish composers like Grazyna Bacewicz. It's an excellent orchestra very much in the Eastern European tradition and concerts have been master edited for posting online.
Paid Digital Arts Services
Berlin Philharmonic Digital Concert Hall
The BPO Digital Concert Hall contains over 600 orchestra concerts covering more than ten years, including 15 concerts with the orchestra's new Chief Conductor Kirill Petrenko, interviews, backstage footage. Subscriptions or single tickets available.
Medici TV
Thousands of classical music videos are available by subscription, as well as hundreds of events that are broadcast live for free each year, available for 90 days. Subscriptions cost $83.85 per year but single tickets are also available. www.medici.tv
Opera Philadelphia Channel
Opera Philadelphia has created its own channel through which to share its digital offering. Operatic films like David T. Little's Soldier Songs, world premiere digital commissions by Tyshawn Sorey, Courtney Bryan, Angélica Negrón, and Caroline Shaw, and recordings of stage productions like La Traviata and Breaking the Waves are available on-demand. Season subscriptions priced at $99 are offered along with pay-per-view rentals for individual performances. The channel is available on computers and mobile devices, as well as AppleTV, Android TV, Roku, and Amazon FireTV. Explore here.
Pictured: Dancer/choreographer Kyle Abraham

WHO'S BLOGGING


RENT A PHOTO
Search Musical America's archive of photos from 1900-1992.