---
New Artist of the Month:
Pianist/Composer Nicolas Namoradze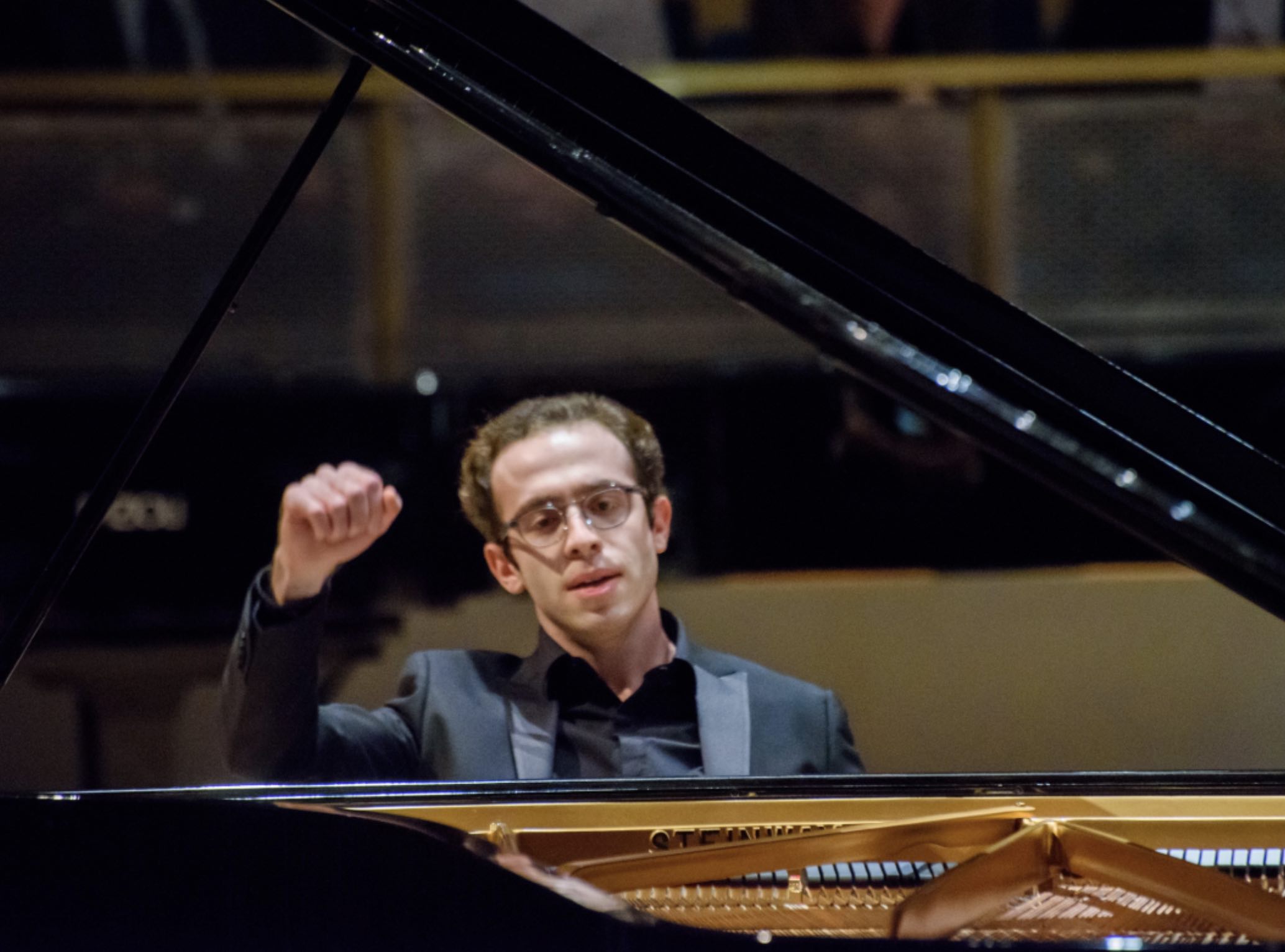 Nicolas Namoradze was "in retreat"—as he puts it—for several years before his 2018 triumph at the Honens International Piano Competition. "I hadn't done any competitions and I wasn't concertizing actively for several years," he explains over Zoom from his parents' home in Berlin where he's riding out the latest European lockdown. "I wanted to step away from the limelight, to find my voice as a musician and find the repertoire I really wanted to focus on. When I was ready to do a competition, I thought, I would have everything I would need to sustain a career and not be playing catch up."
A winner-takes-all contest, Honens takes place in Calgary every three years and is one of the world's most lucrative piano competitions. The Honens Laureate takes away $100,000 (CAD) as well as winning a three-year Artist Development Program valued at over half a million dollars that includes recitals from Tanglewood and Carnegie Hall to Berlin, opportunities with leading orchestras, recordings, and professional management. "While he certainly has the virtuosity to spare, he gained the top spot through his remarkable clarity of execution, refinement and variety of tone, and his uncanny ability to make even the most ordinary passagework sound meaningful and distinctive," raved The Calgary Herald of one of the then 26-year-old's performances during the competition.
Since then, he's won admiring reviews all round. "I'm not often lost for words, but Nicolas Namoradze's recital almost defeated me," wrote Michael Church in International Piano Magazine of his Wigmore Hall debut last February. Fragments from Hans Andersen & Studies, his new recording for Hyperion of little-known works by the admired but somewhat forgotten British composer and pianist York Bowen (d. 1961), is an absolute winner. Clearly Namoradze is not just a technician with a remarkable blend of accuracy, clarity, and manual dexterity, he's a gripping musical storyteller to boot.
Warm, personable, and intellectually curious, Namoradze, 28, is a pianist and composer with matching passions for philosophy, neuroscience, and music history. Born in Tbilisi, Georgia, he is the son of a constitutional lawyer; his mother is a political scientist whose work took the family to Budapest when Nicolas was two months old, thus handily avoiding a civil war in Georgia.
An infant obsessed with opera
His musical addiction started at the tender age of one. "Apparently, I encountered opera at a friend's house. When my mother turned on the record player, I became transfixed and couldn't be dragged away from it," he jokes. "Since then, I was always obsessed with music—it was not a normal relationship—except for two years when I did nothing but build Legos, which was when, I think, the tactile motor technique developed."
At age seven he asked for piano lessons. "As soon as I started playing, I started scribbling," he explains of his budding instinct for composing. "It seemed very natural that performing and composition were two sides of the same coin."
In Hungary he attended the Liszt University of Music as well as a British International School (hence the impeccable English). Hearing Namoradze in Budapest, Emanuel Ax suggested he move to the U.S. to study with him at Juilliard. Over the years his teachers have also included Zoltán Kocsis for piano and John Corigliano in composition.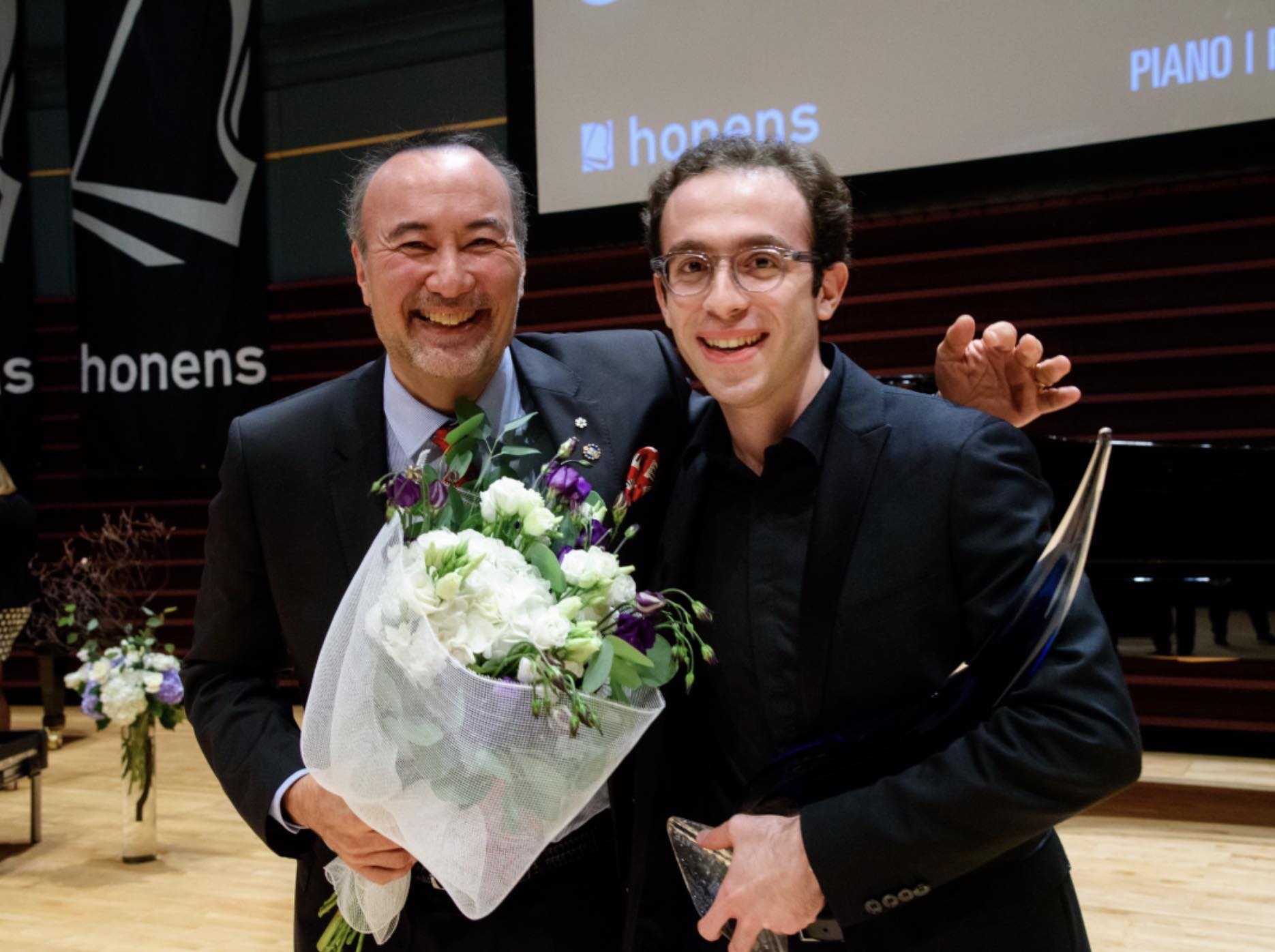 Honens Competition Artistic Director Jon Kimura Parker and the 2018 winner, Nicolas Namoradze

"Kocsis is an example of musical honesty," he explains when I ask what he thinks he's learned from mentors. "He would always ask, 'Are you really sure you need to do that?' There was always this attention to removing anything that is not essential or may not be 100 percent true. This spirit of enquiry has stayed with me. Manny [Ax] is the master of proportion, not too much, not too little. He really sensitized me to getting that balance: how many grams of this do you want? When might a moment be a little self-indulgent?"
"John Corigliano approaches composition from a bird's eye view. He will map out an entire piece without having written down a single note. What is the larger architecture here? What is the structure I want to convey? That has encouraged me to look at pieces I perform in a similar light."
Growing up in Hungary grounded Namoradze in the three Bs—Bach, Beethoven, and Brahms—but also Bartók, Liszt, and more modern Hungarian composers. "I was very fortunate I grew up in the environment in which Ligeti taught and got to work with Kurtág. This was an important influence on me. Anyone who listens to my music, especially my piano etudes, will say it sounds like Ligeti," he says with a smile.
Big hands, muscular technique
As a composer, his recent work has included commissions and performances from the likes of Ken-David Masur, Tessa Lark, and New York-based new music champions Metropolis Ensemble. As a pianist, he's also blessed with a muscular, virtuoso technique. "It would be difficult to navigate a lot of this music without a big hand. And I have freakishly large hands, which is fortunate," he chuckles.
With another solo piano album in the works—a program of Schumann and his own work for the Steinway label—he also plans to get back to touring this year, including playing eight concerts at the Santa Fe Chamber Music Festival in July. A postgraduate degree in neuropsychology at King's College in London is also on the agenda, although most of it will be done remotely. "I've always been fascinated by how neuroscientific research and our understanding of the brain can be applied to the way we practisc and perform," he says, "as well as my fascination with the question of human consciousness and how it arises."
It's easy to agree with Emanuel Ax's comment that Namoradze, a true Renaissance man, is "set to become one of the truly important artists of his generation."

WHO'S BLOGGING


RENT A PHOTO
Search Musical America's archive of photos from 1900-1992.