---
New Artist of the Month:
Tenor Brian Giebler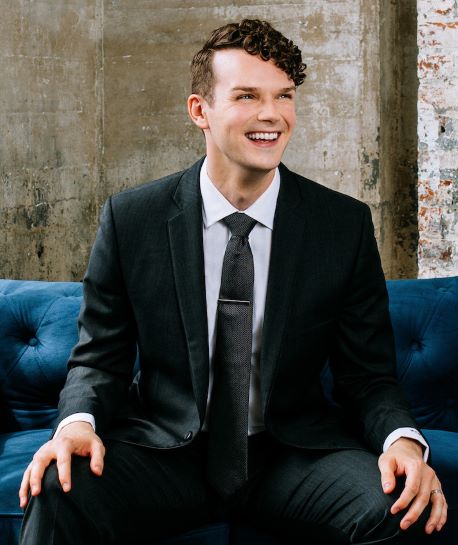 Brian Giebler has never watched the Grammy Awards, but he will be following them closely this year. His debut solo album, a lad's love, a collection of mostly 20th-century English songs with piano and string quartet, has been nominated for Best Classical Solo Vocal Album. The winners will be announced January 31, and in the meantime he's enjoying what he calls "a magical moment," where he's in the running but the votes are still being counted.
There's no predicting the final outcome (these are the Grammys after all), but it hardly matters, for this recording captures a true talent, showcased through a variety of styles and sentiments and delivered with rare interpretive insight.
"All of the works on this album are unified by the feeling expressed by the lover," writes the 34-year-old New Yorker in the album note, "not by the gender of the object of his affection, which is conspicuously absent from any of the texts."
He traces his choice of works by Ivor Gurney, Benjamin Britten, Peter Warlock, et al., back to his semester at London's Royal Academy of Music, where he studied under Ian Partridge and Richard Stokes, acknowledged tenormeisters of the time, who, he says, "instilled the love of English song."
The time spent was part of an exchange program with the Eastman School of Music, from which he holds his BM. From there it was on to the University of Michigan, where he continued his pursuit of the great English poets and composers, his senior masters' recital forming the nucleus of this new recording.
Originally from Syracuse, NY, by way of Philadelphia, Giebler grew up singing in the church choir and taking piano lessons from his mother (under duress, he reports), a music teacher. Though vocal talent was in evidence early on, he took up the trumpet later and showed a gift for that as well.
"At one point I actually thought I was going to be a trumpet player," he says. He applied to Eastman for voice and trumpet. Ultimately voice was his focus, but he didn't leave his horn too far behind. "It was always of dream of mine to play in the Eastman Wind Ensemble—which I got to fulfill."
A special collaboration
It was at Michigan that he met his now longtime collaborator Steven McGhee who at the time was studying collaborative piano with Martin Katz. Together they put together much of the program for a lad's love.
Giebler is one of the six singers highlighted in the recent New York Times piece Meet the People Who Can't Bring You Messiah This Year. It featured a video of his 2016 performance of "Comfort Ye" at Trinity Church Wall Street, where he is a member of the famed Choir—his initial impetus for moving to New York in 2013. Julian Wachner, the church's director of music (and a composer as well), considers Giebler "super smart. He has a rare tenor voice that seems to have no upper end."
Thus far, Giebler's CV has been filled largely with solo Baroque engagements with Boston Baroque, Boston Early Music Festival, Apollo's Fire, English Concert under Harry Bicket, Handel & Haydn Society, and Trinity Baroque Orchestra. Lately, however, he has been tackling contemporary fare as well. "Trinity Choir gets hired a lot to read new music," he reports of the group whose members are known as sight readers nonpareil. "It's opened up a world of, 'Hey, this kid can read and sing high, so hire him.'"
And they have. Boston Modern Orchestra Project called on him as a last-minute substitute to record Charles Wuorinen's opera Haroun and the Sea of Stories, due out on BMOP/Sound presently. ("Oh God, that was a crazy thing to learn in less than a month! But it was a lot of fun.") He worked with Paola Prestini in preparing Edward Tulane, her new opera with librettist Mark Campbell scheduled to open at the Minnesota Opera last spring (and cancelled due to the pandemic), and sang the role of Adam in Julian Wachner's REV. 23 at last year's Prototype Festival.
The pandemic having cratered a healthy schedule of live engagements, he has managed a number of online performances with TENET Vocal Artists and is preparing a virtual concert with harpist Parker Ramsay as part of the Holy Trinity Lutheran Church Lenten Recital series. There are more ensemble recordings in the pipeline as well and, once the pandemic is done hammering the live music industry, his career onstage will undoubtedly resume its ascent.
"One of my favorite things is being onstage," he says enthusiastically. Safe to say, he can count on that happening again, and soon.
With reporting by Leslie Kandell

WHO'S BLOGGING


RENT A PHOTO
Search Musical America's archive of photos from 1900-1992.