---
New Artist of the Month: Recorder Player Tabea Debus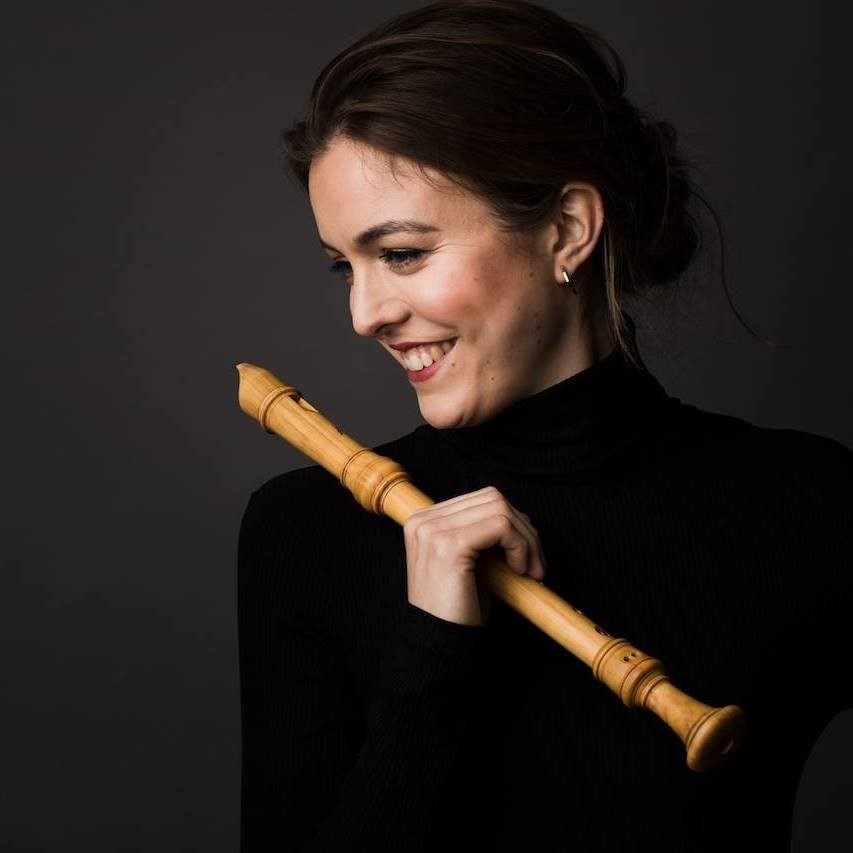 Handel's opera Rinaldo offers unusual opportunities for instrumental virtuosity, of which the most charming is the recorder obbligato in a classic "bird call" aria. Tabea Debus did the honors for the English Concert's 2018 tour of Europe and the U.S. with Rinaldo, which included a stop at Carnegie Hall, and her exquisite chirping above the staff won her (and the aria's singer) an ovation. It is not often that recorder players gain renown—Michala Petri comes to mind, as do Frans Brüggen and Michael Schneider, both better known as early music conductors—but Debus, Musical America's New Artist of the Month, is off to a prodigious start.
For those who associate the instrument with a child's first attempts at musicianship, Debus's astonishingly dexterous, nuanced playing will come as a wake-up call. "People know the instrument, but there is much hidden away that awaits wider discovery," she offered in a recent Zoom interview from her flat in North London. A native of Germany, Debus, 29, has lived in the U.K. since going there to study with Pamela Thorby at the Royal Conservatory of Music. (She studied previously with Schneider at the Frankfurt University of Music and Performing Arts and counts both Thorby and Schneider as having "significantly shaped [her] perspective of the music world and playing.")
"The Baroque era was a kind of golden age for the recorder," she continued in perfect British-accented English, "which lasted until the mid-18th century. Performance situations evolved to more private settings." But as metal became used increasingly in the manufacture of transverse flutes (forerunners of the modern flute), allowing them to play louder, "recorders were largely left out of this process."
Debus is a vital part of London's early music scene and has performed internationally with such ensembles as the English Chamber Orchestra, La Stagione, La Serenissima and Camerata Zurich, as well as at leading early music festivals. Two recent high points, both last year, include a performance at the Mecklenburg-Vorpommern Festival in Germany, for which she was awarded its Soloists Prize, and the Concert Artists Guild Competition in New York, of which she is a laureate. In addition, Debus has taken other steps to enhance the artistic stature of the recorder.
"What I like best about the instrument are its timbre and directness in articulation," she continued. "Open figure holes allow for flexibility of intonation and fingering." Among composers who best showcased the recorder's cool, pipe-like sound, Telemann ranks high on her list. "He is considered second-rate compared to Bach," she says, "but I don't agree. Bach admired his music and quoted it in his own works. Telemann was a great melodist, and his operas are amazing. I've taken music from them—I do a lot of arranging."
In praise of Telemann
Debus paid homage to Telemann with her imaginative compact disc entitled XXIV Fantasie per il Flauto on the TYXart label. With the composer's set of 12 Fantasies for Solo Flute as a starting point, the disc interleaves them with 12 newly composed pieces by 12 contemporary composers. "Some of the new pieces build on Telemann's melodic configurations or rhythmic patterns, and some are completely separate," she said. At times she plays two recorders, while other moments call for sounds hardly imaginable from a recorder. Nine different recorders from Debus's collection of around 30 were used in making the disc.
The Telemann fantasias were actually written for transverse flute, but the composer also wrote extensively for recorder, including sonatas and concertos. "I often play music written for flute, especially Bach's flute sonatas, but it helps if the pieces are transposed up, because they sound brighter on the soprano recorder." Perhaps Bach's most famous use of recorders occurs in the Fourth Brandenburg Concerto, but, as Debus points out, a recorder is also a solo instrument in the Second.
Given the coronavirus, Debus calls her future plans "unpredictable," but she teaches online through Zoom and works on other projects, including developing, with funding from the Concert Artists Guild, an animated music-art computer game geared to children ages five through eight. Players chase certain colorful shapes and avoid others, while music supplies the pivot on which the game revolves. Designed to be fun, but also to sharpen listening skills, it should win the recorder new friends, although nothing can do that better than Debus's playing itself. "What gives me the most pleasure is working with dear colleagues and friends."

WHO'S BLOGGING


RENT A PHOTO
Search Musical America's archive of photos from 1900-1992.