---
New Artist of the Month: Director Zack Winokur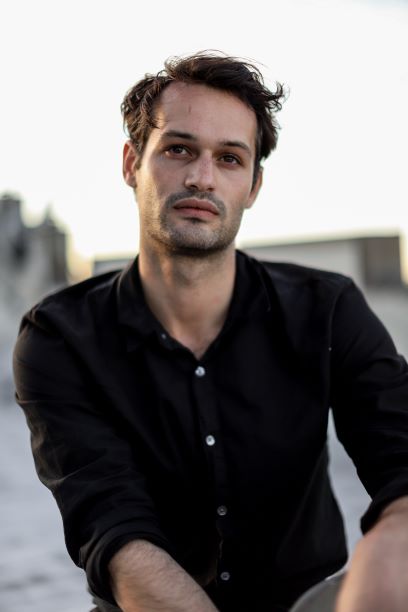 As the art form changes, which artists will redefine what opera is, and perhaps more importantly, might be? Too often the bigger houses see opera through the directorial lens of the Broadway mega-musical; fortunately, there are a few bright young things out there creating work that's considerably more original.
Director Zack Winokur has consistently impressed with a portfolio of genre-hopping projects that are inventive, considered, and frequently breathtaking. Whether it's imagining Julia Bullock as Joséphine Baker on the grand staircase of the Metropolitan Museum of Art, or earning standing ovations at the Mostly Mozart Festival for The Black Clown—a bravura realization of Langston Hughes's classic poem in collaboration with Davóne Tines—Winokur is very much the man of the hour. His production of Henze's El Cimarrón for the American Modern Opera Company, again with Tines, turned a recital into an intense theatrical event thanks to just four gifted musicians and a director's fertile imagination.
Born into a close-knit Boston family, Winokur describes his parents as fervent educators. "There was no music, but there was a lot of 'follow your passion,'" he explains. "When I'd start baking a cake instead of doing my homework, they'd say 'as long as you're doing it with all of your moxie, that's allowed.' They were idiotically encouraging."
Always an original, Winokur was the kind of kid who took tapdancing lessons to improve his football skills. Inspirational summer camps in Dover, MA, found him writing rock-operas, taking West African dance classes, and studying theater of the absurd. High school was the Concord Academy, another seminal experience, where Amy Spencer and Richard Colton (who had performed with the Joffrey Ballet and Twyla Tharp) encouraged him to take his dancing seriously.
Expanding the forms
"Richard taught me everything I know," says Winokur. "He's a brilliant genius person who really teaches how an artist's mind should work. The gift from Richard was that no one told me to turn off my imagination. I learned to think of choreography in a very expanded way. It wasn't just making dance, it meant collaborating with musicians, and perfume makers, and video designers, and painters."
At 15, Winokur moved to New York to dance professionally as a member of "punk ballerina" Karole Armitage's company. Before long he had also enrolled at Juilliard. "That was sort of a strange choice, because I had a career already and had started making work, and although Juilliard's an incredible school for dance training, it wasn't super nurturing for my more creative instincts," he says.
At age 18, he was asked to work on his first opera. "I was really taken by the phenomenon of singing at that level," he says. "Being close to people producing that much noise from their own bodies was such a bone-shaking and visceral experience."
Recognizing that the sort of interdisciplinary work he was interested in was better supported by the infrastructure of opera, Winokur signed on for Juilliard's elite Artist Diploma in Opera Studies—"it's like the Navy Seals of opera," he explains—working alongside singers like Ying Fang and Julia Bullock. As part of that program he would become only the fourth recipient of the Opera Directing Fellowship under the mentorship of Stephen Wadsworth (even though, in classic wunderkind style, he had already worked on shows which had travelled to far-flung festivals in Aldeburgh and Aix-en-Provence).
But something was lacking. "I was growing weary of being asked to make something of incredibly high quality with a group of strangers. I wanted a community of people I could grow with, who would challenge me and hold me accountable," he explains.
AMOC in formation
Around that time, he hooked up with composer and fellow Bostonian Matthew Aucoin. The two preternaturally talented artists were a natural fit. "In Matt I'd met my art-husband," Winokur laughs, "or one of them—I'm a polyamorous art-husbander."
And so, in 2017, they founded American Modern Opera Company, a collective of go-getters that included friends and colleagues like Bullock and Tines, as well as countertenor Anthony Roth Costanzo and tenor Paul Appleby. "One day, they all came over to my apartment and we made a very simple commitment to build a body of new work together over a long period of time," he explains.
In its first 18 months, AMOC launched an annual festival, had residencies at Harvard and Park Avenue Armory, and performed a new version of John Adams's El Niño at the Met Cloisters. Even now, most of Winokur's work outside of AMOC involves at least one person from the company, hence The Coronation of Poppea with Costanzo for Cincinnati Opera, Gluck's Orfeo paired with Aucoin's Orphic Moment at Lincoln Center, Perle Noire—the Joséphine Baker work—with Bullock, and The Black Clown with Tines.
This year, his calendar is busy and refreshingly diverse. Next up is Sondheim's Sunday in the Park with George staged for the Los Angeles Philharmonic (with Gustavo Dudamel conducting), followed by Tristan und Isolde for Santa Fe Opera in July. And then there's No One's Rose, a new show in development with Aucoin that will feature all four AMOC singers alongside musicians, dancers, and with an orchestra functioning as a character. That will premiere in San Francisco in the fall.
As a director, Winokur primarily sees his job as being the remover of obstacles so a story can be told as clearly as possible. And although the core repertoire is important to him, he's not interested in "rehabilitating" the canon. "I'm interested in work that at its core speaks to me right now," he says. "I'm not interested in twisting stories to serve my agenda. If they don't contain [what I want to say] already, I don't want to force them. And if there isn't a piece that says the thing I want to say, I'll make a new work that says it in the most uncompromised way possible."

WHO'S BLOGGING


RENT A PHOTO
Search Musical America's archive of photos from 1900-1992.