---
MA Top 30 Professional of the Year: Sarah Williams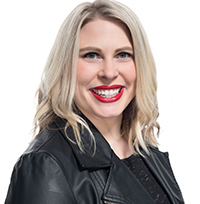 New Works Administrator
Opera Philadelphia
Sarah Williams has a well-earned reputation as a powerhouse of fresh ideas and a savvy commissioner of new work. As new works administrator at Opera Philadelphia, her close relationships with some of America's most exciting creative artists—both established and emerging—have led to an enviable slew of genre-challenging operatic world premieres over the last six years.
A native of Williamsport, PA, Williams is a onetime professional singer with degrees from the Manhattan School of Music and Westminster Choir College. "I was very proud of my career. However, I also had great frustrations within a medium that is sometimes so caught up with the reverence of its historic past that it is often beholden to it," she explains. "I yearned for more diversity, exploration, creative responses to the world we live in today, and a wider lens to artistic excellence."
As a singer with a passion for new work, Williams quickly developed a preference for process over performance. "From year one in conservatory, I somehow got myself into the room with some of our greatest living, creative artists," she admits. "I found that developing and creating something in this way was not only rewarding, it was incredibly challenging. Did I mention that I like a challenge?"
When she arrived at Opera Philadelphia in 2014, the company's most recent world premiere had been in 2005. "It was time to get to work!" she says. Since then, she has cultivated a remarkable nine world premieres including Elizabeth Cree by Kevin Puts, Lembit Beecher's Sky on Swings, and this year's much applauded Denis & Katya by U.K. composer Philip Venables. Missy Mazzoli's Breaking the Waves and David Hertzberg's The Wake World won Best New Opera from the Music Critics Association of North America.
Williams, who serves as a board member for the American Composers Forum and on the artistic advisory board of Young Women Composers Camp, also oversees OP's $1.7M grant-funded composer-in-residence program. As a nurturer of new work, she loves each of her musical children equally. "I develop them and live with them for years, I fight for the projects, for OP, and for the artists," she says. "Not one of them looks like or sounds like the next. They move you and challenge you differently."

WHO'S BLOGGING


RENT A PHOTO
Search Musical America's archive of photos from 1900-1992.