---
MA Top 30 Professional of the Year: David Whitehill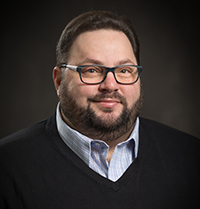 Executive Director
Asheville Symphony Orchestra
Since his arrival as Asheville Symphony Orchestra's executive director in 2012, David Whitehill has shifted the orchestra's strategic focus to explore diverse relationships within the music community, step out of its traditional performance role, and resolutely enter the digital world. Innovative programs have expanded the typical reach of a classical music organization and proved that cross-pollination benefits an entire industry, while changing perceptions about the role of a symphony orchestra today.
Whitehill, a native of West Palm Beach, FL, grew up playing cello and conducting, until, that is, he read The Last Impresario, a book about legendary artist manager Sol Hurok. "To me, people like Hurok, Arthur Judson of the New York Philharmonic and Philadelphia Orchestra, and Rudolf Bing at the Metropolitan Opera were visionary leaders who championed the art form I love," he explains. "After that, I started as an apprentice manager of California's Orange County Youth Symphony Orchestra and built my career from there."
In 2016, Whitehill created IDEASOUND, a recording initiative and audience engagement project that connects the ASO with leading pop artists. Among its recordings, the latest features R&B legends Boyz II Men, making the ASO among the most-streamed orchestras in the Southeast with complimentary features in Rolling Stone and Billboard magazines. Whitehill also started the biennial Asheville Amadeus, a community event that features music, dance, food, beer, art, theater, and more. Headlining artists have included Emanuel Ax and Midori.
"IDEASOUND embraces and magnifies our region's musical heritage and strives to dissolve barriers among musical genres," says Whitehill. "I'm extremely proud of the leadership role the Asheville Symphony has taken by bringing together a diverse group of musicians, producers, and arrangers to engage new listeners and further awareness and interest in our region's musical culture."
Whitehill came to Asheville following five years as executive director of the Bangor Symphony in Maine and various roles at the Philharmonic Society of Orange County and the Pacific Symphony in Santa Ana. As for the future: "Artistic excellence alone is no longer enough," he says. "21st-century orchestras must be social entrepreneurs, leveraging the environment in each of our unique communities to experiment and innovate around a growing set of new opportunities."

WHO'S BLOGGING


RENT A PHOTO
Search Musical America's archive of photos from 1900-1992.