---
MA Top 30 Professional of the Year: Johnnia Stigall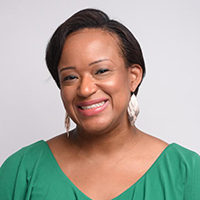 Manager, Pre-college and Pathway Programs
Cleveland Institute of Music
Johnnia Stigall's career has been devoted to increasing diversity in classical music, and now she has a major role in pursuit of that goal at the Cleveland Institute of Music. In July, she was named manager of the Young Artist, Pre-College, and Musical Pathway Fellowship programs in the conservatory's preparatory division.
"I think the mission of CIM is to be the future of classical music, and I see this job as an opportunity to prepare young musicians to be a part of that future," Stigall says. Her arrival in Cleveland comes as the conservatory is pushing to improve racial diversity, with 15 percent of its overall enrollment of 375 students this year being African-American or Latinx, up 235 percent since 2016.
Stigall previously managed the National Alliance for Audition Support, an initiative by the Sphinx Organization, New World Symphony, and the League of American Orchestras, to prepare musicians of color for orchestra auditions. In a 2016 survey, the League reported that less than five percent of orchestra players were black or Latinx, and the percentage was even lower in larger orchestras.
At CIM Stigall works with musicians whose average age is 15 or 16. "I prepare them for the next step, which will be college auditions for many of them, but also for learning music as an academic subject. You can play really great, but if you've never taken music theory before, you're not going to do so well when you take it in college."
Stigall has a pair of performance degrees in viola as well as a master's in arts administration from the University of Cincinnati College-Conservatory of Music. "I consider myself a retired violist," she says. "I appreciate and acknowledge all the work and time that went into my training as a musician, but performance didn't really click with me. My interest is in helping young musicians."

WHO'S BLOGGING


RENT A PHOTO
Search Musical America's archive of photos from 1900-1992.