---
MA Top 30 Professional of the Year: Melissa Smey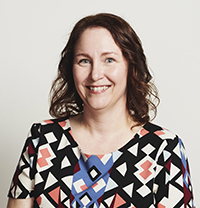 Associate Dean and Executive Director
Miller Theatre at Columbia University School of the Arts
Over the last ten years, Miller Theatre's Melissa Smey has demonstrated her passion for new music and fostering new audiences by commissioning and premiering 29 new works and two new chamber operas by artists including Chaya Czernowin, Missy Mazzoli, and John Zorn. In the last half-decade she has produced free programs for over 16,000 audience members and now commissions a visual artist to create an annual installation for the theater lobby.
Hailing from Ellington, CT, Smey began playing flute in elementary school. The first person in her family to go to college, she studied at the University of Connecticut, where she caught the bug for new music. "Playing gave me confidence that I could put myself out there and succeed," she says. "When I was in college, the director of the wind ensemble was committed to commissioning new work and the experience of playing a piece when the composer was actually there was formative for me. It helped me realize a composer can be a real living person in the room, not just a name at the top of the score."
Part of Columbia University, Miller Theatre has nine fulltime staffers and a $1.8M budget. When Smey became ED in 2009 she rapidly acquired a reputation as a tastemaker, engaging with an eclectic mix of musicians, expanding Miller's community engagement through pop-up concerts and the annual Morningside Lights procession of community-built lanterns, and addressing gender imbalance by showcasing the work of female composers. "I'm particularly proud to curate our Composer Portraits series, featuring one living composer at a time in evening-length performances and allowing audiences to experience new music in greater depth and context than is typically the case," says Smey.
A two-time recipient of the Chamber Music America/ASCAP Award for Adventurous Programming, Smey has served as a panelist for organizations including the American Academy in Berlin, Chamber Music America, The Juilliard School, and National Endowment for the Arts. "I strongly believe music shouldn't be just for special occasions—everyone should have the opportunity to make it part of their daily life," she says. "At the core, we are connecting people of all means to the arts, and it feels good."

WHO'S BLOGGING


RENT A PHOTO
Search Musical America's archive of photos from 1900-1992.