---
MA Top 30 Professional of the Year: Gary A. Padmore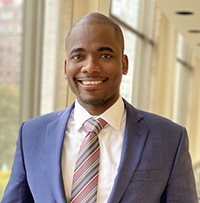 Director of Education and Community Engagement
The New York Philharmonic
Gary A. Padmore joined the New York Philharmonic in June of 2018. Before that, he served in a similar capacity for the Orchestra of St. Luke's, where he is credited with creating a free concert series celebrating composers of color, doubling enrollment in the youth orchestra program, and boosting school and community partnerships throughout the five boroughs.
At the Philharmonic, Padmore manages a budget upwards of $2.5M and leads an administrative team of six alongside 40 teaching artists who engage young people and adults in a range of settings. Among his responsibilities are overseeing the famous Young People's Concerts and promoting the orchestra's artistic vision in schools and among community partners. "I'm also engaged in strategic conversations about equity and inclusion practices related to who's on stage, in our communities, and in our audiences," he explains. "Because our communities are everevolving, our programming must continue to adapt and support in a meaningful way; I find that both exciting and terrifying! The kind of influence I can have on communities like my own, as well
as this institution, are immeasurable."
Since Padmore's arrival, the orchestra has developed several new partnerships, including the All-City Orchestra and Concert Band made up of nearly 200 students among 80 of the city's public schools. "We are currently undergoing training on culturally responsive pedagogy to identify ways in which our curriculum is reflective of those we are engaged with," he adds. "It's something we feel will strongly link us to our communities and partners."
A trumpet player and native New Yorker, Padmore has a bachelor's degree in music and certificate in music education from Queens College, as well as a master's degree from Mannes School of Music. Outside of the Phil, he is vice chair of the NYC Arts in Education Roundtable, an organization that services administrators and teaching artists, and co-chairs its taskforce on equity and inclusion. He is also a founding board member of The Dream Unfinished, an activist orchestra that engages with issues that have an especially deep impact on communities of color such as police brutality, the school-to- prison pipeline, and climate change.

WHO'S BLOGGING


RENT A PHOTO
Search Musical America's archive of photos from 1900-1992.