---
MA Top 30 Professional of the Year: Jazmín N. Morales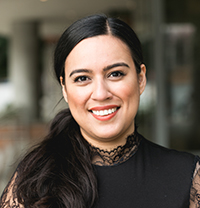 Manager
Center for Innovation and Community Impact
The Colburn School
Jazmín Morales sees being a "cultural translator" as part of her job as manager of the Center for Innovation and Community Impact. The Center serves all units of the Los Angeles-based Colburn School—the Community School of the Performing Arts, Music Academy, Trudl Zipper—Dance Institute, and Conservatory of Music—and is geared to helping young artists develop the skills and commitment to serve their communities as they build their careers.
"My father is an immigrant from Mexico who came here on a scholarship to study classical guitar and dropped out of school to take a career in mariachi," says Morales, who has a B.A. in ethnomusicology from UCLA. "I trained as a classical violinist but at the same time played in an all-female mariachi. I learned how to navigate in both the worlds of Western classical music and Mexican folk music. Now I find myself moving between the two worlds and bringing them into convergence."
Morales founded and directed Fortissima, a two-year pilot program at Colburn that stemmed from her master's thesis in arts management at Claremont Graduate University. The program brought together small groups of Los Angeles female high school-age musicians from underrepresented minorities in classical music – Latinx, black, South Asian – for training in artistic leadership and development.
"Fortissima was inspired by my own experience as a young woman of color studying classical music," she says. "I felt a sense of isolation from other people who shared my cultural background and experiences. It was important for me to be able to create a network for these girls to empower one another."
Morales also is closely involved with Colburn's partnership with Street Symphony, co-teaching a conservatory class on musicmaking and social justice and performing mariachi monthly at homeless shelters, rehabilitation facilities, jails, and prisons. She is a consultant for leadership and community engagement with NPR's From the Top, and was awarded a fellowship in the Sphinx Organization's inaugural LEAD (Leaders in Excellence, Arts, and Diversity) program.

WHO'S BLOGGING


RENT A PHOTO
Search Musical America's archive of photos from 1900-1992.