---
MA Top 30 Professional of the Year: Ahmad Mayes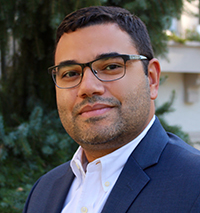 Director, Education & Community Engagement
Cincinnati Symphony Orchestra
Since 2015, Ahmad Mayes has been director of education and community engagement for the Cincinnati Symphony Orchestra. "If I could have any job at an orchestra, it would be this one because I feel like it's a place for experimentation," says Mayes, who previously worked in administration with the Atlanta Symphony Orchestra and the Youth Orchestras of San Antonio.
Among his responsibilities, Mayes is especially passionate about a partnership between the CSO and the University of Cincinnati College-Conservatory of Music designed to address the lack of ethnic diversity in American symphony orchestras. Begun in 2016, the CSO/CCM Diversity Fellowship Program offers a two-year mentorship for up to five string players of color a year, funded by multiple grants from the Andrew W. Mellon Foundation that total more than $2.5 million through 2023.
A fellowship includes a scholarship to the conservatory plus a graduate stipend, paid performance opportunities with the CSO, mentorships by orchestra members, career workshops, and audition preparation. Fellows may also play with the CSO during the May Festival and in the pit for the Cincinnati Opera, and during summer they can perform in residence with the Chautauqua Symphony Orchestra.
Among CSO members "we have one African-American in our orchestra and four who identify as Latinx," Mayes says. The low numbers are much the same at other large orchestras, whose rosters have an average of about four percent players of color. Positions in major orchestras come open infrequently, and when they do, the competition is intense.
The CSO/CCM fellowships have supported 18 musicians so far. Through auditions, three fellows have gone on to achieve placement, either permanent or temporary, in the Nashville Symphony, the National Symphony Orchestra, and the Dallas Symphony. "My dream is to have a fellow someday win an audition with the CSO," Mayes says. "No matter who you are, winning an orchestra audition is a really hard thing to accomplish."

WHO'S BLOGGING


RENT A PHOTO
Search Musical America's archive of photos from 1900-1992.