---
MA Top 30 Professional of the Year: Marianne LaCrosse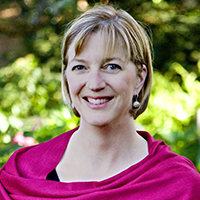 General Manager and Education Programs Director
Music@Menlo
A Seattle-born, Peabody-trained violist with a passion for community orchestras and volunteer work, Marianne LaCrosse joined Music@Menlo, the acclaimed summer chamber music festival based in Atherton, CA, in 2005, two years after it was founded by cellist David Finckel and pianist Wu Han. Back then, she says, it felt very much like a Silicon Valley startup; she was part of the team that built the organization from the ground up. Over the years she's done it all, including un-glamorous tasks like taking out the trash and administering first aid to elderly patrons. During her time, the three-week festival has grown to be one of the most popular classical music programs in the Bay Area, attracting over 10,000 visitors each year.
In her dual role, she oversees operations as well as managing both the Chamber Music Institute for around 30 emerging and pre-professional musicians per season and, her personal passion, the Arts Management Internship Program for college students and young alumni. The latter offers experience to 20 or so young people each season; far from being given menial tasks, interns are assigned major projects such as event planning and managing donor events. They are expected to take the ball and run with it, and the atmosphere is invariably fast-paced and intense.
"I can't think of anything more fulfilling than helping a young person discover their true passion," she says. "Many times I've witnessed the transformation that can take place when a young musician performs on stage for an enthusiastic audience, or when a college graduate who is unsure about their next step in life suddenly sees a new career path in front of them after spending a summer as an intern."
Recognized for her attention to detail, fierce work ethic, and intense passion for classical music, she's been an inspiration to over 300 young musicians and burgeoning arts administrators, especially women, at the start of their careers. "I take pride in getting to know each one of them, from when we first conduct interviews, to spending time with them while they're here, to serving as a job reference after they leave," she says. "Every year, I look forward to the next cohort of interns. They inspire me."

WHO'S BLOGGING


RENT A PHOTO
Search Musical America's archive of photos from 1900-1992.