---
MA Top 30 Professional of the Year: François Mario Labbé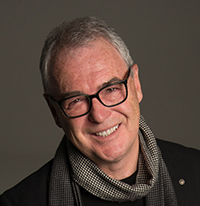 President
Analekta
François Mario Labbé founded the Analekta label in 1988. Today, it lays claim to being Canada's largest independent classical music production company—and the 15th largest in the world—with a catalog that includes hundreds of recordings by more than 200 Canadian musicians.
Born on Canada's Gaspé Peninsula, Labbé studied communications at the University of Ottawa and started out organizing concerts for the 1976 Montréal Olympics. In 1982 he co-founded Gestion Artistique Mondiale, one of Canada's most prominent arts management companies, producing over 200 concerts for them each year for eight years. "I was negotiating a record contract with a 'major' for Canadian violinist Angèle Dubeau as well as the first digital recording of The Red Army Chorus and the soundtrack of the movie The Music Teacher with José Van Dam," he explains. "The said 'major' refused those projects, so I innocently decided to start a recording company."
First-year sales amounted to 110,000 recordings in North America alone, and by 1990 Analekta was producing 25 to 30 recordings per year with a staff of 10 to 15. Over the years, its roster of artists has included Orchestre Symphonique de Montréal, Tafelmusik Baroque Orchestra, singers Karina Gauvin and Marie-Nicole Lemieux, and violinist James Ehnes.
"The first digital recording of The Red Army Chorus was where it all started," says Labbé, noting Kent Nagano's Beethoven Nine and the series of "Portrait" CDs featuring Glass, Pärt, John Adams, Einaudi, and Max Richter as personal highlights.
In recent years Labbé has reinvented the company's business model to ensure sustainability. Analekta is now a frontrunner in digital distribution and streaming services, developments that have taken the place of more traditional sources while ensuring wider distribution. "It also offers major exposure to our musicians," he says. "It's been a total change in our way of operating and a rebirth for our company."
Recently, Analekta launched internationally a mobile app called Mazaam, described by the company as "a game that accompanies the cognitive and social development of young kids by using classical music."
Among Labbé's honors are the Grand Prix Classique from MIDEM in Cannes in both 2002 and 2004, and in 2017 the Canadian Government named him a Member of the Order of Canada for his outstanding achievements in the distribution of Canadian music and promoting Canadian artists outside the country.

WHO'S BLOGGING


RENT A PHOTO
Search Musical America's archive of photos from 1900-1992.