---
MA Top 30 Professional of the Year: Rena Kraut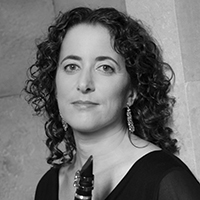 Executive Director
Cuban American Youth Orchestra
Rena Kraut founded the Cuban American Youth Orchestra (CAYO) following her first trip to Cuba with the Minnesota Orchestra on its 2015 tour. As a freelancer, she was filling out the clarinet section as well as blogging for Classical Minnesota Public Radio. "I had both my observer and participant antenna up for those five days," she explains. "I felt, as we all did, the excitement of being part of a cultural olive branch being extended to our neighbors in Cuba, particularly when we performed both national anthems in Havana's Teatro Nacional."
Back home, Kraut obsessed over the idea of getting young people from the U.S. and Cuba to perform together and learn from each other, knowing they had different strengths but a shared curiosity and desire to know their neighbors. A lifelong educator but with no previous experience running an arts organization, Kraut established CAYO as a nonprofit in December 2016. By fall 2017 the first Cuban quartet came to the Twin Cities for a weeklong cultural exchange alongside American students, and by May 2019 Kraut was able to lead a tour to Cuba where 24 American musicians from schools and conservatories across the U.S. worked alongside 47 Cuban musicians from Havana's Instituto Superior de Arte.
Politics are a challenge. CAYO applied for and received visas for their first participants in August 2017, but several weeks later, the U.S. Embassy in Havana stopped issuing U.S. visas for Cuban citizens. "Restrictions on U.S. citizen travel to Cuba have also increased over the last couple of years, although it is still possible and legal," says Kraut. "We have stayed flexible and keep finding ways to continue the work of cultural diplomacy, a mission more crucial than I could have predicted when I first dreamed of CAYO."
With just two officers but an impressive advisory board headed by Minnesota Orchestra Music Director Osmo Vänskä, CAYO has as its mission to give Americans and Cubans a platform to find common ground, to enable students to reach their potential, and to empower young people to use their talents for the greater social good. "Ultimately, if CAYO is successful, we may play ourselves right out of a job," says Kraut. "If that's the price of building trust and collaboration between two adversaries, it will have been well worth it."

WHO'S BLOGGING


RENT A PHOTO
Search Musical America's archive of photos from 1900-1992.