---
MA Top 30 Professional of the Year: Sarah Hoover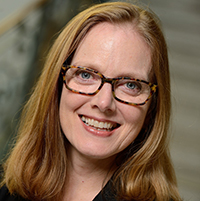 Associate Dean for Innovation, Interdisciplinary Partnerships and Community Initiatives
The Peabody Institute of The Johns Hopkins University
Sarah Hoover grew up in Washington, DC, the daughter of one of the Smithsonian Institution's curators of musical instruments. "Our home was full of touring musicians and obscure instruments—ocarinas, clavichord, player piano, Regina music box—you name it!" she explains. She received a BA from Yale and pursued a freelance singing and teaching career, returning to school to earn her DMA in Vocal Performance at the Peabody Institute in 2008.
Since her appointment in 2015 to the newly created role of associate dean for innovation, interdisciplinary partnerships and community initiatives, she has broken new ground at the intersection of performing arts and medicine by co-founding the Johns Hopkins Center for Music and Medicine, launching the Johns Hopkins Rehabilitation Network Clinic for Performing Artists, and developing a unique online initiative called Playing Well to help musicians better understand how to avoid and recover from playing-related injuries. In addition, she has integrated wellness training into every Peabody student's education by introducing Peak Performance Fundamentals programming.
"I know how devastating it can be to lose the ability to perform," she says. "By integrating specialized care into the context of training, we aim to reduce the high prevalence of performing arts injuries as well as to reshape a pervasive culture of shame and stigma surrounding injury in the performing arts."
By developing Peabody's pioneering Breakthrough Curriculum, Hoover has helped build a diverse network of community partners across the region and around the country. These immersive experiences, which include programs such as Musicians-In-Residence, Sound Rounds, and the Young Artist Development Series, help students develop critical citizen-artistry skills for 21st-century careers.
"My job is to advocate for the relevance of a precious artistic legacy and to provide pathways for today's students to lovingly interrogate and passionately invigorate this legacy in new (diverse and wider) contexts," she says. "I am especially thrilled with the development of our programs at Johns Hopkins Hospital that bring music to patients, families, and healthcare staff. I think there is tremendous potential to demonstrate the value of the performing arts to clinical and community health endeavors—and to create new jobs for artists in this developing field."

WHO'S BLOGGING


RENT A PHOTO
Search Musical America's archive of photos from 1900-1992.