---
MA Top 30 Professional of the Year: Charles Dickerson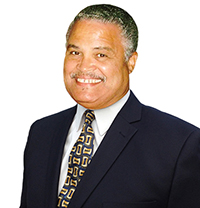 Executive Director and Conductor
Inner City Youth Orchestra of Los Angeles
South Side Chicago Youth Orchestra
In 2009, Charles Dickerson founded what is now called the Inner City Youth Orchestra of Los Angeles (ICYOLA) with eight string players and a flutist. Ten years later, the orchestra has about 100 players, most of whom are African-American. It gives up to a dozen concerts a season—Beethoven is a theme in 2019-20—winding up with a performance and fundraiser at Walt Disney Concert Hall.
"We started our own orchestra in the inner city of Los Angeles, and now it's the largest primarily African-American symphony orchestra in the country with a regular season," says Dickerson. Rehearsals are held Sunday nights; the core group is high-school age.
ICYOLA accepts young artists of all skill levels and includes a number of experienced musicians who act as mentors. These include several top-tier string players of color who are recipients of the LA Orchestra Fellowship, a partnership ICYOLA has with the Los Angeles Chamber Orchestra and the University of Southern California's Thornton School of Music. Designed to cultivate diversity in orchestras, the fellowship program is supported by a $790,000 grant from the Andrew W. Mellon Foundation.
"The fellows obviously increase the quality of our playing," Dickerson says. "All of the young people in the various string sections aspire to play as well as the fellows."
Dickerson, who is on the board of the League of American Orchestras, is now spending at least a day a week in Chicago, where he is applying the ICYOLA model to form the South Side Chicago Youth Orchestra, which gave its first concert last August.
"We'll start slow, but we hope to do the same thing in Chicago as we do in Los Angeles," says Dickerson, who holds rehearsals at Chicago State University. "I think the way to promote diversity in classical music is to have an orchestra in the heart of the black community and serve the people there. My mantra is that wherever there's an NFL team, there needs to be an inner city youth orchestra."

WHO'S BLOGGING


RENT A PHOTO
Search Musical America's archive of photos from 1900-1992.