---
MA Top 30 Professional of the Year: Leslie DeShazor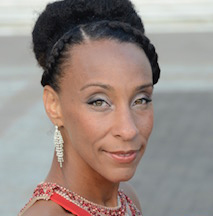 Violist, Teacher
As a young violist, Leslie DeShazor found that playing in a symphony orchestra wasn't her thing. "Because I'm more of a free bird, sitting in a section and always having someone tell me how to play doesn't really appeal to me," she says.
Today, DeShazor is one of the busiest, most versatile freelance string players in Detroit, with a résumé that features engagements with jazz, pop, and rock stars (Stevie Wonder, Aretha Franklin, Smokey Robinson, Hugh Jackman, to name a few), touring Broadway show orchestras (Hamilton, Hello, Dolly!), and, yes, symphony orchestras (Detroit, Toledo, Ann Arbor, Flint). She is a member of Musique Noir, a female-led string and percussion ensemble whose latest album is Reflections: We Breathe.
"My goal was to be as diverse a musician as I could be, and it's really panning out now," says DeShazor, who has a BM in viola performance from the University of Michigan School of Music. "I play almost any style of music, and if I don't know it, I will learn it as I need to. The biggest challenge is being able to maintain every aspect of my playing, because each style has a different language. The main thing is to keep on top of my scales. Every day, I play scales."
In addition to the viola, DeShazor plays violin, largely because most of her young students start out on violin. She teaches for the Sphinx Organization after-school program and for Detroit Symphony education initiatives that include a youth string orchestra called Sinfonia. It rehearses on Saturdays at Orchestra Hall.
"It's kind of my treat at the end of the week because they already know how to play," she says. "We're doing the Zampa overture (Ferdinand Herold), a Piazzolla piece, and a contemporary piece for younger orchestras. The kids are happy to be learning them."

WHO'S BLOGGING


RENT A PHOTO
Search Musical America's archive of photos from 1900-1992.